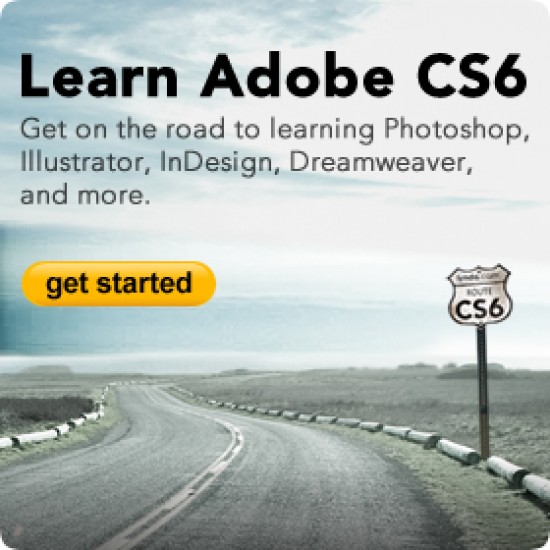 Lynda.com has released its 500th course on Adobe software. "With Adobe Creative Suite 6 and Adobe Creative Cloud, we created products that work at lightning-fast speed, deliver new Adobe magic to maximise user creativity as well as a new modern user interfaces in key applications to enhance productivity, and new capabilities for responsive HTML5 experiences for mobile devices," said Scott Morris, senior director of product marketing at Adobe. "We congratulate lynda.com for their 500th course on Adobe software and applaud their efforts to give users the opportunity to receive quality education on the new CS6 and Creative Cloud capabilities in an easy and accessible format, so soon after their release."
Website: Lynda.com
Lynda.com Press Release
LYNDA.COM SIGNIFICANTLY EXPANDS ADOBE OFFERINGS, CELEBRATES 500TH ADOBE ONLINE COURSE
lynda.com offers more than 20 courses on Adobe CS6
May 30, 2012 – CARPINTERIA, Calif. – lynda.com, the award-winning online learning company, has released its 500th course on Adobe software, coinciding with the release of Adobe's CS6. The milestone further demonstrates the company's commitment to associating with leading brands and technology leaders, providing lynda.com members with access to the most relevant course content online. Through the effort, lynda.com supports more than one million members from around the world who are eager to learn about new software and technology.
"As Adobe is committed to creating the best tools, lynda.com is committed to creating the best courses for learning those tools. This also includes courses that complement Adobe, such as design or photography," said Lynda Weinman, co-founder of lynda.com. "Our courses dig deep, giving professionals a broader understanding of how they can improve their current skill sets and thus maximize their efficiency."
Since lynda.com was founded, Adobe software courses have been some of the most requested by members. lynda.com is able to offer hundreds of Adobe courses, ranging from the most popular to the most ambitious, including Photoshop, Illustrator, and After Effects. Many of these courses are taught by renowned authors and teachers, including Michael Ninness, former product manager for Adobe, and Deke McClelland, one of the most respected experts in the industry.
"With Adobe Creative Suite 6 and Adobe Creative Cloud, we created products that work at lightning-fast speed, deliver new Adobe magic to maximize user creativity as well as a new modern user interfaces in key applications to enhance productivity, and new capabilities for responsive HTML5 experiences for mobile devices," said Scott Morris, senior director of product marketing at Adobe. "We congratulate lynda.com for their 500th course on Adobe software and applaud their efforts to give users the opportunity to receive quality education on the new CS6 and Creative Cloud capabilities in an easy and accessible format, so soon after their release."
lynda.com released several new courses timed with the release of CS6, including:
·      Illustrator CS6 New Features: With the CS6 release, Adobe Illustrator turns 25 and has a new look and a few new features. Renowned software trainer and graphic designer Justin Seeley hosts a tour of the interface changes and the tools introduced in this version.
·      Photoshop CS6 Essential Training: Senior Digital Imaging Evangelist for Adobe Systems Julieanne Kost demonstrates how to produce high-quality images in a short amount of time using a combination of Adobe Photoshop CS6, Bridge, and Camera Raw.
·      Photoshop CS6 for Photographers: Author, photographer, and teacher Chris Orwig explores Photoshop from the perspective of the photographer, offering creative tips and project ideas.
Maintaining the quality of the courses has been a key factor in the success and growth of lynda.com, which is why the company produces more than 90% of its content in-house at their newly redesigned production center in Carpinteria, Calif. lynda.com works directly with software companies to develop content on a regular basis, since software is continually updated with new features and tools.
About lynda.com
lynda.com is an online learning company that helps anyone learn software, creative, and business skills to achieve their personal and professional goals. With a lynda.com subscription, members receive unlimited access to a vast library of high quality, current, and engaging video tutorials. New courses and topics are added every week at no extra cost. We carefully select the world's top experts who are the best in their field, passionate about their subject matter, and know how to teach. Members tell us that a lynda.com subscription instills self-confidence and unlocks a sense of accomplishment that they have not found anywhere else. With over one million individual, corporate, academic, and government members, lynda.com was recently ranked the 13th fastest-growing, privately-held education company in the U.S. by Inc. magazine.
Your Comments