M-Rock Introduces New Camera Bags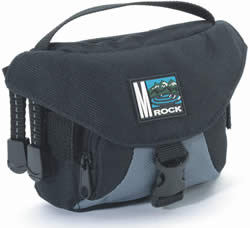 M-ROCK ANNOUNCES NEW LINE OF CAMERA BAGS FOR PROFESSIONAL
& AMATEUR PHOTOGRAPHERS

The Most Feature-Packed/User Friendly Digital Camera Bags in the Photo Industry with More Camera Protection, Zippers, and Pockets

Centennial, CO, February 16, 2005, M-ROCK, the ultimate camera and accessory bag manufacturer, will introduce next week at the Photo Marketing Association (PMA) in Orlando its new line of digital camera bags made especially for photographers.  Perfect for professional as well as amateur photographers, M-ROCK's new line of digital camera bags are the most feature-packed/user-friendly digital camera bags available in the photo industry—with more camera and weather protection, zippers, and pockets that photographers crave.
The M-ROCK line now features 16 bags, modular belts and backpacks, including:
-The New Biscayne Bay Camera Bag
The new M-ROCK Biscayne Bay camera bag is designed to securely hold even the smallest digital cameras in place.  No other bag on the market handles small cameras with so many user-friendly features and functions, including external and internal pockets for extra accessories.  The Biscayne Bay is priced at only $16 with dimensions of 3" high x 4" wide x 1" deep.

-The New Denali Camera Bag
The new M-ROCK Denali bag safely holds medium sized digital cameras with a large zoom lens attached.  The camera's grip faces upwards and its lens is secure.  Priced at only $40, the Denali is compact enough to bring everywhere with dimensions of 6" high x 5 ¼" wide x 3" deep.

M-ROCK New Features:
- Velcro bridges & U-shapped lens cradles safely support camera body
- More external buckles and zippers so bags don't open accidentally
- Deeper zippered front pockets for more accessories and gear
- Protective weather jackets on all bags protect equipment from the elements
- More scratch-proof internal storage pockets for cards, batteries and lenses
- All bags are fully functional alone or can be attached to a modular belt or to other bags through velcro straps
- Bungee cords under bags are perfect for carrying tripods

Modular Design
M-ROCK's camera and accessory bags are on the cutting-edge of modular design and development.  Especially created to carry digital cameras from small point and shoot to larger SLRs with protruding lenses, M-ROCK's camera bags are made of digital-camera friendly non-abrasive materials and have loads of interior and exterior see-through pockets for memory cards and digital camera accessories. 

Seasoned travelers and outdoorsmen will love M-ROCK's rain-protection flaps, non-pinching shoulder straps, neoprene handles, easy-hook belt loops, and extra compartments shaped to fit CD players, water bottles, binoculars, cell phones and more.  The bags are protected by tough, water resistant material and feature a weather jacket that completely covers the bag for thorough rain-proof protection.  M-ROCK'S bags feature thick closed-cell foam and include a lifetime warranty against any defects in materials and workmanship.  All M-ROCK bags, backpacks and belts include two shoulder straps, which can be used for extra support and comfort. 

"Great design, such good quality and it fits my Canon 20D perfectly, even with a 28-135mm zoom lens.  I especially like the velcro bridges to support the camera body in the pouch.  I also like all the storage pockets.  Closest contender?  Tamrac's #5684 digital bag, but yours is much better," said M-ROCK customer, Niels S.

For more information on any M-ROCK products, see the web site at: www.m-rock.com or contact M-ROCK at 14809 E. Maplewood Dr., Centennial, CO 80016 phone:  800-773-7067.

About M-ROCK
Since 1995, M-ROCK has been developing user friendly outdoor-style camera bags.  In 1998, M-ROCK launched the first version of their widely-used line of camera bags.  M-ROCK's bags have everything a photographer needs: top notch quality, good looks, and an abundance of unique and user-friendly features.