Mamiya ZD Digital SLR Update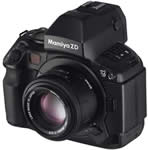 Mamiya ZD digital SLR that was announced in August last year will be on show at the Focus on Imaging event next week at the NEC, Birmingham, UK. The Mamiya ZD is a 22 megapixel digital SLR that will cost around £8,000 body only. PhotographyBLOG will be at Focus where I will hopefully be able to try out the Mamiya ZD.
Mamiya Press Release
Mamiya are pleased to announce that initial production tests of the ZD camera have been successful. To ensure that the camera meets the high demands and requirements of the professional photographer there are significant field tests now taking place in Japan. It is estimated that these tests will conclude at the end of March and that once any modifications have been implemented full production will start and then be launched during summer 05.
The Mamiya ZD back is in final development and is also due for launch during summer 05.
Mamiya Japan are yet to announce final prices however we estimate that the ZD camera body will be no more expensive than £8k and the ZD back £7.5k.
Since the preview of the Mamiya ZD and ZD back at Photokina last year world-wide demand has been far greater than first expected. Although Mamiya will be ramping up manufacture to meet these demands it is believed that for the first few months they there will be a limited supply and there may not be enough to satisfy all orders.