Manfrotto Bag Collections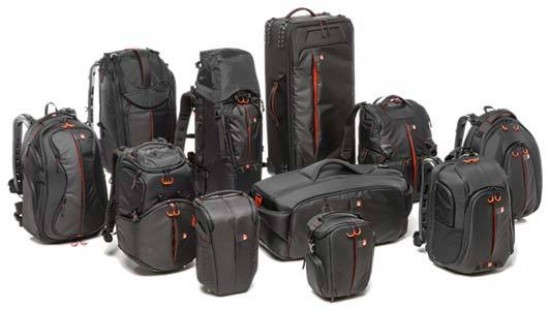 Manfrotto now have an extensive bag collection, which caters to all types of photographers, from the professional to the amateur.
Manfrotto Professional
The Manfrotto Professional Collection has been developed for professional photographers to provide high-end camera equipment with the best possible protection.
Most camera bags' weakest point, surprisingly, is the centre of the bag, where most of us keep our favourite camera body and lens. In traditional bag designs, all the surrounding gear compresses in to the middle of the bag if it's dropped, causing more damage to whatever is carried there. CPS – Camera Protection System – is Manfrotto's answer for the Professional range: dividers made from 3D foam specially structured to dampen and absorbs the force of impact and offer more protection at the heart of the bag.
The front of Manfrotto's Professional bags has a rigid multi-layer construction (named Exo-Tough) that keeps the bag safe against the force of sharp impacts.
Manfrotto's Professional bags (and not just their trolleys) almost all have feet to keep the equipment off the ground and out of the mud, and detachable rain covers that keep the bag and an attached tripod dry.
Pocket positions, closures and sizes are all designed to meet the needs of pro photographers, with hard-wearing, rip-resistant fabrics used alongside easy-to-use oversized zips and durable metal fastenings.
The bag designs are as minimal and stylish as one would expect from Manfrotto – elegant enough for any assignment, in any location.
Manfrotto Pro Light
The Pro Light Collection is the lightest bag collection available in the Manfrotto range. The Pro Light Collection has been designed to meet the needs of photographers and videographers who require lightweight, intuitive and ergonomic solutions which are easy to use, extremely reliable and highly resistant in demanding situations.
Manfrotto have integrated the latest innovative materials to construct the new Pro Light bag collection. As well as offering the capacity to carry a large amount of gear, these bags are also the lightest in the Manfrotto range.
The new collection features Manfrotto's CPS (Camera Protection System) which has been specifically engineered to provide maximum protection at the core of the bag by using 3D shock absorbing foam to give the highest level of safety and resistance.
The collection also features Advanced Harness System and gecko EVA foam harness straps which allow the Pro Light bags to be extremely comfortable to wear. Furthermore, the anatomic shape is designed to perfectly fit the body of the camera, while the removable waist strap ensures stability.
The Manfrotto Pro Light range includes a total of 33 items which covers Photo bags including 8 backpacks and 4 holsters, Video bags including 2 backpacks, 4 cases, 3 rolling organizers for lighting equipment, and Accessories including 1 camera strap, 4 camera raincovers and 7 video raincovers.
Manfrotto Advanced
The Advanced Collection of twenty-one camera bags is aimed at passionate amateur photographers who want to share in the Italian brand's professional heritage.
All Advanced bags are made using durable, resistant fabrics, metal zip pulls and buckles,  all carefully assembled and stitched to ensure that Advanced bags are made to last.
Based on the real needs of photographers, the functions of Advanced bags have been made easy to use on the move: tripod holders, dividers, pockets and rain covers all carefully designed around the keen photographer.
To provide useful, everyday bags for different situations and different amounts of equipment, Manfrotto employ four different basic bag designs in the Advanced range, each available in a number of sizes.
Manfrotto Stile
The Stile Collection is a new line of stylish camera bags aimed at more casual users.
Are you addicted to your camera, but turned off by the look and feel of traditional camera bags? They can be bulky, frumpy, and a big red flag to anyone looking to get their hands on someone else's expensive kit.
Thankfully, Manfrotto has designed a solution for the style-conscious photography lover who needs a versatile, yet stylish and practical bag.
Enter the new Stile range of camera bags. The Stile collection combines Manfrotto's signature Italian style with excellent functionality and great protection.
Whether you're capturing holiday memories in exotic locales or snapping pictures of your everyday life, no one will ever guess that your Stile bag is also a camera bag. Stile comprises a range of shoulder bags, totes, messenger bags and backpacks, available in Black,  Blue and Dove.
The Manfrotto Diva 15 is a multifunctional tote bag for everyday use, with a protective removable insert for your photo gear. It accommodates a CSC with attached zoom lens and one additional lens, plus a 10-inch tablet.
The Manfrotto Bravo 50 backpack is a multifunctional backpack for everyday wear, with a protective removable insert, adjustable straps and a padded back panel. It fits a DSLR with attached standard zoom lens and one additional lens, plus a 15-inch tablet.
Last but not least the Manfrotto Amica 10 a stylish shoulder bag for everyday use, holding a CSC with attached zoom lens and an additional pancake lens, plus a range of small personal items such as a phone and keys.
Your Comments