Mastering Landscape Photography: The Luminous Landscape Essays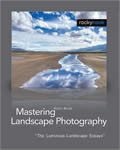 Rocky Nook Press Release
Santa Barbara, CA, November 28, 2006—"Mastering Landscape Photography: The Luminous Landscape Essays" consists of thirteen essays on landscape photography by master photographer Alain Briot. Topics include practical, technical, and aesthetic aspects of photography to help photographers build and refine their skills. This book starts with the technical aspects of photography; how to see, compose, find the right light, and select the best lens for a specific shot. It continues by focusing on the artistic aspects of photography with chapters on how to select your best work, how to create a portfolio, and finally concludes with two chapters on how to be an artist in business.
Author, Alain Briot is one of today's leading contemporary landscape photographers. Originally from Paris, France, he attended the Academie Nationale des Beaux Arts in Paris where he studied drawing and oil painting. Briot began studying photography in 1980. Currently living in Arizona with his wife Natalie, his favorite photographic locations are in the southwestern United States. Briot's goal is to create the most exciting photographs possible. His equipment, be it cameras, software, etc., is chosen for the ability to make this possible.
Alain Briot is a columnist on the highly respected Luminous Landscape Website.
Additional Resources
For more information about the book and about Rocky Nook, see:
www.rockynook.com
Mastering Landscape Photography: The Luminous Landscape Essays Alain Briot ISBN 1-933952-06-7, 256 pages, $39.95 US, $51.95 CA [email protected]
1-800-998-9938 (to order books)
http://www.oreilly.com/catalog/1933952067/
About Rocky Nook
Rocky Nook was founded in early 2006 in Santa Barbara, California, and we are closely associated with dpunkt.verlag, a leading publisher of books on technology based in Heidelberg, Germany. The focus of Rocky Nook's publications is on digital photography. However, other areas related to modern photography, such as imaging and computer technology, are also important to us. Our mission is to demystify the cutting-edge developments in digital photography, providing practical instruction to enhance the skills of amateur and professional photographers. Our books offer in-depth information on technological advances in the digital photography workflow.
We strive to support the efficiency and creativity of our readers with the ultimate goal of fostering outstanding image quality.