Maxell AirStash A02
March 11, 2013
|
Zoltan Arva-Toth
|
Comment
|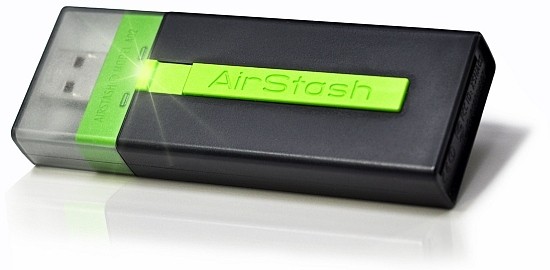 The Maxell AirStash A02 Flash drive offers Wi-Fi as an option to connect to a PC, tablet or smartphone. This allows users to transfer their files simply and easily to almost any target device, even if it has no USB port. It also enables them to view their photos and videos on up to eight devices at once, without having to transfer the files. Additionally, the AirStash A02 features an SDHD card slot for storage, ships with a 16GB SDHD card,."AirStash is the only device to combine the portability of a standard USB flash drive, the flexibility of SD flash media, the power of a media streamer, and the convenience of wireless two-way file transfer," the company says. Note that in order to be able to use the AirStash A02 with a tablet or smartphone, users need to download the free AirStash+ Android / iOS app from Google Play or iTunes. The 16GB Maxell AirStash A02 is available from play.com and Amazon UK for a suggested retail price of £94.99.
Maxell Press Release
The Maxell AirStash A02 offers a simple way for photographers to edit images on iPads and iPhones
Photographers can lighten their load while editing images in the field
London, UK, March 11th – The AirStash A02, together with new Android and iOS apps, now offers even more functionality to photographers on the go. The AirStash A02 makes it simple to get images onto smart phones and tablets that lack a USB connection.
AirStash works like a Flash Drive but it has WiFi as on option to connect.  Meaning smartphones, tablets and iOS devices can access photographs easily without using USB. The AirStash works simply and reliably. Photographers can wirelessly save and view their images in the field, and even edit them using the range of photo editing tools now available.
Laptop Free
Tools like the new Adobe Photoshop Touch App give photographers real power while travelling light. But getting images onto iPads and other tablets can be a hassle. The AirStash 02 makes it simple to travel without a laptop, keeping your kit light without sacrificing power. 
The 16GB storage of extra memory is easily swapped with any capacity SD card, providing infinite storage for images, files and videos. The images and videos can be viewed on up to eight devices at once, without having to transfer the files. It provides a secure and stable method to back-up the pictures they have been shot on the go. Photographers can take pictures around the world without worrying about running out of memory storage or accidentally loosing theirs captured work, if they transfer their work to a smart device.
The AirStash A02 can connect to laptops and desktop computers via USB, and features an SDHD card slot for storage. It ships with a 16GB SDHD card, and is expandable up to 2TB using SDXC cards. The portable kit is the easiest way to import export photos and transfer files to expandable and shareable storage from iOS and Android devices.
Apps
iOS version 2.0.2 - Available from the Apple App Store from January 14th
Android version 2.1 – Available, January 25th
Pricing and availability
AirStash A02 - 16GB – SRP, £94.99 including VAT
Current retailers – Play.com, Amazon.co.uk.
For more information on the Maxell Europe range of Accessories, Batteries and Storage Media, please visit www.maxell.eu. Get connected to the latest AirStash news and updates on Twitter @AirStash and Facebook at http://facebook.com/airstash or follow Maxell Europe.
Your Comments