Miggo Returns to Kickstarter with AGUA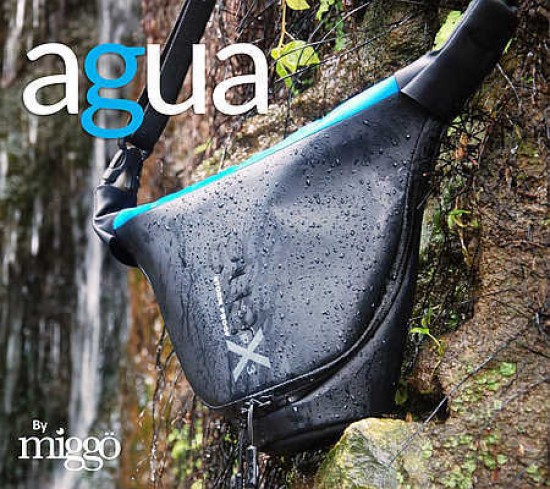 Miggo, a new company established by a group of people who had worked together at KATA Bags and Manfrotto, is launching a Kickstarter campaign to introduce "AGUA," a new line of weather-resistant camera cases. The IPX3-standard storm-resistant cases allow you to comfortably carry your camera close to your body in any weather your expensive gear - and draw it quickly and with ease at the right moment to capture a perfect shot. The camera is attached to the bag with quick-release buckles, including a failsafe connection. This solution eliminates the need for the original camera strap because the AGUA's strap is used to carry the camera itself. You can sign up to be notified about the launch of the Kickstarter campaign at the website below:
Website: miggo AGUA
Miggo Press Release
Missing a shot is NOT an option with the AGUA - a revolutionary quick-draw storm-proof camera-carrier from "miggo"
April 28th 2015 – New York
By: Miggo Communication
A year after the Kickstarter campaign of the first "miggo" - the revolutionary camera carrier that swept thousands of enthusiastic supporters - the dynamic young company returns again to Kickstarter to introduce "AGUA" - a new line of innovative camera carriers resistant to all weather conditions, designed for both professional photographers and serious amateurs.
The AGUA ("Water" in Spanish) is an IPX3-standard storm-resistant camera-carrier. It is different than common water-resistant camera carriers because it allows intuitive quick-drawing of the camera. The AGUA's special structure allows the photographer to comfortably carry his camera close to the body in any weather - rain, snow, sandstorm or even in a dense urban environment, without worrying about the fate of his expensive equipment - and draw it quickly and with ease at the right moment to capture a perfect shot.
The AGUA provides excellent double-layer protection against water and impact, thanks to an outer layer of waterproof tarpaulin in matte black, and a padded inner layer of Neoprene and Lycra.
Say goodbye to your old camera strap…
One of the AGUA's unique features is the fact that the camera is attached to the bag with quick-release buckles, including a failsafe connection. This method eliminates the need for the original camera strap because the AGUA's strap is used to carry the camera itself.
Why is this method so successful?
Because when the photographer draws the camera it stays connected and protected from falling, if for any chance the camera slips out of his hands. The photographer can also choose to disconnect the camera completely.
AGUA Strap - Elegant and sophisticated solution to changing situations
The AGUA offers a comfortable diagonal strap with the most convenient mechanism for quick and perfect fitting with one hand. The strap has 2 buckles that allow quick attachment for disconnecting and reconnecting to the camera, thus turning into a high-quality camera strap.
This is a perfect solution for situations in which the photographer wants to carry the camera without the carrier.
"At miggo we get up each morning with the aim of developing high quality products that will make the lives of professional and amateur photographers a lot easier and fun", says Guy Sprukt, Marketing Director at miggo. "During the research we conducted we found that many photographers seek a carrier that will enable them to carry their camera comfortably without hindrance, in any weather condition or hostile environment, without compromising on quick-draw ability. After a year of intensive development we are confident that AGUA will make lots of people happy, just because it's not an all-weather camera bag, but a carrier for any situation".
Models:
The AGUA is offered today in a discreet black-blue color combination, in 3 different sizes – all designed to carry a camera with one lens:
AGUA 25 for small super-zoom or large mirrorless cameras.
AGUA 35 for large super-zoom cameras or mid-size DSLRs.
AGUA 45 for pro-DSLRs (such as the Canon D5).
Prices:
miggo offers the AGUA models on Kickstarter, at prices that are significantly lower than their expected market price, so now's a chance to pick up the next revolutionary miggo product for less.
Availability:
Miggo agua's Kickstarter campaign will be launched at the beginning of June 2015.
Exact date will be announced soon.
About the miggo company:
miggo was recently established by a group of people who worked together at KATA Bags and Manfrotto.
KATA is known for its countless camera and video bags, which were developed in-house and marketed worldwide. It's not surprising that to this day KATA bags are still considered some of the world's best camera bags around.
After KATA was bought by an English corporation, its managers decided to set up a new company called miggo, which aimed to introduce innovation into the area of cameras carriers, an area which has become somewhat dormant in recent years. The company's designers, who have many years of experience in developing advanced equipment for carrying and protecting cameras, rolled up their sleeves and reinvented themselves.
About a year ago, miggo successfully launched its first round of products on Kickstarter – the strap&wrap and grip&wrap series – comfortable camera straps which morph into protective carriers. The Kickstarter campaign received great responses from users and professional magazines and websites alike.
The patented miggo products are currently marketed in over 30 countries around the world, with enthusiastic reactions.
Today the company is busy developing a number of new products both in photography and in the field of optics and binoculars for bird-watching and outdoor activities.
Your Comments