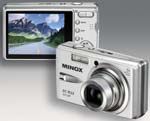 The Minox DC 1033 is a new 10 megapixel digital camera with 5x zoom lens. Small on the outside at 94 x 55 x 24mm, the DC1033 also offers a 2.7-inch LCD screen and 1/2.3" CCD image sensor in its silver-anodized aluminum body. The new MINOX DC 1033 will be available in the UK for £199.00.
Minox Press Release
Stylish, attractive and compact

The new MINOX DC 1033: £199.00 inc VAT
10 megapixels, 5x optical zoom and a nice large TFT display

The MINOX DC 1033 has nice body with very slim dimensions of just 94 x 55 x 24mm that contains the guts to provide a high resolution of ten million pixels, a 5x optical zoom a nice large 2.7" TFT display. The ergonomic silver-anodized aluminum body with its low weight makes new MINOX DC 1033 an extremely attractive camera to carry around be it on the wrist, in a pocket or handbag.

The 2.7 " TFT display covers the entire back of the camera, making it not only a real eye-catcher but very user friendly in assessing images by more than one person if required.
Core elements of the MINOX DC 1033 include the 1/2.3" CCD image sensor and the autofocus 5x optical zoom multicoated MINOCTAR lens.
An electronic image stabilizer helps the user eliminate practically any lens shake, even in the more sensitive telephoto range.  This of course is of great value with long exposures in poor light conditions or for ever more popular close up and macro shots.
The automatic white balance ensures a natural color rendition. There are several flash functions to choose from and the automatic face and smile detection will help capture the shot at the right moment.  The new DC 1033 can also shoot video clips or record voice messages to accompany the digital images. Speakers and a microphone are built into the camera. All audio and video data can be saved onto SD cards up to 16 Gigabyte in size (SDHC) or in the internal 32-MB memory. A picture bridge port allows the DC 1033 to be directly connected to peripheral equipment so that images can be printed out without having to use a computer.  If files are to be copied onto a computer this is easily and quickly done using the digital USB 2.0 port. The Minox DC 1033 is powered by a Lithium-Ion battery.
The MINOX DC 1033 is supplied with a power pack, USB and video cable, Lithium-Ion battery, strap, ever-ready case, user's Manual as well as a CD-ROM with software.
Technical Data MINOX DC 1033
Image Sensor: 10 Megapixels CCD
Resolution (Pixels): 3,648x2,736, 2,816x2,112, 2,272x1,704,
1.600x1,200, 640x480, Movie: 640x480, 320x240
Colour: 24-bit Color RGB
Lens: Autofocus lens
Aperture range: f= 3.2 (W) – 4.8 (T)
Focal length: 6.2 mm (W) – 31 mm (T) 35 mm format)
(corresponds to 37-185 mm with)
Shutter speed: 1 ~ 1/2000 sec.
Zoom: 5x optical / 5x digital
Scene mode: Auto, Smile Detection, Panorama, Portrait, Landscape, Sport, Night Scenes and many more,User-defined
White Balance: Auto, Manual: Incandescent, Daylight, Cloudy, Fluorescent
Screen: 2.7" Color TFT LCD (approx. 230 K dot)
Flash: integrated
Flash program: Auto, On/Off, Red-Eye-Reduction, Slow Sync, Pre-Flash
Exposure: Auto exposure / Manual max. ±2,0 EV in 1/3 steps
ISO: 64, 100, 200, 400, 800, 1600, Auto
Self-Timer: 10 sec, 2 sec, 10+2 sec
Memory: Internal memory 32 MB / external memory with optional SD card up to 4 GB (SDHC)
Language: English, German, French, Italian, Spanish, Chinese (traditional and simplified)
Software: Cool 360 SE
System requirements Windows 2000/ME/XP; Mac OS 9.0 or later version
Connectors: A/V out (NTSC/PAL), USB Cable. DC IN Jack
PictBridge: Yes
Power: Lithium ion rechargeable Battery (3.7V),
Power Adapter (5V 2A)
Dimensions: 3.70x2.16x0.94 oz / 94x55x24 mm
Weight: approx. 4.37 oz / 124 g
Supplied with: Lithium ion battery, case, strap, USB cable, CD-ROM, manual
Code number: 60657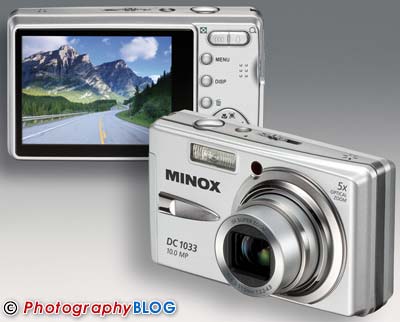 Your Comments