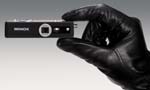 Minox will launch a digital spy camera, the Minox DSC, at Photokina in September. Miniature optics specialists from Wetzlar have helped design this new 5 megapixel digital camera that continues the Minox tradition of being the "dream tool of undercover agents for almost 75 years". Measuring just 86x29x20mm (3.5"x1.25"x0.75"), the Minox digital spy camera is accompanied by a flash unit which has a 1.5" TFT colour monitor on top of it and is activated automatically when attached to the camera and used in poor light. The Minox DSC takes Micro SD cards in addition to onboard internal memory, and comes complete with leather case, metal chain, USB cable and manual. Minox will also be presenting everything the future "private-eye" needs for capturing spontaneous, candid digital images, from belt buckle cameras to a filming fountain pen. All would-be James Bonds, get in line now…
Update 26th November 2008: The Minox DSC Digital Spy Camera and its flash module with screen will be available in the UK during the middle of December 2008 for £219.00 complete. The range of 'Spy' accessories that were also showcased at Photokina 2008 (digital pen camera, digital sunglasses camera, digital belt camera and special backward looking sunglasses) will not be produced, due to the overall world-wide economic conditions.
MINOX Press Release
MINOX with a world premiere at the photokina 2008
Digital spy camera establishes new MINOXgraphy
Spys love it: small, intelligent and very reliable. MINOX cameras have been the dream tool of undercover agents for almost 75 years. To allow this legend to continue in the digital age, miniature optics specialists from Wetzlar have designed the MINOX DSC. This is a miniature camera that features the former 8x11 dimensions and at the same time boasts state-of-the-art technology.
This world premiere with cult potential is on show for the first time at the photokina 2008: This is also where MINOX is presenting everything the future "private-eye" needs for capturing spontaneous, candid digital images, from belt buckle cameras to a filming fountain pen.
The MINOX booth - designed as a spy workshop – focuses on the new MINOX DSC. Here the visitor can discover the possibilities offered by this new License to Shoot – the slogan of the fair presentation: fast, unobtrusive, candid photography -  the new digital MI-NOXgraphy.
Seeing this camera makes most people immediately think of Bond, James Bond. This is small, really small. It's so wee it disappears in a clenched fist. Or in the heel of a shoe or other ingenious hiding place. The legendary MINOX spy camera has now reached the digital age and its launch at the photokina 2008 is causing a sensation. Leisure "secret agents" have something to look forward to: The legend lives on!
DSC is the name of the new mini MINOX model: Digital SpyCam. This outstanding masterpiece in minimalist design and photo technology packs remarkable features into dimensions of just 86 x 29 x 20 mm. With a resolution of five million pixels it can compete with traditional digital cameras with ease. The bright viewfinder allows spontaneous, fast shots, even in critical light conditions. In twilight the integrated flash switches on automatically. In total these features make the new DSC a very sound optical notebook.
The system has an additional external flash that can be connected to the side of the DSC. And to provide the user with the accustomed convenience of a display for viewing film and image results the flash has an integrated 1.5 inch TFT LCD monitor. The image data can be saved on micro SD memory cards of up to 16 GB, in addition to the internal memory.

Traditionally the tiny MINOX spy camera stands for a unique and entirely different form of photography, and so does the Digital SpyCam. It can be whipped out of a pocket at any time to capture high quality fleeting candid images inconspicuously: one click and it's gone. SpyCam users suddenly become "Agent M" with their own personal "License to Shoot". The new image world of the Digital SpyCam has its own internet forum (www.license-to-shoot.com) ready for the photokina. Original and exciting "Agent M Shoots" can be placed on this site and contacts made to other "agents" all over the world.
This world debut with cult potential can be viewed for the first time at the photokina 2008. It is a spectacular and unusual presentation, like the legendary camera itself.  There is also a host of intelligent spy accessories on show. From the belt buckle camera to a filming pen - just about every-thing the future "private eye" might need for capturing undercover digital images.
In addition to the external flash with display, the Digital SpyCam comes with a leather case and a metal chain for carrying it, a USB cable and a user manual with operating instructions.
More details available as from September 5, under: www.license-to-shoot.com
• Image sensor: 5,0 MP, CMOS Sensor (3,2 MP Hardware-resolution)
• Image resolution: Still: 2.560 x 1.920 pixels (interpolated)
2.048 x 1.536 Pixel (3,2 MP)
Videoclip: 640 x 480 pixels
• Memory: Internal memory 128 MB NAND Flash memory
External memory: micro SD card up to 16 GB
• Viewfinder: Optical (Galileian-Style)
• Display: 1,5'' TFT LCD display
• Flash: DSC: LED Flash
DSC Flash/Monitor: Electronic Flash: GN 12 (ISO 100/21°)
• Lens: 4 elements glass lens with IR filter glass
• Focal length: 8,5 mm (corresponds to approx. 42 mm with 35 mm format)
• Lens aperture: F 3.0
• Focus range: 1m to infinity
• White balance: Automatic
• Shutter speed: Automatic
• Power supply: Rechargeable Lithium-Ion-Battery/mini USB-cable
• Auto power-off: OFF-Mode after 1 min. inactivity
• File format: Still: JPEG Videoclips: AVI
• System Requirements: PC Microsoft Windows ME/200/XP
Intel Pentium III, 450 MHz or higher
128 MB RAM (recommended)
USB 2.0 High Speed
800 MB free hard disc space
Internet Connection
Mac Mac OS 9; Mac OS X 10.x
500 MHz Power PC G3 or higher
128 MB RAM (recommended)
USB 2.0 High Speed
800 MB free hard disc space
Internet Connection
• Computer interface: mini USB-cable
• Dimensions: DSC:86mm(L) x 30mm(W) x 21mm (H)
DSC Flash/Monitor:76mm(L) x 41mm(W) x 21mm (H)
• Weight: DSC: ca. 60g
DSC Flash/Monitor: ca. 80g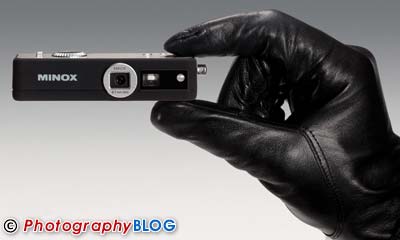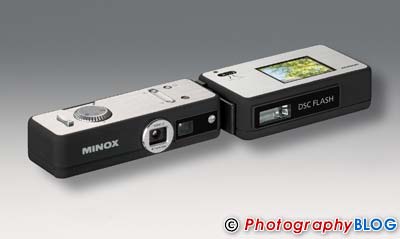 Your Comments