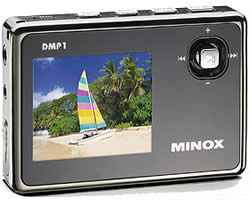 MINOX Press Release
MINOX presents the DMP-1, a pocket-sized digital photo album, MP3 player / recorder and FM radio in one tiny package.
The Minox DMP-1 weighs in at just 62 grams and fits into almost any pocket thanks to its compact dimensions of 75x52x15mm. Incorporating a digital photo album, MP3 player and recorder, FM radio, digital sound equalizer, E-book facility for storing and viewing text files and a selection of pre-installed games to play.
A stylish metal body with practical and well-situated controls completes the attractive look of the DMP-1. A central thumb-controlled joystick for easy menu navigation, and a surrounding array of buttons gives the user full control over all functions. The menu navigation on the display is simple and intuitive.
The integrated flash memory of 512 MB and an SD/MMC slot for cards of up to 1GB capacity give the Minox DMP-1 a maximum capacity for storing up to 18 hours of music, or up to 30,000 digital photos. Images can be viewed on the 2 inch pin-sharp LCD display and paged through as if using an electronic photo album, or the images can be conveniently and automatically presented using the slide mode – JPG, BMP or LGO files are supported.
Downloading or uploading of images and music files is simple using the USB to PC interface thus making it the equivalent of a mini portable hard drive. The USB port and cable doubles as a means of recharging the integrated battery simply by plugging it into a laptop or desktop computer. With a fully charged battery the DMP-1 is ready to play music, record sound, play games or show photos for up to 12 hours.
The DMP-1's MP3 player and FM radio facility offers a user-defined choice of listening through the earphones supplied, and with the digital sound equalizer it can be fine-tuned to the user's liking. Preset equalized modes include rock, classical, pop and 'live' to name just a few. An on-board digital recorder allows the recording of MP3 files and the direct line-in socket allows radio programs to be recorded and stored. The incorporated microphone can be used for voice recordings.
Accessories accompanying the Minox DMP-1 include a USB and Line-In cable, earphones, CD-Rom and manual.

Technical Data MINOX DMP-1:
· Features:
64K Color Display, Built-In SD-/MMC-
Card Slot, support up to 1 GB card; Photo Browser;
High Quality MP3 and secure WMA Music;
MP3 Encoder / Mic-& Line-In; FM-Radio / Direct
Record; 30 Presets / Name your own Radio Stations;
E-Book / ASCII, Unicode, Txt; Synchronized Lyrik
Display (LRC); Games; Buitl-In Rechargeable
Battery (740 mAh)
· File support:
MPEG 1/2/2.5 Layer3, WMA (DRM-compatibel); JPEG/BMP/LGO,TXT, (ASCII/Unicode)
· OS support: WIN98/SE/ME/2000/XP
· Display: 2,0'' LCD with LED-Backlight; Specification: 128x160 DOTS 65536 CSTN LCD
· Audio: Frequency scope: 20 Hz-20 KHz / Headphone-Output: 4mW x 2 / Signal to noise ratio: 80 dB
· FM Radio: FM-Frequency: Worldwide Band 87,5 MHz-108,0 MHz; Japanese Band: 76,0 MHz-108,0 MHz
· Recording: Mic.: MP3 Format; Line-In; MP3 Format; Recording length (128 MB): up tp 540 minutes (24 KHz/32 Kbps) or 150 Minuten (44,1 KHz / 128 Kbps)
· Music Format: Bit-Rate: MP3, 8 Kbps-384 Kbps / WMA, 32 Kbps-320 Kbps / EQ-modes: 6 modes, Classik, Live, Pop, Rock, Bass, X-EQ / Tags: ID3 V1 and ID3 V2 2.0 / ID 3 V2 3.0 / ID3 V4.0
· E-Book: Support format: TXT in Unicode, ASCII format
· Photo Browser: Support format: JPEG; BMP; LGO
· Battery: Built-In rechargeable Li-Ionen battery (740 mAh), max. playing time: 9 hours with half backlight power; charging: USB or AC-Adapter charging takes 2-3 hours
· Language: German, English, French, Spanish, Italien, Japanese,  Chinese (Traditional/Simplified)
· Dimensions: 75 x 53 x 15,5 mm
· Weight: 62 g (battery weight included)
· Storage media: built-in 512 MB Flash Memory
SD card up to 1 GB (optional)
· USB: USB 2.0 Full Speed
· Firmware: Upgradeable with new functions
· Transfer speed: > 500 Kbps for both upload and download
· Accessories: Earphones, USB-cable, Line-In-cable, Quick reference guide, Installation CD-ROM