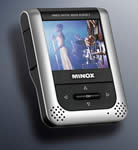 Minox Press Release
With the release of the DMP-3 media player, MINOX adds yet another professional multi-talent to its product range. High-tech in a compact size, with an extremely attractive housing – the MINOX DMP-3 is another result of the successful and multi-award-winning cooperation between MINOX and Volkswagen-Design. Its real assets are the MPEG4 video player and the AV-recorder; but a digital photo album, MP3 player, voice recorder and USB memory are additional features. Playing and recording of videos via the integrated interface is a key function of the DMP-3. Films can be recorded and stored directly from a TV or DVD onto the tiny device by using a cable. MINOX uses the cutting-edge MPEG4 format with high quality for both pictures and sound despite the comparatively small file size. A built-in 128 MB flash memory and a slot for an SD card with a storage capacity of one gigabyte – which is sufficient for playing one film – serve as an electronic media-depot.
Voice recordings via the media recorder are automatically transferred directly to MP3 format. That provides the possibility to record music, for example, from a CD player or voices by the voice recorder function. Later on, during playback, the sound can be adjusted with an integrated equalizer. The stereo playback sound of film or sound files is through the integrated loud-speakers. Their power is sufficient enough to enjoy multimedia at home and away. The MINOX DMP-3 also comes with earphones for privacy. The large 2.5 inch TFT display is another feature for first-class audio-visual enjoyment.
The control switches of the DMP-3 grant an uncomplicated and simple handling. Control of all main functions and menu settings are placed front-and-center on the DMP-3, making them both ergonomic and practical. Everything is self-explanatory, with a systematic menu and unmistakable symbols on the large color display, guiding the user quickly and instinctively. Further keys are integrated at the sides of the elegant housing which can be used with a single thumb control.
The DMP-3 functions as a removable memory device, as well. The USB interface can be used to transfer files quickly between computer and media player, while charging the Li-ion battery. The capacity of the battery allows approximately three hours of film play.
The MINOX DMP-3 comes complete with a powerful Li-ion battery, AC-adaptor, earphones, USB and AV cables as well as a user's manual and a CD-Rom of software.
Technical Data MINOX DMP-3:
• Main Functions: MPEG4-Video (recording and playback), MP3/WMA-Player(recording and playback)
• Internal equipment: Digital voice recorder, SD/MMC card reader, media explorer, USB memory stick, internal stereo speaker, built-in-microphone, data storage
• Storage media type: Built-in 128 MB flash memory / optional: SD/MMC card up to 2 GB
• LCD display: 2,5'' LTPS TFT LCD 960x240 pixels / 262 K color
• Interface: 2 in 1 MiniUSB (USB 2.0 / Power In) 4 in 1 earphone jack (video-out / earphone jack/external microphone/AV in)
• Video out / video in: TV out (NTSC/PAL) / AV in (NTSC/PAL)
• Video recorder 640 x 480 (VGA), max. 30 fps / 320 x 240 resolution: (QVGA), max. 30 fps
• Audio-Quality: 2 modes: CD quality (48 KHz), radio-Quality (16 KHz)
• Picture print out: Support DPOF (digital print order format)
• Image playback 2 modes: Single / Index (preview) and printing: Photo prints: Support copying or transferring files between SD card and internal memory
• File transfers: Supports copying or disarranging files between SD/MMC card and internal memory
• Format support: DSC: JPEG (EXIF 2.2), DV: ASF (simple profile MPEG 4), Voice recorder: WAV (IMA ADPCM); Music file format MP3, WMA (without DRM file support)
• Language support: English, German, French, Italian, Spanish, Portuguese, Turkish
• Battery: Rechargeable Li-Ion battery (3,7 V / 1.000 mA)
• Power supply: 5 V DC adapter / via USB cable
• Dimensions: 90 x 68 x 16 mm
• Weight: approx. 69 g (excluding battery)