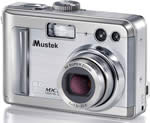 PMA 2006: The affordable Mustek MDC-832Z is announced. 8 megapixels, 2 inch LCD, 3x optical zoom lens, available for just $249.99.
Mustek Press Release
Mustek Sees Growth Potential in U.S. Digital Camera Market, Will Unveil Newest Models at PMA 2006 Tradeshow
IRVINE, Calif.—(BUSINESS WIRE)—Feb. 16, 2006—Mustek, a leader in digital lifestyle electronics, today announced it would showcase its newest digital cameras and camcorders at the 2006 Photo Marketing Association Show (PMA) in Orlando, Fla. Spearheading Mustek's introductions is the MDC-832Z, a stylish eight-megapixel digital camera boasting 3264 x 2448 resolution, a 3X optical zoom AF lens, a 2.0-inch LCD, 32MB of internal memory, 30 fps video recording (640 x 480) and an MSRP of only $249.99 (U.S.). The MDC-832Z, along with several other exciting Mustek launches, will be on display in PMA Technology Suite X15.
Mustek Positioned For Growth
Some 28 million digital cameras will be sold in the U.S. this year, yet pricing pressures have forced some manufacturers to abandon the market, while others are retrenching. This shifting landscape favors Mustek's low-cost business model, said Bill Nguyen, director of marketing, Mustek USA.
"Like all maturing markets, digital cameras have grown tremendously price competitive while features have become increasingly homogeneous," said Nguyen. "Because of our value pricing, quality components, and accent on providing additional capabilities, such as voice recording and MP3 music playing, Mustek is uniquely positioned to gain market share."
Mustek products are sold at select retailers and online sites. For more information, please visit www.mustek.com or call 949-790-3800.
About Mustek USA
Located in Irvine, Mustek is a leading manufacturer of innovative imaging products designed to improve the consumer's ability to explore the future of digital vision. Mustek offers an extensive line of consumer electronics such as digital cameras, digital camcorders, DVD players, home theater systems, portable electronics and computer peripherals.