New Camera Straps & Accessories from Mod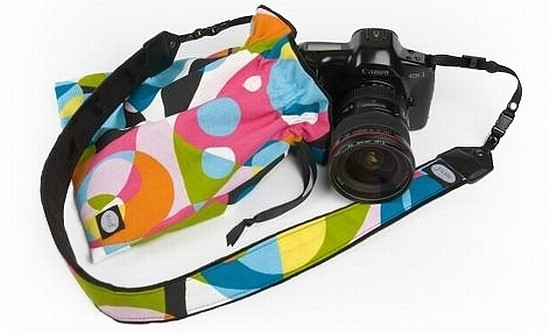 Mod, a manufacturer of stylish camera straps and accessories, has announced several new product lines for compact and SLR cameras. The new product ranges include ECO straps, compact camera straps and bags, drop-in pouches for SLR cameras, strap wraps, neck pads and quick release adaptors. Made from recycled billboard vinyl, the environmentally friendly ECO straps are available for $19.95-$47.50 depending on model. The compact camera pouch and strap is $22.50, the drop-in pouch sells for $26.50,  the strap wrap - which keeps your extra batteries, memory cards etc. on hand - costs $19.95, the neck pad - which provides extra padding for your basic camera strap - can be yours for $9.95, while the quick release adaptor retails for $12.95.
Mod Press Release
mod. Rolls Out a New Line of Camera Straps and Accessories
Largest product rollout in the company's history
Coppell, Texas (February 2, 2012) – mod. the leader in innovative, stylish camera straps and accessories, announced today a new line of products for DSLR, SLR, and compact cameras.  The new product lines include:  ECO straps, compact camera straps and bags, drop-in pouches for DSLR & SLR cameras, strap wraps, neck pads and quick release adaptors.  In addition to the new product lines, new assortments of styles and designs have been added to existing collections.  Consistent with the company's commitment to excellence in design and quality, all new product fabrics are personally hand-selected and all products are proudly manufactured in the United States.
In conjunction with the new product launch, mod. debuts its new e-commerce website.  Co-Founder Amber Clay says "We are excited to roll out our new website and 6 new product lines.  This is our largest product introduction since our inception and our first entry in to the compact camera market".  Our new line will equip both the amateur and professional photographer with new, innovative product resources that will enhance their enjoyment and passion for photography through creative expression.
ECO STRAPS:  This new line of camera straps is made from "up-cycled" billboard vinyl.  When big businesses are finished sending their messages on the side of the highway, we're ready to reclaim and repurpose.  Offered in 3 color pallets, natural, vivid and white, these one-of-a-kind eco-chic straps will make your friends 'green' with envy.
COMPACT CAMERA COLLECTION: This collection was created specifically for the compact camera user who wants a stylish accessory that they can personalize, while adding a touch of sophistication to their compact camera. The compact camera collection includes an adjustable wrist strap and matching camera bag.
DROP-IN POUCH: This versatile pouch allows you to carry your camera in style while keeping it free of dust, dirt and sticky fingers.  Just place your camera inside, secure the pull strings, and you're ready to go.  Lined in our signature soft, plush, minky fabric, this pouch is the perfect alternative for that heavy camera bag you've been lugging around.
STRAP WRAP: This innovative new product keeps your extra batteries, memory card, ID, money, etc. on hand (and out of your pocket).  Coordinates with or complements your camera strap with a mod approach to organization and convenience.
NECK PAD:  Looking for that "ooh, ahh" feel for your basic camera strap?  The neck pad provides extra padding and blissful comfort so you can shoot for hours!  Easily attaches to your existing camera strap and matches our basic camera strap line.  Can also be used with other camera straps.
QUICK RELEASE ADAPTOR: The Quick Release Adaptor gives you the ability to change out the decorative portion of your mod camera strap easily, as well as allowing you to remove it if you need to.  The pieces attach to the camera at one end and your camera strap at the other.
About mod:
mod. creates trendy and fashionable designer camera straps and accessories for the modern camera enthusiast.  mod. products are about design and function, using only the highest quality leather ends and durable webbing, combined with hand-selected stylish fabrics and soft minky lining.  To learn more about mod. products, visit us on the web at www.modstraps.com or our Facebook page at www.facebook.com/modstraps.
About OmegaBrandess:
OmegaBrandess has manufactured and distributed photographic and imaging products for over 70 years. A privately held company, OmegaBrandess supplies the photography industry with over ten thousand products from dozens of branded lines. For more information about OmegaBrandess and its represented brands, call 410-374-3250 or visit www.omegabrandess.com.
Your Comments