New Firmware for Canon EOS 10D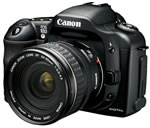 Canon have released a new version of firmware for the Canon EOS 10D DSLR.
This Firmware update (Version 2.0.0) incorporates the following changes:
- PictBridge support*
Improvements or corrections to the following:
- The release time lag when using Microdrives
- C.Fn-04 AE lock operations
- Exposure compensation display errors when using the Speedlite Transmitter ST-E2
*PictBridge is a new industry standard for direct printing that allows you to print images without using a computer by directly connecting digital cameras and digital camcorders to a printer, regardless of the devices' brand and model.
This firmware update applies to cameras with firmware versions 1.0.0 or 1.0.1. It is not necessary to perform this update on cameras that already have version 2.0.0 firmware.
Website: Canon EOS 10D Firmware