NIKKOR Z 24-50mm f/4-6.3 Kit Lens for Nikon Z5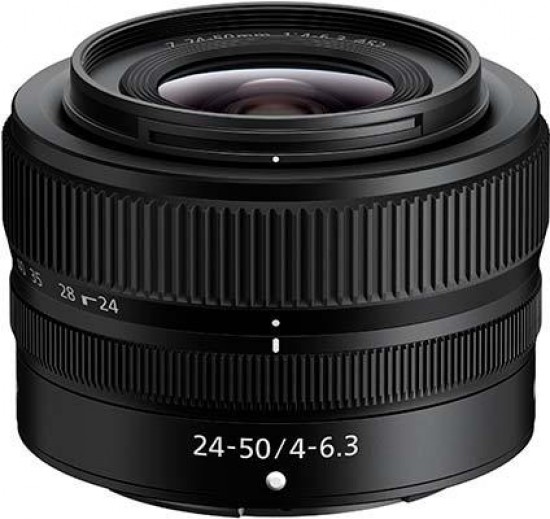 The NIKKOR Z 24-50mm f/4-6.3 is the new kit lens for the Z5 entry-level full-frame mirrorless camera. This portable lens features a retractable design that is extended by rotating the zoom ring.

It doesn suffer somewhat from having a rather modest 24-50mm focal range, wide but pretty short for an all-in-one lens, and very slow f/4-6.3 maximum apertures, but there is a customisable control ring and Nikon claims that the focusing is quiet enough for video use.
The Nikon Z5 looks like such a capable camera that we'd probably skip this lens entirely and invest in some decent glass, like the Z 24-70mm f/4 S, unless the price for the Z5 kit is simply too tempting.
Launching alongside the Z5 camera is the portable NIKKOR Z 24-50mm f/4-6.3: the shortest and lightest full-frame mirrorless zoom lens around. It's the perfect partner for the Nikon Z 5 and a great option for any Nikon Z creator who wants a truly portable full-frame zoom lens.

The super-portable NIKKOR Z 24-50mm f/4-6.3 is included in the core Nikon Z5 camera and lens kit. Small and sharp, this versatile new standard zoom lens covers some of the most iconic focal lengths out there and delivers superb performance for stills and movies.

NIKKOR Z 24-50mm f/4-6.3 Key Features
Super-portable full-frame zoom: covers a versatile 24-50 mm wide-angle to standard focal length range and allows use of 52 mm filters.
Retractable design: simply extend or retract the lens by rotating the zoom ring.
Nikon Z image quality: images are beautifully sharp and evenly illuminated throughout the frame.
Rich colour: ED glass and aspherical lens elements minimise distortion throughout the zoom range.
Constant minimum focus distance: of just 0.35 m throughout the zoom range.
Great for movies: focusing is quiet, and focus breathing is reduced for professional-looking results.
Customisable control ring: use it for aperture control, exposure compensation, or ISO adjustments.
Image Gallery
Click on a thumbnail to see the full version.
Your Comments