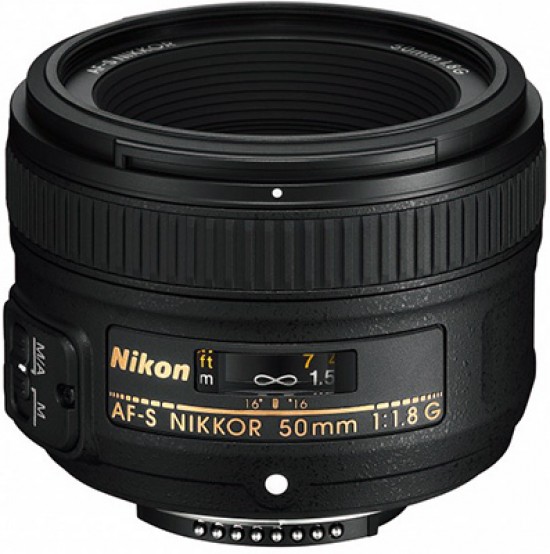 Today Nikon officially announced the AF-S Nikkor 50mm f/1.8G lens, which features an all-new optical formula, a weather-sealed mount and instant manual override. The design comprises seven elements in six groups, including one aspherical element. The dedicated Silent Wave Motor (SWM) ensures quiet auto focus as well as full-time access to manual focus. Fully compatible with Nikon's modern film and FX-format digial SLR cameras, it offers a 75mm (equivalent) focal length when used with the manufacturer's DX-format DSLRs. Weighing in at only 185 grams, the lens is supplied with a lens hood and a soft pouch. In the US, the AF-S Nikkor 50mm f/1.8G will be available from 16th June at a suggested retail price of $219.95, and in the UK and Europe from 2nd June 2011 at £199.99 / €232.00.
The Nikon AF-S Nikkor 50mm f1.8G features an iris diaphragm with seven rounded blades, a close-focus point of 45cm and a filter attachment size of 58mm. Thanks to the SWM design, it will auto-focus on every recent Nikon SLR body, including DSLRs with no built-in focus motor (D40 through D5100). The lack of an aperture ring means, however, that you won't be able to set the desired f-stop if trying to use the lens on really old analogue Nikon SLRs.
Nikon Europe Press Release
AF-S NIKKOR 50mm f/1.8G
Amsterdam, 27 April 2011 Nikon today announces a new 50mm standard NIKKOR lens with fast f/1.8 aperture. Boasting a newly developed optical system that is designed to meet the requirements of today's D-SLRs, it delivers stunning image quality and offers users an easy and affordable way to discover the difference fast aperture can make.
Zurab Kiknadze, Product Manager Lenses, Accessories & Software, Nikon Europe says:
"This 50mm is an ideal second lens. It's a great chance for curious D-SLR enthusiasts to venture out beyond a kit lens and explore the creative possibilities that fast aperture can offer, like pleasantly blurred backgrounds in portraiture and comfortable low-light shooting."

Fast and bright

The fast maximum aperture of f/1.8 makes Nikon's new 50mm lens an excellent choice for low-light situations or when shallow depth of field is required. You can single out subjects to produce portraits with smooth bokeh or shoot with available light and still capture striking, sharp images. The fast aperture also provides a bright viewfinder image, making it easier to compose your shots.

All-new design

The all-new optical design comprises seven elements in six groups, including one aspherical element for superb image quality. The dedicated Silent Wave Motor (SWM) ensures discreet but accurate autofocus. Compatible with Nikon FX-format D-SLRs, it offers a 75mm (equivalent) focal length when used with Nikon DX-format D-SLRs.

Go light

Weighing in at only 185 grams and boasting a weather-sealed metal mount, this remarkably lightweight and compact 'take anywhere' lens is perfect for portraiture or general photography. With its strong combination of classic focal length, speed and quality optics, it easily deserves a place in every photographer's bag.

The lens is supplied with a lens hood HB-47, and a soft pouch CL-1013.
Nikon U.S.A. Press Release
Evolution Of The Classic: The New AF-S NIKKOR 50mm F/1.8G Lens
MELVILLE, N.Y. (April 27, 2011) – Nikon Inc. today announced the AF-S NIKKOR 50mm f/1.8G lens, a fast, compact lens that affords photographers the versatility of the classic 50mm focal length and the benefits of a fast aperture for photos and D-movies. Whether a new D-SLR enthusiast or a seasoned pro, users will appreciate the tack-sharp image quality, extreme low-light performance, shallow depth of field and Nikon core technologies that improve upon the original to make a great lens even better.
The 50mm lens has been a staple for photographers since the 35mm film days, and this new lens enables Nikon customers that shoot photos and movies to discover the creative benefits of this traditional focal length," said Lisa Osorio, general manager of marketing at Nikon Inc. "This f/1.8 prime lens offers exceptional image quality and control, and benefits from modern Nikon technologies to enhance performance such as the Silent Wave Motor and use of an aspheric lens - it's a very attractive package for any shooting discipline."
Lightweight, compact and affordable, this lens will easily become a favorite and find a home in any photographer's gear bag. With the unique ability to mimic the focal length of the human eye, the AF-S NIKKOR 50mm f/1.8G lens is ideal for travel, general photography, low-light, landscape shooting and portraiture. This lens continues the tradition of NIKKOR precision optics to provide photographers with sharp, high-resolution images and the ability to focus as close as 1.48 feet, with amazing depth of field control for intimate details. The integration of an ultra-compact Silent Wave Motor ensures fast, whisper-quiet AF operation, which is essential when recording movies. Optimized for Nikon FX-format cameras, this lens is also a great option for Nikon DX-format photographers seeking a fast, sharp lens for capturing images with amazing color and contrast.
The new 50mm f/1.8 lens construction consists of seven elements in six groups, with one aspherical lens element to reduce instances of coma and aberration, even when shooting wide open. A rounded diaphragm opening combined with the seven-blade aperture contributes to a substantially more circular bokeh for a more natural appearance of out-of-focus background elements. Additionally, instances of lens flare and chromatic aberration are suppressed using Nikon's exclusive Super Integrated Coatings, which also help ensure vividly accurate color balance.
The AF-S NIKKOR 50mm f/1.8G lens is scheduled to be available at Nikon authorized dealers beginning June 16, 2011 at an estimated selling price of $219.95.* For more information, please visit www.nikonusa.com.
*Estimated selling price listed only as a suggestion. Actual prices are set by dealers and are subject to change at any time.
Your Comments