Nikon AF-S DX Nikkor 18-135mm Lens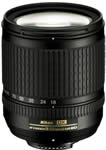 The Nikon AF-S DX Zoom-Nikkor 18-135mm f/3.5-5.6G IF-ED lens for Nikon DX format digital SLRs is introduced today, costing £299.99 and available in September 2006.
Nikon UK Press Release
Nikon is pleased to announce the introduction of the AF-S DX Zoom-Nikkor 18-135mm f/3.5-5.6G IF-ED, a compact, lightweight 7.5x zoom lens. Boasting a range of state-of-the-art optical technologies, this new lens offers outstanding performance at a remarkably affordable price. The AF-S DX Zoom-Nikkor 18-135mm f/3.5-5.6G IF-ED features Nikon ED glass, aspherical lens elements and SWM (Silent Wave Motor) for enhanced performance. With a focal length range of 18-135mm, the lens is suitable for a wide variety of shooting situations; from sports, action and portraits to wide-angle landscapes. The picture angle is equivalent to a 27-202.5mm lens in the 35mm format. Advanced Nikon engineering, particularly the compact SWM, has realised the possibility of a compact lightweight lens with excellent handling characteristics. The optical design features one ED glass element and two hybrid aspherical lens elements to assure high-resolution, high-contrast images while minimizing chromatic aberration, astigmatism and other forms of distortion. The compact SWM built into the lens offers the smooth and quiet autofocus performance that users have come to expect from Nikon lenses.
The wide range, high-quality performance and affordable price of this lens will expand the photographic horizons of Nikon Digital SLR owners.
Note: This lens is designed exclusively for use with Nikon DX format digital SLR cameras and is not compatible with 35mm [135] or IX240 format film cameras.
Specifications, design, product name, standard accessories, and release schedule may differ by country or area.
AF-S DX Zoom-Nikkor 18-135mm f/3.5-5.6G IF-ED Major Features
• Offers a broad 18-135mm focal range (7.5x zoom) for use in a wide variety of situations (equivalent to a 27-202.5mm lens in the 35mm format).
• ED glass and hybrid aspherical lens elements minimize chromatic aberration, astigmatism and other forms of distortion, while ensuring high resolution and contrast
• Incorporates a compact SWM (Silent Wave Motor) for quiet focusing
• Delivers high-level optical performance, specially designed for use with Nikon DX format digital SLRs.
• Employs a seven-blade rounded diaphragm opening that achieves a natural out-of-focus blur.
• Two focus modes, auto[A] and manual [M], with manual override in auto mode.
• Enables focusing from as close as 45cm (17.7 in.) from the subject through the entire focal range
• Internal Focusing (IF) design enables compact size and eliminates front element rotation, enabling the use of circular polarizing filters
• Flower-shaped Lens Hood HB-32 (provided) greatly reduces image degradation from stray light
AF-S DX Zoom-Nikkor 18-135mm f/3.5-5.6G IF-ED Specifications
Focal length 18-135mm (picture angle equivalent to a 27-202.5mm lens in the 35mm format)
Maximum aperture f/3.5-5.6
Minimum aperture f/22-38
Lens construction 15 elements in 13 groups (one ED glass elements, two aspherical lens elements)
Picture angle 76° - 12°
Minimum focus range 0.45m (1.5 ft.)
Attachment size 67mm
Dimensions (approx.) 73.5 x 86.5mm (2.9 x 3.4 in.)
Weight (approx.) 385g (13.6 oz.)
Included accessories 67mm Snap-on front lens cap (LC-67), Rear lens cap (LF-1), Bayonet hood (HB-32), Flexible lens pouch (CL-0915)
Optional accessories 67mm screw-in filters
Specifications and equipment are subject to change without any notice or obligation on the part of the manufacturer. August 2006
©2006 Nikon Corporation