Nikon AF-S VR Nikkor 70-300mm Lens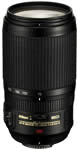 The Nikon AF-S VR Zoom-Nikkor 70-300mm f/4.5-5.6G IF-ED lens is announced, which will cost £399.99 and be available in October 2006.
Nikon UK Press Release
Nikon UK is pleased to announce the introduction of the AF-S VR Zoom-Nikkor 70-300mm f/4.5-5.6G IF-ED, a high-performance telephoto zoom lens incorporating Nikon's most advanced features. The lens features Nikon's Extra Low Dispersion (ED) glass, Silent Wave Motor (SWM) and enhanced Vibration Reduction (VRII) to ensure the best images. Optics have also been perfected for use with both Nikon DX format digital and 35mm film SLR cameras. The Zoom-Nikkor lens offers 70-300mm (4.3x) zoom performance, and is suitable for various telephoto shooting opportunities, particularly in sports, nature and wildlife photography. When used with a Nikon DX format digital SLR, the picture angle is equivalent to what would be experienced with a 105-450mm lens on a 35mm.
SLR Advanced Nikon engineering has given rise to a compact lightweight lens design that offers outstanding optical performance and excellent handling characteristics.
The new Nikon Vibration Reduction (VRII) system enables users to take substantially sharper handheld pictures at slower shutter speeds approximately 4 stops slower* than would otherwise be possible. For VR shooting, users can select two VR modes to suit shooting conditions. Normal Mode primarily reduces camera shake in handheld shooting, detecting panning automatically. Active Mode can compensate for vibration when shooting from, for example, a moving vehicle.
The AF-S VR Zoom-Nikkor 70-300mm f/4.5-5.6G IF-ED also incorporates the Silent Wave Motor, an outstanding feature that offers fast and precise autofocusing with super-quiet operation. The two ED glass elements provide higher resolution and high-contrast images.
Together with the AF-S DX 18-70mm f/3.5-4.5G IF-ED lens, the new lens gives Nikon digital SLR owners a focal-length range from a wide 18mm to super telephoto 300mm (the picture angle is equivalent to 27mm to 450mm of 35mm format) .
*Under Nikon measurement conditions.
Note: Specifications, design, product name, standard accessories, and release schedule may differ by country or area.
AF-S VR Zoom-Nikkor 70-300mm f/4.5-5.6G IF-ED Major Features
• 4.3x, 70-300mm telephoto zoom (picture angle, when used with Nikon DX format digital SLRs is equivalent to a 105-450mm on a 35mm format SLR).
• The VRII minimizes camera shake by offering the equivalent of a shutter speed 4 stops* faster. Normal and Active modes are available.
• Two ED glass elements minimize chromatic aberration in the entire zoom range while ensuring high resolution and contrast. Outstanding Nikkor optical performance makes it suitable for photography with both Nikon digital and 35mm film SLR cameras.
• The SWM enables fast and quiet autofocusing, and smooth switching between autofocus and manual operation.
• Two focus modes are available — M/A and M.
• The Internal Focus (IF) design provides a constant lens length and eliminates rotation of the front lens element, facilitating the use of circular polarizing filters.
• The nine-blade rounded diaphragm opening makes out-of-focus elements appear more natural.
• A flower-shaped bayonet hood is provided.
• ø67 mm filter attachment size (Non-rotate).
*Under Nikon measurement conditions.
AF-S VR Zoom-Nikkor 70-300mm f/4.5-5.6G IF-ED Specifications
Focal Length 70-300mm
(Picture angle when used with Nikon DX format digital SLRs is equivalent to a 105-450mm on a 35mm format SLR)
Maximum aperture f/4.5-5.6
Minimum aperture f/32-40
Lens construction 17 elements in 12 groups (two ED glass
Elements)
Picture angle 34°20' - 8°10' (22°50' - 5°20' with
Nikon DX Format)
Minimum focus range 1.5m (4.9 ft.) (Through the entire zoom range)
Attachment size 67mm
Dimensions (approx.) 80 x 143.5mm (3.1 x 5.6 in.)
Weight (approx.) 725g (26.3 oz)
Included accessories 67mm Snap-on front lens cap (LC-67), Rear lens cap, (LF-1), Bayonet hood (HB-36), Flexible lens pouch (CL-1022)
Optional accessories 67mm screw-in filters
Specifications and equipment are subject to change without any notice or obligation on the part of the manufacturer. August 2006
Products and brand names are trademarks or registered trademarks of their respective companies.
©2006 Nikon Corporation