Nikon Centre of Excellence - Now Officially Open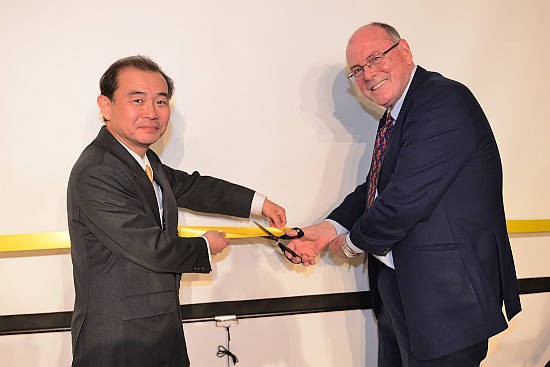 The Nikon Centre of Excellence was officially opened by Mr Tanaka, Nikon UK president; John Walshe, Nikon UK General Manager and Arthur Edwards, Royal Photographer at the Sun; at a launch party held last night at 63 – 64 Margaret Street, London. A new training course programme has been launched to coincide with the opening of the new Nikon School at the Nikon Centre of Excellence, which includes a range of courses from "Street Photography in London," to more advanced product-specific courses. Nikon also introduced five Nikon Ambassadors at the event, all professional photographers at the top of their game who will work with Nikon to "inspire photographers and help them achieve stunning images." The new Nikon Ambassadors are wildlife and landscape photographer Ross Hoddinott, sports photographer Dickie Pelham, wedding photographer Mark Seymour, celebrity and fashion photographer John Wright and sports photographer Mark Pain.
Nikon Press Release
Nikon is delighted to announce that the Nikon Centre of Excellence, London, is now officially open!
Mr Tanaka, Nikon UK president; John Walshe, Nikon UK General Manager and Arthur Edwards, Royal Photographer at the Sun, opened the centre to a crowd of retailers, photographers and journalists at the launch party that took place last night.
Go to www.nikon.co.uk/training to book your place
Speedlight Weddings Mini-Workshop  Friday 3rd May  10:30 – 13:30  £55
Do you struggle with your off-camera flash techniques at weddings? Confused about when, where and how to use it? If the answer is yes, you can't afford to miss this mini-workshop from master of off-camera flash, Uzair Kharawala.
Speedlight Bridal Portraits Mini-Workshop Friday 3rd May  14:00 – 17:00  £55
Being creative at weddings, especially with bridal portraits, is one of a photographer's most challenging tasks. In this three-hour workshop with off-camera flash expert Uzair Kharawala, you'll create stunning bridal portraits both indoors and out with a professional model bride – it's the ideal way to polish your portfolio.
SPECIAL OFFER: Book Speedlight Weddings and Speedlight Bridal Portraits Mini-Workshops together and get £25 off. After booking, contact [email protected] to request your £25 rebate.
Capture NX2 Course (Level 1)   Tuesday 7th May 10:30 – 17:00  £129
The Capture NX2 Software training course will give delegates a basic understanding of Nikon's image editing software, a tool which helps photographers get the most from their NEF, JPEG or TIFF images.  The course will also provide an overview of the Nikon Transfer and Nikon View packages which make up Nikon's Software suite. 
Street Photography in London   Friday 10th May 10:30 – 17:00   £129
Packed with inspiration and information for capturing life on the streets in all its forms, this workshop will leave you with a great set of pictures and lots of ideas. Pro photographer and Nikon expert John Clements is your host, sharing his experience to make this a rewarding and enjoyable day.
Monochrome Masterclass   Weds 15th May 10:00 – 16:00            £129
Black & white photography has been popular since the medium began. Back in photography's early days, there was no choice but to shoot black & white. In today's digital world shooting black & white has never been easier and there is more control than ever. This course covers everything from camera set-up, what to look for and how to get the best results in imaging software.
HDR Landscapes in London   Saturday 25th May 10:00 – 16:00       £129
Do you want to have dynamic images with extreme detail across the entire image? Learn how to use High Dynamic Range (HDR) Techniques to create images with a complete range of tones. HDR is a great tool for creative photography, empowering photographers to produce highly stylized, high impact, vibrantly coloured images. This course will cover the capture and creation of stunning HDR images using popular HDR software.
Speedlights on Location    Friday 31st May 10:30 – 17:00      £129
Speedlight photography opens up a world of creative and fun image making, and you'll take years off your learning curve in this location-based workshop, led by Speedlight master John Clements.
Nikon also introduced five Nikon Ambassadors at the event, all professional photographers at the top of their game who will work with Nikon to inspire photographers and help them achieve stunning images. 

Nikon UK Ambassadors
Ross Hoddinott – Wildlife and landscape photographer
Dickie Pelham – Sports photographer
Mark Seymour – Wedding photographer
John Wright – Celebrity and fashion photographer
Mark Pain – Sports Photographer
Your Comments