Nikon-Crumpler This and That Bags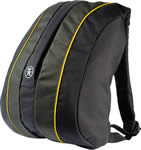 Nikon Europe Press Release
Amsterdam, November 2006. Nikon and iconic bag manufacturer Crumpler have joined forces to develop two camera bags specifically designed for owners of SLR cameras. The first fruits of the partnership are the ultra cool Nikon-Crumpler the 'This' & the 'That' bags, featuring Nikon's world-renowned black and yellow colours, which accommodate Nikon's best-loved products. Both bags can fit one compact SLR body, two lenses such as the AF-S DX 18-55 or the AF-S DX 55-200 and an external speedlight.
The bags can also carry a host of other essential accessories such as battery, charger and manuals, making both the 'This' and the 'That' bags an absolute must for all Nikon lovers.

The Nikon-Crumpler the 'This' & the 'That' bags are made of custom-dyed original '1000d Chicken Tex Supreme' hyper performance accessory fabric with a waterproof 'Rip stop' Lining.

Crumpler and Nikon have thought of everything when it comes to the design of both the 'This' & the 'That' bags:

The 'This' is a multi-purpose photo backpack that features a new 'Spread-em' opening, easy access outer side pocket, inside one mesh window pocket with zip and a padded detachable photo compartment with adjustable internal dividers and super strong shoulder straps.

The 'That' is a dedicated photo bag that features a 'Prince Charles' protective seal and protective seal protectors, front pocket mesh, adjustable shoulder strap and comfy pad, super secure Velcro™ fastening with clip and adjustable internal dividers.

Additionally both the "This" & the "That" come with a lifetime guarantee on material and workmanship.

Exclusively available in Europe from December 2006.