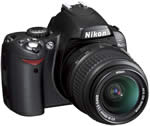 The Nikon D40 DSLR is finally here after a number of high-profile leaks and reports by some of the leading photography websites. We've resisted the urge to break any embargoes, instead preferring to bring you news of the D40 in full, along with some exclusive product shots from yesterday's UK press launch in central London. The Nikon D40 is small, light and undeniably cheap at just £449.99/ €679.99 with the new 18-55mm kit lens (it won't be sold as body-only), but after trying it out, the D40 importantly still retains the usual high Nikon build-quality. The new Nikon D40 will be available from 1st December 2006.
Nikon UK Press Release
Nikon UK is pleased to announce the D40, a new interchangeable-lens digital SLR that combines brilliant performance with the practicality of a remarkably small and light camera body. The Nikon D40 boasts handling and performance advantages that eliminate the frustrations often associated with compact digital cameras.  The careful design of the D40 allows users to take breathtaking pictures without the need to "learn" photography. The Nikon D40 features a high-resolution 6.1-effective-megapixel Nikon DX Format CCD image sensor and a highly advanced Nikon Image Processing Engine. These combine to produce exceptional image detail with true, vivid colours. Nikon's exclusive 3D Colour Matrix Metering II assures accurate exposure control even in difficult lighting conditions. Using its 420-pixel sensor, the Nikon D40 instantly assesses and compares the brightness, contrast and colour of each scene to set the accurate exposure. Spot metering, centre-weighted metering and exposure compensation are also available for those wanting more control. The Nikon D40 comes kitted with the new 3x 18-55mm f/3.5-5.6G ED II AF-S DX Zoom-Nikkor lens assuring superb picture sharpness and optimum contrast, along with the versatility of a wide-angle to medium telephoto lens.
While the AUTO ISO feature automatically sets the ISO, from 200 to 1600, manual setting is also available to enable the photographer to set the ISO at HI 1 (one step over 1600), for use in low-light situations without a flash. The D40 is remarkably quick to respond and incorporates Nikon's Multi-CAM530 autofocus module and a 3-area autofocus system with a cross-type sensor located in the centre. The refined algorithms that control lens autofocus are inherited from Nikon's renowned D200 and D80 digital SLRs, delivering impressive results. With a start up time of 0.18 seconds and an impressive shutter release lag time, the D40 is ready to capture the action. The bright, sharp viewfinder with 0.8x magnification ensures precise composition when shooting and previewing images on the bright and sharp 2.5-inch LCD colour monitor is also near instant. Easy navigation is made possible thanks to the specially designed colour menus and the new "assist images" helps users select the appropriate settings by showing an example image typical of that setting. All of this is powered by a new compact, high-capacity rechargeable lithium-ion battery that shoots up to 470 shots on a single charge.
Nikon's scene-optimized Digital Vari-Program modes allow the photographer to capture almost any type of scene with ease. All eight modes are designed to produce remarkable results by automatically calculating the best settings and ISO-equivalent sensitivity for each scene. The new mode, Auto (Flash Off), prevents the Built-in Flash from popping up while boosting the ISO, thereby allowing the photographer to take pictures in low-light situations. For more advanced creative control, the D40 offers Program auto, Shutter-priority auto, Aperture-priority auto and Manual modes. The Retouch menu offers exclusive in-camera image editing features that provide greater creative freedom without the need for a computer, including D-Lighting, Red-eye Correction and Image Trim. The D40's transparent technical capabilities include sophisticated white balance control that not only matches white balance to its light source, but also measures the entire scene to produce consistent and colour-true images. Six specific manual settings have also been included, as well as a preset option when using gray or white objects to calibrate under mixed lighting conditions.
One of the most important advantages of using Nikon digital SLR cameras is the wide variety of interchangeable lenses. The D40 is fully compatible with all AF-S/AF-I Nikkor lenses , each providing the exceptional sharpness, image clarity, colour reproduction, and fast, accurate autofocus performance that Nikkor is famous for.
The D40's powerful Built-in Flash employs Nikon's market-leading i-TTL flash control, achieving greater precision in flash exposure evaluation and better automatic flash balance.  For flash photography of subjects at greater distances, the new, light and ultra-compact SB-400 Speedlight provides a simple solution for adding more power and bounce flash capability. Nikon's Speedlights such as the SB-800, SB-600 and SB-R200 enable the use of simple and consistent wireless flash photography through Nikon's Creative Lighting System. Nikon's PictureProject software, included with the camera, makes transferring, organizing and sharing images fun and easy. Capture NX, Nikon's incredible new photo editing software, offers additional creative control and is available separately. Its simple format allows photographers at all levels to make the most of NEF (RAW) images. The key is the exclusive U PointTM Technology, by Nik Software, Inc.
Major Features of the D40
Intuitive, easy and worry-free operation
- The lightest, most compact Nikon digital SLR ever, featuring intuitive controls and an ergonomically designed operation that even first-time SLR users feel comfortable with.
- A large 2.5-inch LCD monitor enables image preview at up to 19 times magnification (for L-size images), while large fonts and easy-to-view menus with carefully designed colour schemes help make changing camera settings simple.
- Large, bright viewfinder with 0.8x magnification ensures clear view for precise composition.
- Long-life rechargeable lithium-ion battery allows up to 470 images* in single-frame shooting mode on a single charge (*CIPA standard, with Built-in Flash used for 50% of the shots). In situations where fewer flash pictures are taken, the number of shots per battery charge can be expected to increase dramatically.
- The optional AC Adapter EH-5 allows even longer periods for shooting (an AC Adapter Connector EP-5 is required, available separately).
- Handy assist images are available to help the photographer choose the right settings for each scene.
- The optional Wireless Remote Control ML-L3 enables an easy remote shutter release.
Outstanding image quality
- 6.1-effective-megapixel Nikon DX Format CCD imaging sensor produces 3,008 x 2,000-pixel images with high resolution and superbly sharp details.
- Inheriting the advanced, industry-leading Imaging Processing Engine of Nikon professional D-SLR cameras, the D40 incorporates high-precision digital image processing algorithms to produce natural-looking images with faithful colour and tone reproduction.
- Nikon 3D Colour Matrix Metering II automatic exposure control ensures ideal exposures in almost any lighting condition. The system evaluates each scene for brightness, colour, contrast, selected focus area and camera-to-subject distance, and then compares the information with its expanded onboard database of more than 30,000 actual photographic scenes to instantly and accurately calculate the ideal exposure value for the shot. Variable centre-weighted metering and spot metering centred on the active focus area are also available.
- Auto White Balance for natural colouration, plus a choice of six different manual white balance settings, (Incandescent, Fluorescent, Direct Sunlight, Flash, Cloudy, and Shade), or user-defined preset white balance.
Precise, quick response
- Near-instant 0.18-second power-up ensures photographers respond to every photographic opportunity.
- Continuous shooting at 2.5 frames* per second allows capturing action of up to 100 JPEG images (FINE L-size or smaller).
*Photographs taken at an ISO sensitivity of HI 1 are automatically processed to reduce noise, increasing recording time by about 1 second per frame.
- Advanced 3-area AF system and the refined algorithms inherited from the advanced Nikon digital SLR cameras deliver fast, efficient and precise autofocus, while an AF-assist illuminator helps ensure top performance in dark situations.
- Versatile shutter speed control with a range from 30 to 1/4000 s, plus bulb.
- Fast image data transfer and recording to SD memory cards of up to 4GB capacity (SDHC compliant).
Accurate automated and manual control for predictable results
- Eight Digital Vari-Programs adjust settings automatically, controlling ISO sensitivity, white balance, sharpening, tone (contrast), colour, saturation and hue for crisp, vivid and incredible digital photographs faithful to the subject and scene. Selections include Auto, Auto (Flash Off), Portrait, Landscape, Child, Sports, Close Up, and Night Portrait.
- For manual controls over shutter and aperture, P (Program auto), S (Shutter-priority auto), A (Aperture-priority auto) and M (Manual) modes are also available.
- Automatic control over ISO-equivalent sensitivity from ISO 200 to 1600 plus HI 1 can also be set manually.
- Simultaneous recording of NEF (RAW) and JPEG (Basic) data for the same shot helps optimize and accelerate workflow
- Built-in Flash features reliable iTTL flash control, working accurately even with backlit subjects or reflective objects in the background. Four flash modes are supported: Auto flash, Red-eye reduction, Slow sync and Rear curtain sync. Flash exposure compensation is also available.
Retouch Menu for creative in-camera image edits and effects
- D-Lighting pulls out colour and detail from shadowy areas of images. Since it doesn't affect the properly exposed parts of the picture, the resulting images are more balanced and visually pleasing. D-Lighting is ideal for correcting backlighting, insufficient flash or other situations that produce under-exposed images.
- Red-eye correction automatically detects and compensates for the red-eye effect frequently seen in flash pictures.
- Trim allows for creative cropping of an image and produces smaller files for easy sharing and more efficient use of file space.
- Monochrome (Black-and-white, Sepia, Cyanotype)
- Filter effects (Skylight, Warm filter, Colour balance)
- Small picture saves photos at the reduced sizes, convenient for Internet use.
- Image overlay merges a pair of selected RAW (NEF) files taken with the D40 to create a new composite image that can be saved in RAW or JPEG format.
Seamless integration with Nikon Total Digital Imaging System
- Compatibility with world famous, high-quality Nikkor lenses* with Nikon F mount with AF coupling and AF contacts (*Autofocus is supported only with AF-S and AF-I CPU lenses, which are equipped with built-in motors).
- Supports Nikon Creative Lighting System when using the SB-800, SB-600, SB-400, SB-R200 or the R1C1 Wireless Close-Up Speedlight system, delivering accurate exposures via iTTL flash and versatile wireless operation.
- Nikon's PictureProject software lets photographers share, organize and edit their pictures with ease. Intuitive controls and design templates make it simple to print pictures, burn a CD/DVD and send pictures via email. Photographers can also get creative, making impressive photo albums and slideshows with special effects and their favorite music. PictureProject helps people make quick work of it all, including locating pictures by name, keyword or date.
- Capture NX (available separately) is Nikon's revolutionary new photo editing software. Its versatile interface is remarkably easy to use, making it possible for anyone to explore the full potential of NEF (RAW) images. The key is U Point™ technology, by Nik Software, which simplifies the editing and enhancement procedures to a few sliders and clicks of the mouse. Capture NX handles the complicated procedures for photographers to ensure extensive creative options and photo image processing and editing tools also available to JPEG and TIFF files.
Nikon Digital SLR Camera D40 Specifications
Type of Camera
Single-lens reflex digital camera
Effective Pixels
6.1 million
Image Sensor
RGB CCD, 23.7 x 15.6 mm; total pixels: 6.24 million, Nikon DX format
Image Size (pixels)
3,008 x 2,000 [L], 2,256 x 1,496 [M], 1,504 x 1,000 [S]
ISO Sensitivity
200 to 1,600 in steps of 1 EV with additional setting one step over 1600
Storage Media
SD memory card, SDHC compliant
Storage System
Compressed NEF (RAW): 12-bit compression, JPEG: JPEG baseline compliant
File System
Exif 2.21, Compliant DCF 2.0 and DPOF
White Balance
Auto (TTL white-balance with 420-pixel RGB sensor), six manual modes with fine-tuning and preset white balance
LCD Monitor
2.5-in., 230,000-dot, low-temperature polysilicon TFT LCD with brightness adjustment
Playback Function
1 frame; Thumbnail (4 or 9 segments); Magnifying playback; Slide show; Histogram indication; Highlight point display; Auto image rotation
Delete Function
Card format, All frames delete, Selected frames delete
Video Output
NTSC or PAL
Interface
USB 2.0 (High-speed): Mass Storage and PTP selectable
Text Input
Up to 36 characters of alphanumeric text input available with LCD monitor and multi selector; stored in Exif header
Compatible Lenses*1
Nikon F mount with AF coupling and AF contacts
Type G or D AF Nikkor
1) AF-S, AF-I: All functions supported, 2) Other Type G or D AF Nikkor: All functions supported except autofocus, 3) PC Micro-Nikkor 85mm f/2.8D: Can only be used in mode M; all other functions supported except autofocus, 4) Other AF Nikkor*2/AI-P Nikkor: All functions supported except autofocus and 3D Colour Matrix Metering II, 5): Non-CPU: Can be used in mode M, but exposure meter does not function; electronic range finder can be used if maximum aperture is f/5.6 or faster
*1. IX Nikkor lenses can not be used
*2. Excluding lenses for F3AF
Picture Angle
Equivalent in 35mm [135] format is approx. 1.5 times lens focal length
Viewfinder
Fixed-eyelevel penta-Dach mirror type; built-in diopter adjustment (-1.7 to +0.5m-1)
Eyepoint
18mm (-1.0 m-1)
Focusing Screen
Type B BriteView Clear Matte screen Mark V with superimposed focus brackets
Viewfinder Frame Coverage
Approx. 95% (vertical/horizontal)
Viewfinder Magnification
Approx. 0.8x with 50mm lens at infinity; -1.0 m-1
Viewfinder Information
Focus indications, AE/FV lock indicator, Shutter speed, Aperture value, Exposure/Exposure compensation indicator, Exposure mode, Flash output level compensation, Exposure compensation, Number of remaining exposures, Flash-ready indicator
Autofocus
TTL phase detection by Nikon Multi-CAM530 autofocus module with AF-assist (range approximately 0.5-3.0m/1ft. 8in.-9ft. 10in.); Detection range: -1 to +19 EV (ISO 100 at 20°C/68°F)
Lens Servo
1) Autofocus (AF): Instant single-servo AF (AF-S); continuous servo AF (AF-C); auto AF-S/AF-C selection (AF-A); predictive focus tracking automatically activated according to subject status, 2) Manual focus (M)
Focus Area
Can be selected from 3 focus areas
AF Area Modes
1) Single Area AF, 2) Dynamic Area AF, 3) Dynamic Area AF with Closest Subject Priority
Focus Lock
Focus can be locked by pressing shutter-release button halfway (single-servo AF) or by pressing AE-L/AF-L button
Exposure Metering System
TTL full-aperture exposure metering system
1) 3D Colour Matrix Metering II (type G and D lenses); Colour Matrix Metering II (other CPU lenses); metering performed by 420-segment RGB sensor
2) Centre-weighted: Weight of 75% given to 8mm circle in centre of frame
3) Spot: Meters 3.5mm circle (about 2.5% of frame) centred on active focus area
Exposure Metering Range
1) 0 to 20 EV (3D Colour Matrix or centre-weighted metering), 2) 2 to 20 EV (spot metering)
Exposure Modes
Digital Vari-program (Auto, Auto [Flash Off], Portrait, Landscape, Child, Sports, Close Up, Night Portrait), Programmed Auto (P) with flexible program; Shutter-Priority Auto (S); Aperture Priority Auto (A); Manual (M)
Exposure Compensation
±5 EV in increments of 1/3 EV
Exposure Lock
Exposure locked at detected value with AE-L/AF-L button
Shooting Modes
1) Single frame shooting mode, 2) Continuous shooting mode: approx. 2.5 frames per second*, 3) Self-timer mode, 4) Delayed remote mode: 2 s. delay, 5) Quick-response remote mode
*Approx. 1.7 frames per second with Noise reduction turned on and approx. 1 frame per second with ISO HI 1
Shutter
Combined mechanical and CCD electronic shutter, 30 to 1/4000 s. in steps of 1/3, bulb
Sync Contact
X-contact only; flash synchronization at up to 1/500 s.
Flash Control
1) TTL: TTL flash control by 420-segment RGB sensor. i-TTL balanced fill-flash for digital SLR and standard i-TTL fill-flash for digital SLR available when CPU lens is used with built-in flash, SB-800, SB-600, and SB-400, 2) Auto aperture: Available with SB-800 with CPU lens, 3) Non-TTL Auto: Available with Speedlights such as SB-800, 80DX, 28DX, 28, 27, and 22s , 4) Range-priority manual available with SB-800
Flash Sync Modes
AUTO, Portrait, Child, Close Up: Auto, auto with red-eye reduction; fill-flash and red-eye reduction available with optional Speedlight
Night portrait mode: Auto, auto slow sync, auto slow sync with red-eye reduction; slow sync and slow sync with red-eye reduction available with optional Speedlight
Landscape, Sport mode: Fill-flash and red-eye reduction available with optional Speedlight
P, A: Fill flash, rear-curtain with slow sync, slow sync, slow sync with red-eye reduction, red-eye reduction
S, M: Fill flash, rear-curtain sync, red-eye reduction
Built-in Flash
AUTO, Portrait, Child, Close Up, Night Portrait mode: Auto flash with auto pop-up
P/S/A/M: Manual pop-up with button release
Guide number (ISO 200/ISO 100, m [ft.]): approx.17 [55]/12 [39] (manual full 18 [59]/13 [42])
Flash Compensation
-3 to +1 EV in increments of 1/3 EV
Accessory Shoe
Standard ISO hot-shoe contact with sync, signal, and ground contacts and safety lock
Self-timer
Electronically controlled timer with duration of 2, 5, 10 or 20 s.
Remote Control
Via Wireless Remote Control ML-L3 (optional)
Power Source
One Rechargeable Li-ion Battery EN-EL9; charging voltage (MH-23 quick charger): 7.4V DC, AC Adapter EH-5 (available separately; requires optional AC Adapter Connector EP-5)
Tripod Socket
1/4 in. (ISO1222)
Body Colour
Black (Silver version is also available depending on country or area.)
Dimensions (W x D x H)
Approx. 126 x 64 x 94mm (5.0 x 2.5 x 3.7 in.)
Weight
Approx. 475g (1lb. 1oz.) without battery, memory card or body cap
Supplied Accessories*
Rechargeable Li-ion Battery EN-EL9, Quick Charger MH-23, USB Cable UC-E4, PictureProject, Rubber Eyecup DK-16, Camera Strap, Body Cap BF-1A, Eyepiece Cap DK-5, Accessory Shoe Cap BS-1
Optional Accessories
Wireless Remote Control ML-L3, Capture NX, Camera Control Pro, AC Adapter Connector EP-5, AC Adapter EH-5, Video Cable EG-D100, Semi Soft-Case CF-DC1, Speedlight SB-800/600/Sb-400/R1C1
*Supplied accessories may differ depending on country or area.
Specifications and equipment are subject to change without any notice or obligation on the part of the manufacturer. November 2006
©2006 NIKON CORPORATION