Nikon Issues Notice About CCD Problem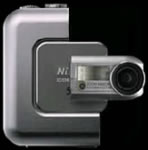 Another day, another advisory notice about the CCD issue that has affected most of the major manufacturers over the last week. This time it's Nikons turn to warn their customers who have bought the COOLPIX SQ, COOLPIX 3100 and COOLPIX 5700 cameras.
Konica Minolta USA - Digital Camera Service Advisory
It has come to our attention that electronic components related to imaging in some COOLPIX cameras may, on rare occasions, fail. Should you experience this problem with your COOLPIX SQ, COOLPIX 3100 or COOLPIX 5700 camera, Nikon will replace the associated components free of charge even if the camera's warranty has already expired. We sincerely apologize for any inconvenience you may have suffered because of this problem. To check if your camera has failed due this reason, please read the symptom description, below.
How can I identify if my camera is faulty?
Images displayed on the monitor, in both shooting preview and post-recording playback exhibit one of the following:
- Images exhibit a strong colour tint.
- Images are totally black.
- Images appear corrupted.
- Images contain vertical lines or bands.
- Images contain horizontal lines or bands.
Website: Nikon Europe Customer Notice