Nikon NIKKOR Z 24mm f/1.8 S Price, Specs and Availability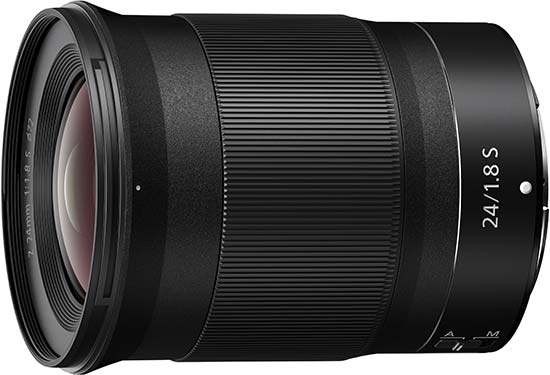 Nikon has just expanded its line-up of f/1.8 S-Line mirrorless prime lenses with the launch of the new NIKKOR Z 24mm f/1.8 S.
The NIKKOR Z 24mm f/1.8 S will be available from the 17th October 2019 priced at £1,049 in the UK.
Nikon UK Press Release
BEYOND THE NORMAL: NIKON INTRODUCES THE NIKKOR Z 24MM F/1.8 S WIDE-ANGLE LENS
WWA: 4th September 2019
SSD: 17th October 2019
RRP: UK £1,049 | ROI €1,249
London, United Kingdom, 4th September 2019: Nikon today further expands its line-up of f/1.8 S-Line mirrorless primes with the NIKKOR Z 24mm f/1.8 S. With advanced optics, exceptional close-up performance, and extensive weather sealing, this full-frame lens offers real versatility. As good in tight spaces as it is with vast landscapes and city skylines, the latest addition to our S-Line NIKKOR lenses captures incredible detail in diverse situations.
This fast-focusing 24mm prime lens delivers superb edge-to-edge sharpness, even when shooting at the widest aperture of f/1.8. A minimum focus distance of just 0.25m gives users exceptional control of the frame, from close-up to infinity. Bokeh is beautifully smooth and natural-looking, and the lens flare common to wide-angle lenses is effectively countered, even in backlit situations.
The full-frame NIKKOR Z 24mm f/1.8 S is well-suited for video shooting too. Movie makers can capture footage with stunning shallow depth of field and the lens' balanced perspective works as well for master shots as it does for filming interviews in cramped interiors.
Robert Harmon, Senior Commercial Planning Manager, Nikon UK, says: "The NIKKOR Z 24mm f/1.8 S gives Nikon Z shooters the freedom to work with available light in practically any situation. Plus its close focusing performance is outstanding: the sharpness is incredible, even when you focus the lens on close-up subjects or object details."
Summary of key features
F/1.8 wide-angle NIKKOR Z prime lens: ultra-sharp from edge to edge, and brilliant in low light, this 24mm lens captures every component of a scene with lifelike clarity.
S-Line: next-dimension optical design. Nikon's anti-reflective Nano Crystal Coat reduces ghosting and flare for greater image clarity. Smooth, silent multi-focusing system.
Exceptional close-up: with a minimum focus distance of just 0.25m, you're in control of the frame from close-up to infinity. Image sharpness at close-up is superior to comparable lenses of this focal length.
Weather sealing: every movable part of the lens barrel is sealed to protect from dust and water droplets.
Great for movies: near-silent AF allows the quietest moment to deliver full impact. The control ring can be used for silent aperture control or exposure compensation, and as a focus ring when shooting in manual focus.
Image Gallery
Click on a thumbnail to see the full version.
Your Comments