Nikon Number One for DSLR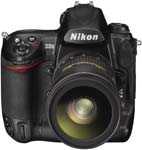 Nikon is now the number one manufacturer for DSLR cameras. Speaking at today's UK launch of the new 24.5 megapixel D3x DSLR, Chris Hoare, Professional Business Manager at Nikon UK, revealed that Nikon was ranked number one in the UK for October 2008, and that the company had also reached the top position in Europe, USA and Japan during 2008. Nikon's strong showing at the recent Olympic Games in Beijing, where 50% of pros were using Nikon gear, was also cited. In the UK, Nikon's DSLR sales have grown by 333% since 2004/05.
Meanwhile, James Banfield, Nikon UK Professional Support And Training, explained why the D3x doesn't feature a video mode. "We have one goal for the D3x - to achieve the best image quality at the highest resolution". Chris Hoare added "We didn't have the right type of video technology for the D3x, but our R&D team is focusing on getting this right for the future." When questioned about the lack of built-in dust-removal, Banfield replied that Nikon didn't want to have to reduce the viewfinder coverage by 5% in order to incorporate the technology. He also revealed that the 24.5 megapixel sensor inside the Nikon D3x is a "Nikon exclusive design".
The new D3x will make it's first UK public appearance at the Nikon Solutions Expo, held on 9th and 10th of December at Olympia in London.
Your Comments