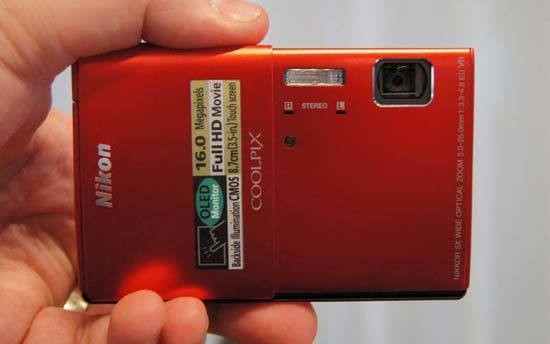 The Nikon S100 is a flat, palm sized digital compact camera that's packed with features for the tech savvy younger generation. A 16 megapixel Back-illuminated CMOS sensor sits inside the smart phone shaped unit which also records FullHD video. The screen on the back is an OLED 3.5 inch touch-screen which is extremely sensitive. But not in a way that it preempts your moves. However, some touch screens we've seen have had to be jabbed at to get a command acknowledged but the S100 is more sensitive than an iPhone.
The build quality of the S100 is good on the whole, however the lens has a sliding cover to protect it when it's not in use and this cover feels quite flimsy. Because the camera is larger than other models in the range, it makes it look huge but the height and length dimensions are still smaller than an iPhone. It's just deeper than one.
The back-illuminated CMOS sensor looks to be promising. This is a camera that will be used in dark situations such as nights out. The low light performance increase will mean more natural light can be used.
One other cool feature is the 3D mode. It allows you to take two pictures misaligning them slightly, which the Nikon will then use to make a 3D image from which can be seen on 3D compatible televisions. If you misalign too much, the camera won't let you take a picture – which is a nice touch – but it then leaves the photo set up and you have to start again.
The Nikon Coolpix S100 comes in pink, red and black and has an RRP of £249.99 (290 euro)
Your Comments