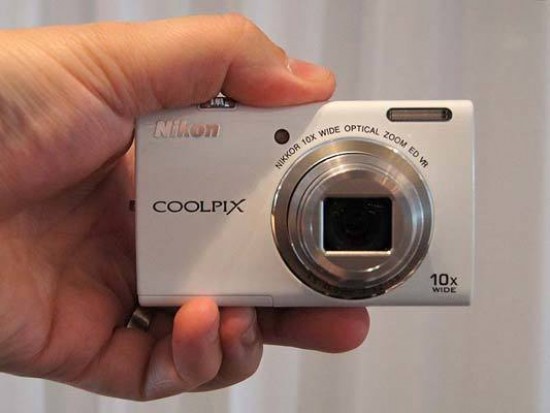 Slightly just down the ladder from the S8200 is the S6200. It's a smaller, lighter version and you could also say a lite version. There are noticeable omissions to distinguish between the S6200 and S8200. The resolution is the same on both cameras, the function wheel on the back is present on each camera and they both have an EXPEED C2 processor. But the NIKKOR ED lens on the S6200 has a more moderate 10x optical zoom. The HD video isn't Full HD and the screen on the back is slightly smaller at 2.7 inches.
What the S6200 does have going for it is that it's a very nice looking camera. The modes and functions are very easy to use and this is just what the user of this type of camera will be looking for. One key selling point of the S6200 is the video. It can record in 720p HD video with stereo sound. On top of that, the camera will focus and zoom during recording. We couldn't test the noisiness of the motors because of the background chatter but we'll test it fully in the review.

The glossy exterior is sexy and sleek and the side of the S6200 is perfectly flat. This may sound like a minor issue, but this is a camera that will be placed on a table with self-timer on for a self portrait. The flat side allows the camera to be placed on its end for portrait orientation pictures.
The Nikon S6200 feels nice and solid, it's dinky but will be perfect for people with smaller hands, and that's who the camera appears to be mainly aimed at. The colours it's available in are red, blue, pink, black and white.
Essentially, Nikon expect this to be the mass volume camera which is why it has a wider colour selection and also why it has an attractive RRP of £179.99 (209 euro).
Your Comments