Nikon Travel and Family Kits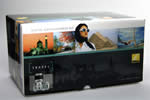 Nikon UK Press Release
Wednesday June 7, 2006 - Nikon UK is pleased to announce the introduction of two new themed product kits which have been especially tailored to suit the different interests of digital SLR users. Both kits are ideally twinned with the purchase of a Nikon D50 or D70s, Nikon's award winning digital SLR cameras. For a limited period, photography enthusiasts will be able to purchase these kits complete with all the essential equipment needed for capturing impressive images which have been especially tailored, to meet their individual needs. A family and travel kit has been produced, to enable photographers of all levels to take advantage of having a ready made kit, containing all the essential photographic items.
To produce these comprehensive kits, Nikon has teamed up with publishers, Dorling Kindersley to offer purchasers the opportunity to select a book to support their individual interests. Keen travellers will benefit from selecting a travel guide to help provide photographic inspiration. Purchasers of the family kit may opt for a photographic book, to help get to grips with capturing photographs of their children.
The Kits
The Family Kit includes:
SB 600
ML-L3 remote
Lens pen
Light reflector
Dorling Kindersley book
CD Rom guide to DSLR
Family Kit: £199.99 save £100
The Travel Kit includes:
55-200mm lens
EN-EL3e battery
Lens pen
Manfrotto table tripod
Dorling Kindersley book
£50 training voucher
Travel Kit: £299.99 save £100
The Nikon D50 or D70s need to be purchased independently of the Travel and Family kits.