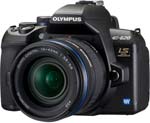 The Olympus E-620 is the world's smallest and lightest creative DSLR camera with built-in image stabilisation. The 12 megapixel Olympus E620 features a custom 7-point Twin autofocus system, 2.7 inch free-angle LCD screen, Live View, 4fps continuous shooting and Supersonic Wave Filter dust protection. The E-620 also offers the same Art Filters, Multi Exposure mode and five different aspect ratios as the more expensive E-30 model. The Olympus E-620 will be available at the end of April 2009 for $699.99 / £619.99 body-only.
Olympus UK Press Release
A compact D-SLR that inspires the imagination
The Olympus E-620: All our knowledge in one
Hamburg, 24 February 2009 – The world's smallest and lightest creative D-SLR with built-in image stabilisation has finally arrived! The new Olympus E-620 combines the technical sophistication required by pros with easy-to-use functions desired by hobbyists. As a result, ambitious photographers everywhere can now take creativity to a whole new level. Outfitted with a custom 7-point Twin autofocus system, the E-620 provides consistent focus, as well as a generous 12.3 Megapixel High-Speed Live MOS. Additionally, the Live View technology as well as the 6.9cm/2.7" free-angle HyperCrystal III LCD make framing every shot a cinch. In-camera Art Filters entice users to be artistic by allowing them to apply stylish effects at the touch of a button. Indeed, the E-620 is everything that makes Olympus Four Thirds Standard D-SLR cameras great. The latest addition to the E-System range offers creative and technological power – all rolled into one. The new model will be available for purchase at the end of April 2009 and retail for €xxx.
A license for creativity
Designed to stimulate creativity, the E-620 brings out the artist in anyone. This D-SLR comes packed with features that will give a different look to the shot that's being captured, all without the need for a computer or special software. Effects can even be viewed in real time. Familiar from the
E-30, the Art Filters enable a selection from one of six exciting themes. With this function, photos can for example be given striking colours in order to create a more intense, joyful feel by applying the Pop Art filter. This confers images a completely new artistic flair. Other fantastic effects include Pin Hole, Soft Focus, Pale & Light Colour, Light Tone and Grainy Film. On top of that, there's the option to utilise the Live View display to overlay two stored RAW images in order to create amazing new Multi Exposure masterpieces, all in real time. Plus, users can always frame their shot in a way that suits their fancy. All they have to do is choose between five different aspect ratios – from 4:3 (standard) to 6:6 (medium-format) to 16:9 (cinematic) – and the picture is theirs.
The E-620's elegant body promotes creativity as much as the state-of-the-art technology packed inside. Guaranteeing pictures are a success no matter what the conditions or how far the subject is, a built-in image stabilisation corrects camera shake up to four steps, assuring steadiness and making tripods unnecessary in most instances. Then there's the free-angle 6.9cm/2.7" HyperCrystal III LCD with 176° viewing angle, which means shots can be taken from almost any perspective. This way, you can even capture a field of daisies from a bee's point of view! Working in terrific harmony with the camera's contrast AF* capabilities, the Live View functionality allows you to comfortably judge results even before they are shot: what you see is what you get. Perfect light is a guarantee with the ability to use up to three separate, camera controlled, Wireless Flash groups – an option first introduced with the E-3. And with the attachable HLD-5 Power Grip, taking vertical photos becomes a breeze while the extra battery performance enables shooting for longer hours. With such an impressive array of functions, the potential of the E-620 can be stretched as far as the photographer's imagination.
A camera with the works
A camera that inspires creativity needs to be extraordinarily functional as well, and the E-620 doesn't disappoint. One of the D-SLR's most exciting facets is the new 7-point Twin AF which features seven distance-measuring points, five of which are cross-points. This Olympus autofocus technology was developed for the professional E-3 after the comprehensive analysis of thousands of photographs and interviews with professional photographers. It has now been tailored to hobbyist needs: the five cross-points work by using horizontal and vertical sensor lines to supply data that determines the ideal focal points of each shot. This ensures every snap of the shutter produces blur-free results. In addition, the AF was specifically designed to work easily and rapidly with SWD lenses. With the E-620, being out of focus becomes a thing of the past.
Aside from the amazing AF, the E-620 also packs the one-two punch of a 12.3 Megapixel high-speed Live MOS sensor and the latest-generation TruePic III+ processor so that every picture is as clear as the real thing – even when shot at a blazing fast 4fps. If users aren't taking advantage of the LCD to do their framing, they can employ the exceptional viewfinder which magnifies up to 0.96x and provides 95% viewing coverage. An Auto White Balance also helps reproduce vivid and true to life colours.
Goes where you go, does what you want it to do
One of the advantages of Four Thirds technology is perfectly incorporated into the E-620: it is so compact and light that it can be taken anywhere. And thanks to a design that provides a handy ergonomic grip, this model always feels comfortable to hold. It's also equipped with Olympus' exclusive Supersonic Wave Filter dust protection system – the most effective dust protection system on the market. In addition, the camera's buttons illuminate to provide valuable aid when shooting at night.
The Olympus E-620 can be enjoyed with nearly all E-System accessories, such as 33 lenses and different flash systems. New robust Olympus Flash Brackets, like the FL-BK04, ensure maximum flexibility and good light in any situation where a flash may be needed. And two flashes are also not a problem with the practical FL-BKM03 Flash Bracket, on which any standard flash or the twin flash set STF-22 can be mounted. As for those who like to take a dive, Olympus' new PT-E06 Underwater Case has you covered to depths of up to 40m.
Boasting all of Olympus' technological knowhow, this camera delivers everything creative types want in a digital SLR. It offers the ultimate in E-System features such as the Supersonic Wave Filter and Live View as well as artistic options like Art Filters in one innovative package. Look for the new E-620 in stores as of the end of April 2009 at a retail price of €xxx.
The Olympus E-620 digital SLR – main features
Creativity
• Art Filters, Multiple Exposure, Wireless Flash, Multi-Aspect
• Comfortable Live View thanks to high-speed contrast AF
• Free-angle 6.9cm/2.7" HyperCrystal III LCD
• 12.3 Megapixel Live MOS Sensor
Functionality
• Built-in IS with max. 4 EV steps efficiency
• 7-point Twin AF (5 cross points)
• Optical viewfinder with approx 95% field of view and approx 0.96x magnification
Portability
• Small and light-weight body
Additional features of the Olympus E-620
• Multiple-exposure function with LCD monitor display of current view superimposed on top of previously captured image
• Auto gradation adjustment to prevent blown highlights and blocked-in shadows
• Face Detection and Shadow Adjustment Technology
• Auto white balance control
• Perfect Shot Preview to enable comparison of the results of various settings adjustments before actual shooting
• Reliable Supersonic Wave Filter dust reduction system
• Built-in flash (GN12) with commander function for wireless off-camera flash synchronisation
• Wireless flash control in up to 3 groups (separate press release available for Olympus FL-50R and FL-36R flash units)
• Versatile bracketing functions for ISO, white balance, exposure, and flash
• Based on the Four Thirds Standard
• Illuminated buttons
• Ergonomic design of body, control buttons and GUI for easy operation
• AE/AF lock functionality for individual customisation
• ISO 100-3200 for wide-ranging sensitivity
• Hi-Speed USB 2.0 interface
• High-speed data writing and lossless RAW compression for quick processing
• Simultaneous writing of RAW and JPEG
• 29 shooting modes (5 Exposure Modes, 5 Creative Modes, 13 Scene Select Modes, 6 Art Filters)
• Wide dynamic range in highly lit areas
• Dual memory slot for CompactFlash and xD-Picture Cards (incl. support for UDMA High-Speed CF cards and Microdrive)
The Olympus E-620 is available in the following configurations:
• Olympus E-620 Lens Kit
(E-620 body with ZUIKO DIGITAL ED 14-42mm 1:3.5-5.6 lens)
• Olympus E-620 Double Zoom Kit
(E-620 body with ZUIKO DIGITAL ED 14-42mm 1:3.5-5.6 and ZUIKO DIGITAL ED 40-150mm 1:4.0-5.6 lenses)
• Olympus E-620 Pancake Lens Kit
(E-620 body with ZUIKO DIGITAL 25mm 1:2.8 lens)
New accessories
• HLD-5 Power Grip
• FL-BK04 Flash Bracket
• FL-BKM03 Flash Bracket
• PT-E06 Underwater Case
* Full contrast AF performance is available with new Olympus lenses including the ZUIKO DIGITAL ED 9-18mm 1:4.0-5.6, the ZUIKO DIGITAL ED 14-42mm 1:3.5-5.6,  the ZUIKO DIGITAL ED 40-150mm 1:4.0-5.6, the ZUIKO DIGITAL 25mm 1:2.8 "pancake" lens and the ZUIKO DIGITAL 14-54mm 1:2.8-3.5 II.
Appendix
7-point Twin AF
A high-speed 7-point autofocus system that uses 7 distance-measuring points, five of which are cross-points, to help determine accurate focus for the camera. It works by using horizontal and vertical sensor lines that form a hounds-tooth pattern to pick out actual focal points and then use the collected data to establish high-precision focus.
Art Filters
Enables special artistic effects to be created directly in the camera. The following Art Filters are available in the Olympus E-620:
Pop Art: Enhances colours, making them stronger and more vivid to create high-impact pictures that express the happy, light-hearted feeling of the pop art style.
Soft Focus: Creates a soft tone which gives pictures an ethereal, otherworldly atmosphere. It renders pictures as though they were veiled in heavenly light, without obscuring details such as the hair or flower petals.
Pale & Light Colour: The foreground is enclosed in flat, gentle light – similar to a flashback scene in a film – creating a sense of déjà vu.
Light Tone: Creates a picture with a gentle feel to it, similar to one taken under artificial lighting. Both the shade and highlight areas are rendered very softly to provide a sophisticated atmosphere.
Grainy Film: This effect recreates the feeling of reality evoked by grainy, high-contrast monochrome pictures. The strong presence and dramatic atmosphere make the subject stand out impressively.
Pin Hole: Reduces the peripheral brightness like an image seen through a pinhole. Added to this is a unique colour tone that results in a style that has an air of secrecy or portrays the feeling of being lost in another dimension or space.
Built-in image stabilisation
A type of image stabiliser that is built directly into the camera. This enables the photo-enhancing effects of image stabilisation to be enjoyed irrespective of the attached lens. In Olympus E-System cameras with built-in image stabilisation, a gyro sensor detects the precise direction of the shake. Using the on-board SWD, the shake is then compensated for by shifting the image sensor according to the movement data. For quick response at long focal lengths, cameras are equipped with two dedicated microprocessors: one to control the two supersonic motors that shift the unit vertically and horizontally, and one to provide high-precision control.
Face Detection Technology
A technology that searches for faces in a composition and recognises them as the main subject. It then automatically puts them in focus and optimally adjusts exposure to create an image that's sharp in the right places and ideally exposed.
High Speed Live MOS Sensor
A high-performance image sensor that enables Live View capabilities and fast sequential shooting for D-SLR cameras. It combines the advanced specifications of a Full Frame Transfer (FFT) CCD with the low power requirement of a CMOS. Photodiodes are deeply embedded in the sensor to suppress image noise. The faithful reproduction of subject details with rich tones and natural, vibrant colours characterise this type of sensor. 
HyperCrystal
A high-grade, fully-transmissive technology used in LCDs, which employs an additional layer at the bottom of the LCD to reflect light from external light sources. This enhances the brightness of the LCD, so even in direct sunlight images are displayed sharply and with improved contrast compared to that of conventional displays. Also, it provides for particularly wide viewing angles without glare or shadow, so images can be framed from a variety of angles and viewed by several people at once.
Live View
Provides an alternative to framing shots through the viewfinder on a digital SLR camera. The image sent through the lens to the image sensor is displayed directly on the camera's LCD. Whereas most compact digital cameras have been equipped with Live View functionality for many years, this feature has only recently become available on D-SLRs. The world's first D-SLR to feature continuous Live View capabilities was the Olympus E-330.
Multi Aspect
The E-620 lets photographers choose from five different aspect ratios that enable individualised framing of scenes. These provide a new means of adding expression to shots and the selected ratio can be seen directly on the camera's LCD. The available aspect ratios include: 16:9, 3:2, 4:3, 3:4 and 6:6.
Multi Exposure
Multiple exposures are possible with the E-620 in both Live View and viewfinder shooting. In Live View shooting, previously shot RAW data is used as the base image and the final photo can be monitored by overlapping the image to be added on the LCD. Two images can be superimposed in a single multiple exposure sequence.
RC Wireless Flash Control
The user can control wireless flash units remotely – eliminating the need for extra cables – by using the built-in flash as the system's master unit. Control options include the ability to independently regulate flash mode and compensation settings for up to three groups of flashes, four channel settings to avoid interference as well as a wide range of brightness levels.
Shadow Adjustment Technology
A technology designed to improve exposure for pictures with dark areas. Using a sensor that works much like the human eye, dark parts of a composition (e.g. a shadow under a tree) are identified and the camera then adjusts the exposure settings accordingly for those areas. The result is a more realistic and detailed picture.
Supersonic Wave Filter
Dust entering digital SLRs, for example during lens changes, can cause damage to photos – unless it is removed. With the Supersonic Wave Filter, the potential for dust to ruin photos is eliminated. A transparent filter is located between the camera's shutter and sensor. It makes sure no dust is able to land on the sensor. Instead, the particles settle on the filter and are then shaken off by a series of ultrasonic vibrations generated by the filter when activated. Olympus was the first manufacturer to incorporate dust protection in D-SLRs.
TruePic III+ image processor
Olympus' latest-generation image processing engine. It automatically enhances important aspects of image quality including: colour reproduction (colour range, saturation and brightness), picture sharpness (reduced image noise, improved edge reproduction), as well as providing faster processing speeds. Furthermore, it supports Art Filters to enable unprecedented creative expression.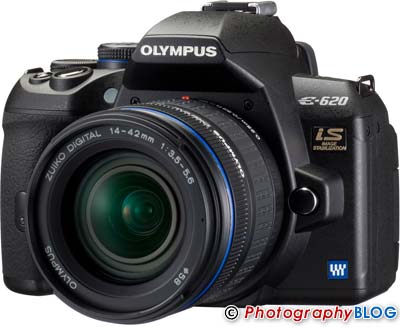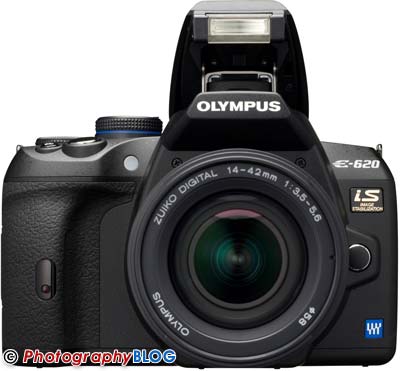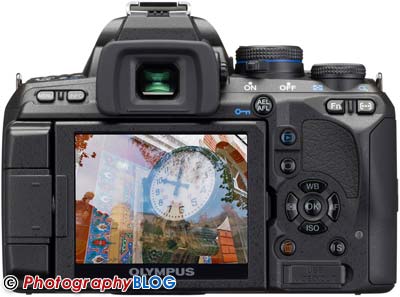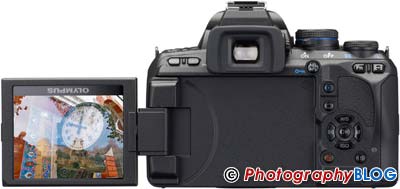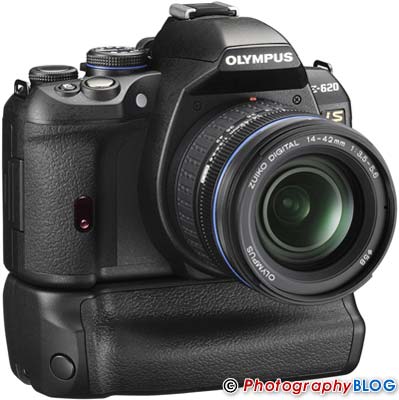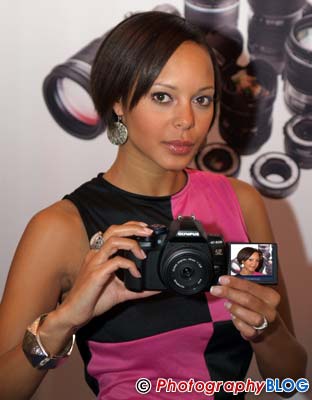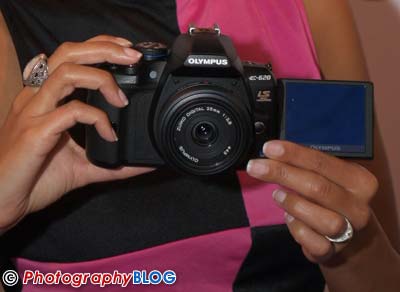 Your Comments