Olympus E-PL3 Gets Priced in US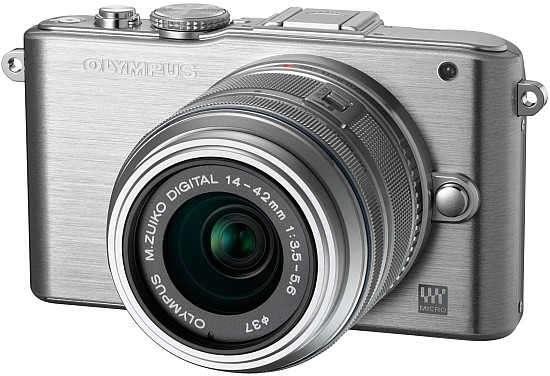 Olympus America has also announced availability and pricing for the Olympus E-PL3. Also called the Olympus PEN Lite, the 12-megapixel E-PL3 is the latest Micro Four Thirds model, offering speedy auto-focus, a tiltable rear screen, flash hot-shoe, accessory port, in-body image stabilisation and a selection of Art Filters. The camera will be available from September in two different configurations; a zoom kit including the M.Zuiko Digital 14-42mm lens and a prime kit including the 17mm f/2.8 pancake lens (read review). The estimated street price for each kit is $699.99. The news comes after similar pricing announcements by Olympus UK and Olympus Europe.
Olympus Press Release
Swing Into Action! Olympus Unleashes The Highly Anticipated PEN E-PL3 Camera Featuring Tilting LCD And The New VF-3 Electronic Viewfinder  

Price and Availability Announced for Compact PEN E-PL3 Camera That Delivers Maximum Flexibility, Innovation and Amazing Image Quality for All; New Accessory Viewfinder Expands Your Point of View
CENTER VALLEY, Pa., July 27, 2011 – Imaging enthusiasts will rejoice knowing that they can finally get their hands on the desirable Olympus PEN E-PL3 – a powerful camera designed for photographers craving a portable camera with pro quality and point-and-shoot simplicity. The PEN E-PL3 is an interchangeable lens camera offering a sleek, metal body packed with versatile controls and lenses with professional image quality.
Available in September, the Olympus PEN E-PL3 will be sold at the affordable price of $699.99 and will deliver amazing image quality and lightning fast speed for brilliant still images and high-definition (HD) video. It will ship bundled with either a wide-angle zoom M.Zuiko 14-42mm lens (28mm-84mm equivalent), optimized for fast autofocus (AF) and silent AF operation, or the M. Zuiko 17mm ultra-compact and portable wide-angle pancake lens (34mm equivalent).
The PEN E-PL3 is a member of the Olympus PEN family of compact system cameras that also includes the new E-P3 and E-PM1. Designed to help innovation seekers capture and share their unique visions, the Olympus PEN E-PL3 combines pro quality with the portability of a point-and-shoot and features found on bulkier DSLR-type cameras.
Packs a Powerful Punch in a Small Package
The E-PL3 offers something for everyone. Packed with the technology and image quality normally found in a DSLR, it's the size of a small, portable point-and-shoot camera and can easily travel with you. Its 3-inch, tilting high-resolution LCD screen helps you see high above the crowd to capture amazing stills and HD video of live performances, sports events and more. Easily move to eye-level to capture superb detail of children at play or even lower to the ground to record baby's first steps or a pet soundly sleeping. Never worry about missing a spontaneous moment because the E-PL3 shoots at 5 frames per second.
Offering the versatility of interchangeable lenses, excellent quality low-light shooting thanks to the camera's AF Illuminator, a high ISO of up to 12,800, with a blazing fast autofocus system, a 12.3-megapixel Live MOS Image Sensor and TruePic™ VI Image Processor, the Olympus PEN E-PL3 becomes the ultimate travel companion. Discretely document all of the color and pageantry of the city, even in low-light, as you make your way to your next destination.
Staying in for a more relaxed evening at home? Tech-enthusiasts will want to keep the E-PL3 ready by their side to capture friends and family, while showcasing their creativity. Easy-to-use technologies like in-camera Art Filters and image effects empower users to apply their unique artistic vision to images and videos so they can easily share professional-quality creations. Accessing all of the camera's options is quick and easy with a new intuitive interface.
Availability
The Olympus PEN E-PL3 kit will be available in black, white, red and silver, starting in September 2011. The kit includes the PEN E-PL3 body, lens, USB cable, video cable, BLS-1 Li-Ion battery pack, Li-Ion battery charger, shoulder strap, OLYMPUS [ib] software CD-ROM, manuals and registration card.
The updated Olympus Viewer 2 software is included with all new Olympus PEN cameras. The software helps users edit and organize photos and play back AVCHD video. Olympus Viewer 2 also enables users to experience new functions, including the application of new art filters, effects and variations.
U.S. Pricing / Product Configurations
Olympus PEN E-PL3 Body with MSC M.ZUIKO DIGITAL ED m14-42mm II R f3.5/5.6 Zoom or 17mm Lens Estimated Street Price: $699.99
Your Comments