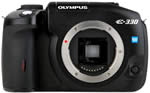 PMA 2006: The Olympus E-330 with live preview is announced today. 7.5 megapixels, 2.5 inch LCD, Supersonic Wave Filter, £900 in the UK, available in March.
Olympus UK Press Release
World's first digital SLR with continuous live view*
London, 26 January 2006 – With its new E-330, Olympus introduces the fourth SLR body in the award winning Olympus E-System and expands the horizons of photography by including live view on the LCD screen of a digital SLR for the first time*. This ground-breaking innovation enables framing of shots without the need to look through the viewfinder, allowing users of the Olympus E-330 to remain aware of what's going on around them while they shoot – a significant advantage for reportage or sports photographers. As the image is relayed live on a large bright LCD screen measuring 2.5"/ 6.4cm framing the subject is made much easier in situations when using a conventional viewfinder is too awkward, such as when photographing underwater. And as the large LCD on the Olympus E-330 can be tilted or swivelled to virtually any angle, the versatility of the Olympus E-330 is extended even further.
The E-330 has been equipped with the latest-generation 7.5 million pixel MOS sensor for high speed and sensitivity. And, to safeguard image quality against dust contamination, Olympus's exclusive Supersonic Wave Filter once again appears on an E-System SLR.
For ultimate versatility, the Olympus E-330 is compatible with the full range of Olympus E-System accessories. It will be supplied with a ZUIKO DIGITAL 14-45mm 1:3.5-5.6 lens (equivalent to 28-90mm on a 35mm camera)** and, from March 2006, will be available from High Street camera shops priced at around £900.
Continuous live view on a tilt and swivel monitor
As the world's first* digital SLR to feature a continuous live view on its LCD screen, the Olympus E-330 gives photographers a previously unheard of degree of flexibility. The camera's TTL optical porro design has made it possible to fit the E-330 with two separate image sensors, enabling two different live view modes. Mode A, for Full Time Live View framing, utilises a CCD mounted in the viewfinder's optical path to return a 92% field of view and retains full AF functionality. Meanwhile, Mode B locks the mirror in the up position and uses the camera's Live MOS sensor to enable a Macro Live View with a 100% field of view. This latter mode is especially helpful when focusing macro subjects, as it provides the freedom of complete manual focus control aided by the facility to magnify the central section of the displayed image by 10x.
To get the maximum benefit from the dual live views, Olympus has equipped the E-330 with a large, 2.5"/6.4cm multi-angle monitor, the LCD screen of which employs HyperCrystal technology, assuring extra-fast response times and providing viewing-angles of 160°. The angle of this monitor can be adjusted by the photographer, so that the best view of the subject can be seen on the LCD screen. This feature makes composing photos taken above the head, over the top of crowds, or shot from waist height surprisingly easy, removing the chance of pointing the camera in the wrong direction. Macro photographers in particular will appreciate this feature as they won't need to bend themselves into uncomfortable positions to look through the viewfinder when framing low level shots.
Keeping track of the many functions on offer has also been made easy, as the E-330's large LCD monitor also displays details of the current camera settings and users have the choice of either viewing more detailed information or just the general settings.
High-performance 7.5 million pixel Live MOS sensor
For the very best in imaging performance the Olympus E-330 incorporates a newly-developed latest generation MOS sensor with 7.5 million pixels. This type of sensor offers image quality comparable to an FFT-CCD but with the low power requirements of an MOS Sensor. A simple amplifier in each pixel reduces the number of circuit paths, minimising the surface area that is unresponsive to light. The effectively enlarged photosensitive area thereby helps to provide superior image quality, as well as higher sensitivity with less noise. Responsiveness is similarly enhanced for fast processing, making the camera capable of delivering a burst rate of 3.0 frames per second. Coupled with the TruePic TURBO image processor, results will convince even professional users.
Slots for both CompactFlash and xD-Picture Card feature have been included so that photographers can choose the type of media on which they wish to record their results and files can be saved in JPEG, TIFF and RAW formats.
Professional results for everyone
Photographers who want to give free reign to their creative impulses will find that the full manual mode, along with the semi-manual Aperture or Shutter Priority options on the Olympus E-330 have plenty to offer, whilst others may prefer the convenience of automatic shooting. On top of these four exposure modes, 20 pre-defined scene modes and 7 creative modes have been included to cover most eventualities. These include modes for Nature Macro and xD-Panorama shooting, as well as two underwater modes and an anti-blur option.
A 49 area AE sensor provides accurate exposure values for ESP metering using an advanced evaluation algorithm, with conventional centre-weighted average and spot metering also available. And for more tricky lighting situations Highlight and Shadow specific spot metering are on hand to give ultra precise control. A Histogram function is also included as well as professional AE Lock functionality for camera customisation. Of course, for additional lighting requirements, the built-in flash can always be brought into play and for more demanding flash photography photographers can purchase more specialised flash guns, such as the FL-36 or FL-50 and ring and twin flash units, from the Olympus E-System.
Other pro-level features including One-Touch White Balance, Depth of Field Preview and bracketing functions for exposure, white balance and focus are all geared towards enhancing the shooting experience and ultimately ensuring picture quality. Black & white shooting is also available with the option to select colour filters – as used in analogue photography, to alter the contrast of the sky for example.
Ready for all kinds of applications
Photographers using the Olympus E-330 will benefit from buying into the broad and ever expanding Olympus E-System of lenses and other accessories, designed specifically for digital photography. Olympus provides a solution for virtually any situation, even underwater photography and every lens features nearly telecentric construction to enhance digital image capture. A full list of lenses can be found in the Background information section of this release.
The Olympus E-330 represents a radical new departure in digital SLR design. With its live view feature, photographers will for the first time be able comfortably view the image they are taking no matter what position their camera is placed in. The Olympus E-330 comes in a kit with a high-performance ZUIKO DIGITAL 14-45mm 1:3.5-5.6 lens (28-90mm)**, and will be available from March 2006 in camera shops retailing for around £900.
The Olympus E-330 digital SLR – main features:
• World's first* Live View digital SLR with two modes:
o A Mode – Full Time Live View with incorporated AF
o B Mode – Macro Live View with 10x magnification for easy focusing
• 7.5 million pixels Live MOS sensor
• Multi-angle 6.4cm/2.5" HyperCrystal LCD (215,250 pixels)
• Supersonic Wave Filter for dust protection
• TTL Optical Porro Finder design
• Single AF, continuous AF and manual focusing, plus S-AF+MF and C-AF+MF
• 49 area AE sensor
• ESP, centre-weighted average and spot exposure metering plus high light basis and shadow light basis spot metering
• Based on Four Thirds standard
• Professional AE lock functionality
• Sequential shooting at up to 3.0fps
• IR Hybrid Type Cut Filter for equalisation with human eyes
• 1/3 EV ISO steps
• ISO up to 1600
• TruePic TURBO image processor
• P/S/A as well as full manual operation
• 20 scene modes, 7 creative modes plus 4 exposure modes
• Dual slot for CompactFlash/Microdrives and xD-Picture Cards
• Built-in pop-up flash
• User-friendly with detailed and simplified display modes
• Weight: 550g, size: 140x87x72mm
• Compatible with the complete range of Olympus E-System lenses and many accessories, including the FL-36 flash and the ME-1 magnifier
• Available as camera body only or in kit containing camera body, 14-45mm (28-90mm)** 1:3.5-5.6 lens , BLM-1 rechargeable battery pack with BCM-2 charger
Supersonic Wave Dust Filter
As with all Olympus E-System cameras, incorporation of the Supersonic Wave Filter means that the problem of dust entering the camera body and landing on the image sensor while changing lenses is completely eradicated. The patented technology ensures worry-free lens changing anywhere and anytime, enabling users to experience the brilliance of dust-free pictures. Developed by Olympus, the Supersonic Wave Filter generates ultra-high-speed vibrations that shake off dust and other particles, such as pollen grains, which are then captured to prevent recontamination. This function is activated at each start-up of the camera, but may also be triggered manually. This ingenious solution spares users the time and expense of cleaning dusty image sensors or retouching photos that have been spoiled by black dust spots.
Olympus E-System lenses**:
• ZUIKO DIGITAL ED 7-14mm (14-28mm)** 1:4.0
• ZUIKO DIGITAL 11-22mm (22-44mm)** 1:2.8-3.5
• ZUIKO DIGITAL ED 14-35mm (28-70mm)** 1:2.0 (available 2007)
• ZUIKO DIGITAL 14-45mm (28-90mm)** 1:3.5-5.6
• ZUIKO DIGITAL 14-54mm (28-108mm)** 1:2.8-3.5
• ZUIKO DIGITAL ED 18-180mm (36-360mm)** 1:3.5-6.3 (available end of January 2006)
• ZUIKO DIGITAL ED 35-100mm (70-200mm)** 1:2.0
• ZUIKO DIGITAL 40-150mm (80-300mm)** 1:3.5-4.5
• ZUIKO DIGITAL ED 50-200mm (100-400mm)** 1:2.8-3.5
• ZUIKO DIGITAL ED 90-250mm (180-500mm)** 1:2.8
• ZUIKO DIGITAL ED 8mm Fisheye (16mm)** 1:3.5
• ZUIKO DIGITAL 35mm Macro (70mm)** 1:3.5
• ZUIKO DIGITAL ED 50mm Macro (100mm)** 1:2.0
• ZUIKO DIGITAL ED 150mm (300mm)** 1:2.0
• ZUIKO DIGITAL ED 300mm (600mm)** 1:2.8
Optional underwater case PT-E02
From May 2006, a special underwater case PT-E02 will be available for the Olympus E-330. Waterproof to a depth of 60m, the PT-E02 makes using a professional digital SLR underwater much easier than before by allowing photos to be framed by using the live view on the cameras LCD screen, rather than needing to try looking through the viewfinder whilst wearing a diving mask, as was previously the case.
* As of January 2006
** Focal length equivalent on a 35mm camera in brackets
Specifications are subject to change without notice