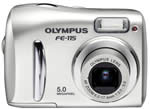 PMA 2006: The Olympus FE-115 is announced today. 5 megapixels, 2.8x zoom, 1.5 inch LCD, £120 in the UK.
Olympus UK Press Release
Digital photography as easy as one, two, three - the Olympus FE-115, an easy introduction to digital photography
London, 26 January 2006 – The Olympus FE-115 is not only easy to use, it delivers great quality 5 million pixel photos at a very affordable price. With a 2.8x optical zoom lens and a 1.5 inch LCD screen even photo novices will have a great time using the FE-115. They'll be able to find their way around the camera's various functions in no time, as the controls are conveniently positioned and most buttons have just a single dedicated function. In addition, the ergonomically-designed, lightweight silver body coupled with 28MB of internal memory and xD-Picture Card compatibility make the FE-115 great for long-lasting photo fun. It will be available from February 2006 priced at around £120.
Great quality, digital photography is child's play with the Olympus FE-115. Due to a "one button, one function" design principle all essential functions such as shooting, playback and viewing on the LCD, as well as erasing, are easily activated via a single button. With a 5.0 million pixel CCD, the FE-115 produces clear and detailed images even if printed to larger sizes. Framing subjects is a doddle – a 2.8x zoom lens coupled with a clear 1.5 inch LCD screen makes chopping the top of peoples' heads off a thing of the past and when the optical zoom is used with the 4x digital zoom, the camera can even achieve an overall magnification of more than 11x.
Anyone who fancies themselves as the next Spielberg will have no end of fun with the FE-115, as the camera includes a video function and the length of the recording is only limited by the amount of memory available. The camera comes with an internal 28MB memory, but this can be supplemented with compact removable xD-Picture Cards so filming can continue till the cows come home. And should they prefer to go down the natural history route they'll find that the FE-115 also makes easy work of extreme close up photographs, as in Super Macro mode still images may be captured from as little as 2cm away. Five special scene modes covering popular shooting situations, such as Landscape, Self Portrait and Night Scene remove any worry of having to fiddle around with shutter-speeds and apertures, and should users need guidance on which scene mode to pick they can turn to the help function in the menu for direct on-screen assistance.
The hassle free nature of photography using the FE-115 even extends to printing pictures, as the camera can be connected directly to PictBridge compatible printers – such as the Olympus P-11, which prints in just 33 seconds – so there's no battling with a computer and no need to take the camera or memory card down the shops. The FE-115 is a great option for anyone after 5 million pixel image quality and zoom flexibility without breaking the bank. It will be available through all photography retailers from February 2006 priced at around £120.
The Olympus FE-115 – main features:
·  5.0 million pixels
·  2.8x optical zoom (equiv. 38-106mm on 35mm cameras) 1:3.0-5.0, plus 4x digital zoom
·  3.8cm/1.5" LCD
·  One button per function concept, reset button
·  User-friendly interface with useful descriptions of scene modes
·  Five scene modes (Landscape, Night Scene, Self-Portrait)
·  Super Macro, from as close as 2 cm
·  Movie function (recording time limited only by the size of the available memory)
·  PictBridge support
·  28MB internal memory plus xD-Picture Card slot
·  Accepts standard (rechargeable) AA batteries