Olympus FE-140 and Olympus FE-130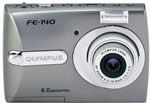 PMA 2006: The Olympus FE-140 and Olympus FE-130 are introduced. 6 and 5.1 megapixels, 3x zoom, 2.5 and 2.0 inch LCDs, £170 and £140 in the UK respectively.
Olympus UK Press Release
Great value fun and quality - No nonsense photography with the Olympus FE-130 and FE-140
London, 26 January 2006 – Ideally suited for budget-conscious hobby photographers who want to start shooting right away, the FE-130 and FE-140 match good quality with easy operation and a great appearance. Based on a no nonsense "one button, one function" design principle, these two cameras offer exceptionally easy operation that in no way compromises the quality of the photos they produce. Featuring 5.1 and 6.0 million pixel resolution respectively, photos taken with the FE-130 and FE-140 have enough detail to withstand printing even at larger sizes. The versatility of 3x optical zoom lenses makes it easy to frame subjects without having to continually move the camera backwards and forwards, as does the cameras' respective 5.1cm and 6.4cm LCD screens, which also prove very handy when showing off pictures already taken to friends and family.
With an attractively-rounded design, these curvaceous compacts fit snugly in the hand and are light enough to be taken anywhere. Expect to see them in shops from March priced at around £140 for the FE-130 and £170 for the FE-140.
Thanks to their straightforward "one button, one function" approach, both the FE-130 and FE-140 are as convenient and uncomplicated as possible, making them an ideal choice for photographers who want great results without lots of fuss or expense. Both cameras' main functions are quickly and easily accessed at the touch of a button and should the photographer ever tire of technology the Help function provides clear explanations of the available features on the screen so that the best results can be achieved with minimal effort.
With respective resolutions of 5.1 and 6.0 million pixels, the FE-130 and FE-140 record images in brilliant detail and have the power to produce impressively large print-outs of favourite shots. The flexibility of their precision 3x zoom lens (equivalent to 38-114mm on a 35mm camera) gives photographers freedom to frame their photos exactly as they wish, aided further by the live image relayed on the 5.1cm (FE-130) and 6.4cm (FE-140) LCD screens. These also provide an easy and enjoyable way of viewing the results at the end of the day's shoot.
Both cameras' feature a new simplified menu system to help the photographer find their way around the various settings. And in a further attempt to make life easy for the photographer, no fewer than 20 scene modes have each been preset with the optimal settings for a variety of specific situations – each easily accessed at the touch of a button. These include Sports, Sunset, and Night Scene and even extreme close-ups from as little as 5cm away in the Super Macro mode. A movie recording function has also been included on both cameras with maximum shooting time only limited by the amount of memory available. In addition to a 22MB internal memory, removable xD-Picture Card can be used, so that the photographer can always ensure they have enough memory available for their needs.
Further evidence of the FE-130 and FE-140's no nonsense approach to life is that they can be conveniently powered by two regular AA-size batteries. And should that trip include rafting, snorkelling or some other extreme activity that's not a problem as the FE-130 and FE-140 can be protected with the optional outdoor case CWPC-03, waterproof to 3m*. Each camera also features a multi-language menu, which might prove very handy when asking another tourist to take your photo!
Providing an ideal balance between easy shooting and image quality, the FE-130 and FE-140 allow photographers to take simply brilliant pictures with almost no effort at all. And at just £140 and £170 respectively, even the price is no cause for worry. The cameras and will be available from March at all good camera stores.     
The Olympus FE-130 and FE-140 – main features:
·      FE-130: 5.1 million pixels, FE-140: 6.0 million pixels
·      "One button, one function" design principle
·      3x optical zoom (equiv. to 38-114mm on a 35mm camera) 1:3.1-5.9
·      FE-130: 5.1cm/2.0" LCD, FE-140: 6.4cm/2.5" LCD
·      20 scene modes (Incl. Sports, Indoor, Night Scene)
·      Movie recording up to card capacity
·      22MB internal memory plus xD-Picture Card slot
·      Uses two AA-size batteries
·      Supplied with Olympus Master Software
·      Optionally available: Outdoor case CWPC-03
·      Multi-language menu (6 languages) plus possibility to download further languages from the internet
·      ImageLink compatibility