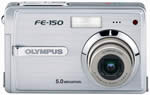 PMA 2006: The Olympus FE-150 is unveiled. 5 megapixels, 3x zoom, 2.5 inch LCD, £160 in the UK.
Olympus UK Press Release
5 million pixel photography for beginners and hobbyists - The Olympus FE-150, an easy way to take great photos
London, 26 January 2006 – Anyone opting for the new Olympus FE-150 will find themselves snapping away like a pro within minutes of opening the box. The new 3x zoom, 5 million pixel camera has been designed very much with trouble-free photography in mind, but not at the expense of picture quality. The camera's lightweight, slim metal body exudes style and is compact enough to be slipped into a bag or pocket ready for use at a moments notice. At 6.4cm, the large LCD makes taking photos and viewing the results dead easy. Most of all, beginners will really appreciate the camera controls that are virtually self explanatory. The attractively-priced FE-150 is the perfect solution for all beginners and hobby photographers alike and, from April, will be available from all good camera shops for around £160.
Having 5.0 million pixel resolution and a choice of Scene modes the FE-150 delivers extraordinarily detailed pictures in pretty much any given situation. Its precision 3x optical zoom lens give the photographer the freedom to decide exactly how much of the subject to focus on, as it extends from 32mm wide angle through to 96mm telephoto (equivalent 35mm camera focal lengths), making it great for landscapes, interiors and portraits. An additional 4x digital zoom boosts magnification power even further, great for sports. And the big 6.4cm LCD screen with 230,000 pixels means there's plenty of scope for admiring the results as well.
Even complete beginners will be amazed (and relieved!) by straightforward camera controls. Most functions are accessible via a single button and the menus, easily viewed on the large LCD, employ easy-to-understand symbols which are supported by brief explanations of each function so that shooting in just about any situation becomes child's play. Five different Scene modes including Portrait, Landscape and Night Scene are on hand, each preset with the optimal camera settings for each situation. Just select the appropriate scene mode and perfect results are delivered – automatically.
On top of the Scene modes, a Super Macro mode enables extreme close-up photography from as little as just 6cm away, and Movie recording with sound captures action at 30 frames per second, in QVGA quality, right up to the limit of memory available. The FE-150 has 9MB of internal memory which can be simply and inexpensively upgraded by purchasing xD-Picture Cards (currently available to a maximum of 1GB capacity). The latest generation of Olympus High-Speed xD-Picture Cards now offer data transfer rates 2-3 times faster than previous cards and also enable various art and 3D functions be applied to recorded images when used in conjunction with Olympus Master 1.4 image-editing software, which is included free with each camera.
Finally, to help ensure that the FE-150 never runs out of juice just at that crucial moment, the camera is powered by a new, longer-lasting LI-42B rechargeable battery. Hobbyists and newcomers to digital photography will have hours of fun with the FE-150, which will be available from camera shops from April, selling for around £160.
The Olympus FE-150 – main features:
·  5.0 million pixels
·  24.5mm slim stylish metal body
·  32-96mm, (35mm camera equivalent), 1:2.8-4.8
·  4x digital zoom
·  6.4cm/2.5" LCD (230,000 pixels)
·  5 scene modes (incl. Portrait, Landscape, Night Scene)
·  Movie recording with sound up to card capacity
·  Super Macro mode (from as close as 6cm)
·  12MB internal memory plus xD-Picture Card slot
·  Supplied with Olympus Master Software and new LI-42 battery
·  Multi-language menu (6 languages) plus possibility to download further languages from the internet