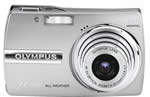 The Olympus mju 1000 features a 10 megapixel sensor and will arrive in UK stores in October, priced at around £330.00.
Olympus UK Press Release
London, 23 August 2006 – With the introduction of the Olympus mju 1000, even the most demanding of photographers will be delighted to take pictures packed with 10.0 million pixels worth of detail, using a camera they can simply slip into their pocket. The Olympus mju range is well known for cameras that push the very boundaries of technical achievement, without skimping on the style. The mju 1000 retains the hallmark weatherproof* metal body of its predecessors, bringing it bang up to date with a sophisticated silver finish, beneath which lies a 10.0 million pixel CCD and a 3x zoom lens, that together deliver bitingly-sharp results. The mju 1000 is ideally suited to low light photography thanks to BrightCapture Technology, which boosts its maximum ISO to an amazing 6400**. This brightens pictures, without the need to use flash thereby retaining the atmosphere of the ambient light.
At 10.0 million pixels, the ergonomically-designed µ (mju) 1000 has more power than any of its predecessors, to satisfy even the most demanding photographer. The classic elegance of its weatherproof* body is finished in high-quality stainless steel, giving an immediate and unmistakable feeling of durability and performance. Framing is easy with the large, 230,000 pixel 6.4cm LCD screen, which of course can double up as a monitor for viewing pictures the instant they've been taken.
The 3x zoom lens (equivalent to 35-105mm on a 35mm camera) allows the photographer to capture rolling landscapes and then zoom-in to isolate specific details. This is made all the more versatile by the unique Fine Zoom feature, which boosts zoom magnification power to 5x, at 3.0 million pixel resolution, while retaining the full optical quality of the lens.
All current Olympus µ (mju) digital cameras feature BrightCapture Technology making them pioneers of low-light photography. The µ (mju) 1000 uses this to boost its maximum ISO value to 6400**. This reduces the need to use a flash and so makes scenes recorded in low light appear more true-to-life, with naturally reproduced colour. BrightCapture also makes life considerably easier when framing photos in dark situations, by increasing the contrast of the LCD screen by up to 4x. In order for movie clips to be as atmospheric as the photos taken on the µ (mju) 1000, BrightCapture Technology is now also available in the camera's Movie mode. This allows stunning recordings with sound in 640x480 resolution at 30fps, with the duration of the recording limited only by the amount of memory available – whether that's the camera's internal memory, or an optional xD-Picture Card.
There are times when even professional photographers like to keep it simple, and therefore the µ (mju) 1000 offers 20 pre-defined scene modes. Each of these automatically selects the best camera settings for a wide variety of situations, such as Portrait, Landscape, Sports, Cuisine and Candle light. Should the photographer ever need reminding which the best option is, a built-in Guide Function explains a wide variety of camera functions directly on the LCD screen – a bit like having the instruction book built in!
Even the most experienced photographer slips up some times, though luckily with the µ (mju) 1000 a number of quick-fixes are built in. The Digital Image Stabilisation Edit feature can decrease camera shake at the touch of a button by using a dedicated Gyro Senor to measure the camera shake intensity and automatically determine the level of compensation necessary. The improved photo is then saved as a separate file – so there's no loss of the original data. Furthermore, by pressing a Perfect Fix Button, users can correct image blur and backlighting, as well as red-eye, on the camera after a shot has been taken. More than one correction can be performed at the same time if necessary.
The Olympus µ (mju) 1000 is a great choice for photographers who insist on very high resolution and yet also want a camera compact enough to carry with them at all times. With the µ (mju) 1000 they really can have the best of both worlds. This photographic marvel will hit stores from October 2006, with a price tag of around £330.00.
The Olympus µ (mju) 1000 – main features:
• Stainless steel, weatherproof* body
• 10.0 million pixels
• 3x optical zoom (equiv. to 35-105mm on a 35mm model) 1:2.8-4.7
• 6.4cm/2.5" LCD (with 230,000 pixels)
• BrightCapture Technology for better low-light photography – also available in movie mode with sound (640x480 pixels at 30fps)
• ISO64-1600 with full 10MP, ISO 6400 in 3MP mode
• Digital Image Stabilisation Edit for compensation of blurry images caused by hand-shake
• Perfect Fix button for correction of image blur, backlight & red eye
• 20 scene modes (incl. Sports, Beach&Snow, Candle)
• Multi-language menu with 10 languages plus possibility to download 15 more languages from the internet (on board: English, German, Spanish, Italian, French, Russian, Czech, Polish, Danish, Dutch)
• Supplied with Olympus Master Software and LI-12B lithium-ion battery and charger

* Weatherproof equivalent to the IEC standard publication 529 IPX4
** In 3 million pixel mode
For stockist information call 0800 0720070 or visit www.olympus.co.uk.