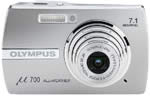 PMA 2006: Introducing the Olympus mju 700. 7.1 megapixels, 3x zoom, 2.5 inch LCD, weatherproof body, BrightCapture Technology, available for £230 in the UK.
Olympus UK Press Release
Low light need never be a problem again - the Olympus mju 700 with BrightCapture Technology
London, 26 January 2006 – It's a problem we're all familiar with, the atmospheric lighting in bars, candlelit restaurants and at concerts looks great but flash photography leaves everyone looking like they've been caught in a headlights of an oncoming juggernaut. Luckily the Olympus mju 700 has the perfect solution built in. Olympus's innovative BrightCapture Technology allows the 7.1 million pixel mju 700 to take perfectly exposed shots in low light without having to use flash, so all of the romance, drama and excitement of the occasion are perfectly preserved. And as BrightCapture also boosts the power of the camera's large 6.4cm LCD screen, there's no more groping around in the dark to frame photos either. A weatherproof* metal body slim enough to slip into a pocket means that the µ (mju) 700 can be taken anywhere and, as a choice of four exciting colours are available there's something for everyone. The great looking µ (mju) 700 will available in shops from March priced at around £230.
Like all cameras in the Olympus µ family the µ (mju) 700 looks great, but what are the photos like? With a resolution of 7.1 million pixels razor-sharp detailed images are guaranteed, whilst a bright 3x optical zoom (equivalent to 37-111mm on a 35mm camera) comprised of high-quality lens elements makes framing even distant subjects straight forward. And of course, thanks to BrightCapture Technology, light sensitivity is enhanced so often it is possible to shoot perfectly exposed images in low light without needing to use the flash.
With 23 scene modes to choose from, the µ (mju) 700 makes easy work of photographing in a diverse range of situations, from Landscapes through to Portraits, Macro and Super Macro as close as 8cm . This versatility is one of the camera's great strengths. Other scene modes, including Night Scene, which extends the maximum shutter speed to four seconds, enhancing operation in low light and guaranteeing that none of the unique atmosphere of the night is lost. To make the best use of ambient light, the µ (mju) 700 features an ISO range covering ISO 64 through to 1600. In 3MP mode this is extended to ISO 2500, delivering great low light pictures free from image noise. However, the µ (mju) 700 is not only ideally suited to available light photography as, with such high ISO sensitivity, the flash working range is effectively doubled making the illumination of even large rooms perfectly feasible.
Don't Forget the Memory
On top of an internal memory, the µ (mju) 700 has been equipped with an xD-Picture Card slot so that photographers can choose the individual storage capacity they require, currently up to a maximum of 1GB capacity. In addition to a Panorama function, the latest high-speed Olympus xD-Picture Cards now offer data transfer rates 2-3 times faster than previous cards. Various art and 3D functions can also be applied to images recorded on these cards, using the Olympus Master 1.4 software included with the camera. The µ (mju) 700 can also be used to capture video sequences with sound in high-quality VGA (640x480) resolution, with the maximum recording time only limited by the amount of memory available.
Easy to View Screen
The large 6.4cm LCD screen on the back of µ (mju) 700 makes framing subjects straight forward. In dark conditions BrightCapture Technology once again comes into its own, this time lightening the screen so that subjects are shown 4x brighter than on normal LCD's making framing photos considerably easier. The high-contrast nature of this screen makes showing saved images or movies to even quite large numbers of people easy. And should photos need to be printed, the Olympus µ (mju) 700 is PictBridge compatible meaning that home printing is a breeze – even without a PC. Using the Olympus P-11 dye-sublimation printer, for example, a stunningly atmospheric low light photo just shot at a party can be printed out in 10x15cm format within just 33 seconds and then passed around for all the guests to enjoy immediately!
Weatherproof* construction, low light capability, loads of special scene modes and slim compact design – this camera really can be taken (and used) anywhere. And to ensure that shooting can continue for as long as possible, this model is equipped with a new, high-performance lithium-ion rechargeable battery (LI-42B). The versatility of the µ (mju) 700 even extends to use under the waves as for protection against extreme outdoor situations and water at depths of up to 3m users can purchase the outdoor case CWPC-02. And for those wanting to test BrightCapture on creatures skulking around in depths as low as 40m Olympus has produced the underwater case PT-032.
The Olympus µ (mju) 700 will be available from March, priced at around £230. And as the camera even features a clever Guide Function that explains different camera functions and menu options directly on the LCD screen ( a bit like having the instruction book built in!) the only difficulty will be deciding what to photograph first.
The Olympus µ 700 – main features:
•        7.1 million pixels
•        Weatherproof* metal body in four colours: moonlight silver, sunset orange,  midnight black and twilight blue
•        BrightCapture Technology for better low light photography
•        6.4cm/2.5" LCD
•        3x zoom lens (equiv. to 37-111mm in 35mm format), 1:3.4-5.7
•        23 scene modes (incl. Candle, Night Scene, Beach & Snow) plus Programme c Auto mode
•        Movie function with sound. Recording up to memory capacity.
•        Macro and Super Macro mode for shooting from as little as 8cm
•        Special editing functions to enhance images and to add creative effects: e.g. red- eye-fix, adjust brightness, insert frame and/or title
•        PictBridge compatible
•        Internal memory plus xD-Picture Card slot for new high-speed cards
•        Multi-language menu plus possibility to download further languages from the internet
•        Supplied with Olympus Master Software 1.4 and LI-42B rechargeable battery
•        Optional Underwater/Outdoor Cases (PT-032/CWPC-02) will be available from spring 2006
*weatherproof equivalent to the IEC standard publication 529 IPX4
BrightCapture Technology – How does it work?
In traditional live-view technology, only some pixel information is used to depict the image on the LCD. With BrightCapture technology, all available pixel information is used. Innovative software divides the surface of the CCD into square groups, each made up of nine pixels. Each of these pixel groups is then compressed to a single Super Pixel, and the information from these Super Pixels is then relayed on the LCD to give a brighter, clearer view.
BrightCapture technology is put to continuous use brightening, and generally improving, the view seen on the LCD monitor. It is also brought into play to improve picture results in certain scene modes where, as well as increasing ISO values and adjusting the shutter speed, the output of the CCD is read as Super Pixels. This means that information from every single one of the pixels on the CCD is used, but read out in blocks of nine as Super Pixels, each of which has an average reading of the nine pixels that make it up. After the picture has been taken, the Super Pixel information is expanded to a higher resolution by Olympus' TruePic algorithm. When dividing the CCD into blocks of nine pixels, an average colour and brightness reading is calculated. This 'averaging out' eliminates any extraneous noise within the block and makes colour gradation from one Super Pixel to the next smooth and natural.