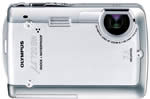 PMA 2006: The Olympus mju 720 SW is here. 7.1 megapixels, 3x zoom, 2.5 inch LCD, weatherproof and shockproof body, BrightCapture Technology, £300 in the UK.
Olympus UK Press Release
The Olympus mju 720 SW – a tough act to follow - when the going gets tough, the tough buy the mju 720 SW
London, 26 January 2006 – Designed to take the knocks, bumps and other trials of daily life with ease, the exceedingly tough Olympus mju 720 SW heralds a brand new era in digital photography. Waterproof to 3m* and resistant to falls from up to 1.5m*, this attractive yet incredibly robust camera can take pretty much anything life throws at it – whether that's being showered with champers or dropped into a mountain stream. And as the Olympus mju 720 SW has been blessed with a 7.1 million pixel CCD and 3 x optical zoom and Olympus's BrightCapture Technology it can endure virtually any photographic demands asked of it as well. BrightCapture Technology uses all of the information from the CCD to make the 6.4cm LCD screen significantly brighter, and boosts the camera's light sensitivity to reduce the need to use flash.
This metal-bodied camera is available in Dusky Pink, Polar Blue and Steel Silver. The Olympus µ (mju) 720 SW will retail for around £300 from all good camera shops and will be available from March – ready to be taken anywhere and put through anything.
With interest in extreme sports and activity holidays at an all-time high, the Olympus µ (mju) 720 SW is set to find a place in many holidaymakers' backpacks this year. Olympus has optimised the standard weatherproof qualities found in all µ (mju) cameras, making this new model waterproof to 3m* and shockproof according to MIL STD (Military Standard). Now, when other cameras reach their limits – such as at the shoreline of the beach or when crossing a mountain stream – the µ (mju) 720 SW really comes into its own.
It's a classic case of "when the going gets tough, the tough get going", as for even more rough stuff, the µ (mju) 720 SW users can boost the camera's waterproof capabilities further, from 3m to an incredible 40m with the optional PT-033 underwater case. Being waterproof the µ (mju) 720 SW is ideal for taking snorkelling or canoeing. Among its 24 scene modes, which cover most everyday shooting situations such as portraits, landscapes or sports, this camera also includes modes specifically created for underwater photography.
With 7.1 million pixels, the µ (mju) 720 SW captures scenes in breathtaking detail and clarity. Combined with a bright, 3x zoom lens (equivalent to 38-114mm on a 35mm camera) and BrightCapture Technology – which enhances the camera's performance in low light – this ensures that atmospheric shots whether taken at dusk on a mountain side or metres below the waves, are captured as they were seen, with none of their subtle beauty overpowered by harsh flash lighting. The benefits of BrightCapture are evident from the very start of the photographic process, as this technology, unique to Olympus cameras, allows the camera's generous 6.4cm LCD screen to be made 4x brighter than conventional screens. This makes framing shots easy even in quite dark situations. In addition to this, maximum ISO is boosted to 1600 – allowing faster shutter speeds to be used and reducing the risk of blurred images and camera shake.
Movie recording in VGA quality is also possible on the µ (mju) 720 SW, with the duration of the video clip only limited by the amount of memory available. As with still photos, video files can be saved either to either the camera's internal 19.1 MB memory or onto optional xD-Picture Cards. The latest High Speed Olympus xD-Picture Cards offer data transfer rates 2-3 times faster than previous media and as well as featuring a panorama function allow various art and 3D effects be applied to images.
So that the shooting can continue as long as possible, the µ (mju) 720 SW comes with a high-performance lithium-ion rechargeable battery (LI-42B). And even beginners will quickly master the camera functions thanks to an easy-to-understand Guide Function which briefly explains the various modes and choices directly on the LCD screen. Once taken photos can be printed out quickly and easily by connecting the camera directly to any PictBridge compatible printer – no PC or Mac is needed – and simply following the instructions on the LCD screen. Using the Olympus P-11 dye-sublimation printer, for example, 10x15cm photos can be printed out and handed around within just 33 seconds.
Recognising that looks are important too, the µ (mju) 720 SW's rugged metal body will be available in a range of colours including Dusky Pink, Polar Blue and Steel Silver. Let's face it, if a camera doesn't look the business it will be left languishing at the back of a drawer rather than being taken out to play. And there's no excuse for leaving the µ (mju) 720 SW at home, this great looking camera it is small enough to fit into just about any pocket thanks to the special folded light-path lens design. From March 2006, the Olympus µ (mju) 720 SW will be available through all good camera shops retailing for £300.
The Olympus µ (mju) 720 SW – main features:
·  Waterproof up to 3m*
·  Shockproof (equivalent to 1.5m)*
·  7.1 million pixels
·  Bright 3x optical zoom 38-114mm (equivalent to 35mm camera) 1:3.5-5.0
·  Tough metal body in three colours: Dusky Pink, Polar Blue & Steel Silver
·  BrightCapture Technology for better low light photography
·  6.4cm/2.5" LCD
·  24 scene modes (incl. Portrait, Candle, Landscape and various underwater modes)
·  Movie function with sound (640x480 pixels, 15fps)
·  Macro and Super Macro mode for shots from as little as 7cm
·  Editing functions (e.g. Red-eye Fix, Calendar Composition, Layout Composition, Title Composition)
·  PictBridge compatible
·  19.1 MB Internal memory plus xD-Picture Card slot
·  Multi-language menu plus possibility to download further languages from the internet
·  Supplied with Olympus Master Software and LI-42B
·  Optional underwater case PT-033 (waterproof up to 40m)
* Shockproof according to Olympus test methods.  Waterproof equivalent to the IEC standard publication 529 IPX8
BrightCapture Technology – How does it work?
In traditional live-view technology, only some pixel information is used to depict the image on the camera's LCD screen. With Olympus BrightCapture technology, all available pixel information is used. Innovative software divides the surface of the CCD into square groups, each made up of nine pixels. Each of these pixel groups is then compressed to a single Super Pixel, and the information from these Super Pixels is then relayed on the LCD to give a brighter, clearer view.
BrightCapture Technology is put to continuous use brightening, and generally improving, the view seen on the LCD monitor. It is also brought into play to improve picture results in certain scene modes where, as well as increasing ISO values and adjusting the shutter speed, the output of the CCD is read as Super Pixels. This means that information from every single one of the pixels on the CCD is used, but read out in blocks of nine as Super Pixels, each of which has an average reading of the nine pixels that it is comprised of. After the picture has been taken, this Super Pixel information is expanded to a higher resolution by Olympus' TruePic algorithm. When dividing the CCD into blocks of nine pixels, an average colour and brightness reading is calculated. This 'averaging out' eliminates any extraneous noise within the block and makes colour gradation from one Super Pixel to the next smooth and natural.