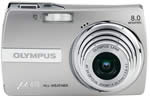 PMA 2006: The Olympus mju 810 is announced. 8 megapixels, 3x zoom, 2.5 inch LCD, stainless steel, weatherproof body, BrightCapture Technology, £330 in the UK.
Olympus UK Press Release
Looks great – and so do the photos - the Olympus mju 810 – small in size, big in features
London, 26 January 2006 – With BrightCapture Technology and the ability to compensate for camera shake the Olympus mju 810 is ideal for photography in near dark situations, which presents something of a dilemma to photographers – as the camera looks so good that they'll want to keep it in the light where other photographers can admire it! Olympus BrightCapture Technology is a must for those who want to capture the ambiance of a night time scene, without spoiling the mood by using flash. It increases the camera's sensitivity to light allowing perfectly exposed shots to be recorded using natural light, even when the sun has gone down, and at the same time brightens the camera's LCD screen to make it easier to frame photos. The slim-line stainless steel body of the Olympus mju 810 is weatherproof*, protecting its hi-tech interior from water, dust and snow, which might just come in handy as first deliveries are expected in March – in good time for April showers! The 8 million pixel, 3 x zoom Olympus mju 810 will be priced at around £330, available from all good camera dealers.
The Olympus µ (mju) 810 is the smallest and, arguably, one of the best looking cameras in its class. But anyone thinking that the camera is just a pretty face should look beyond the weatherproof* stainless steel skin, to the technological marvel beneath. Who would think that a camera that slips into a shirt pocket would pack 8.0 million pixel resolution? In addition to this mighty pixel count there's a bright 3x optical zoom (equiv. to 35-105mm in 35mm format) cleverly designed to take up as little space as possible. By employing a collapsible lens mechanism and repositioning the shutter the size of this lens has been kept to an absolute minimum – a mere 17mm – making a significant contribution to reducing the size of the camera.
Employing Olympus's BrightCapture Technology makes night time shooting significantly easier with the Olympus µ (mju) 810. This patented Olympus technology increases the brightness of the live image relayed on the high-contrast 230,000 pixel, 6.4cm LCD screen, making it up to 400% brighter than on conventional screens and when shooting in low light, CCD sensitivity is enhanced so often it is possible to shoot perfectly exposed images without needing to use the flash.
The µ (mju) 810 features an ISO range extending from ISO 64 to 1600, which is extended up to ISO 3200 in 3.0 megapixel mode. The higher sensitivity not only allows faster shutter speeds to be used, reducing the chance of camera shake and freezing motion, it also effectively doubles the flash's working range making it possible to illuminate even quite large rooms with flash. If however, even after using a fast shutter speed, camera shake and blurring continue to be a problem all is not lost, as the Olympus µ (mju) 810 has been armed with a special Digital Image Stabilisation Edit function. This feature corrects images blurred by camera shake or a moving subject by using a dedicated Gyro Sensor to determine the level of compensation necessary. Then, by intelligently processing the image, the improved photo is saved as a separate file so the photographer has the benefit of keeping the original for future reference if needed.
Besides allowing further reductions in the camera's size, weight and cost this technique requires considerably less battery power than conventional image stabilisers as no supplementary lens elements are needed, not that power should ever be a problem, as the Olympus µ (mju) 810 uses a new high-performance lithium ion rechargeable battery (LI-12B).

Scene Modes
Olympus has made life easy for the novice and more experienced photographer alike by equipping the µ (mju) 810 with a choice of 20 scene modes covering a range of familiar photographic situations including Sports, Landscape and Portrait as well as candle light and Macro . These help by automatically adjusting the camera settings to the best combination for the given situation, ensuring that every photo opportunity is perfectly exposed. Meanwhile, for photography aficionados, a Histogram function provides a quick and convenient way to evaluate exposure levels both when the photo is being composed and during playback.
Don't forget the memory
The movie function on the Olympus µ (mju) 810 records sequences with sound in high-quality VGA (640x480) resolution is also included. Once taken photos and movie clips are saved to either the camera's internal memory, or removable media in the shape of optional xD-Picture Cards which are currently available in a range of capacities up to a maximum of 1GB. The
µ (mju) 810 is compatible with new Olympus High Speed xD-Picture cards. These have data transfer rates 2-3 times faster than conventional cards and not only support the exclusive Olympus Panorama option, they also feature new Art Functions including 3D, oil painting, cartoon and water colour. These effects can be applied to images recorded on these cards using the Olympus Master 1.4 software supplied with the camera once an activation code included with the card has been entered in the software.
A lot has been packed into the little Olympus µ (mju) 810, but should the photographer ever be at a loss as to which of the astonishing number of features they should use, they can rely on the built in Guide Function to explain the various menu choices directly on the LCD. The Olympus µ (mju) 810 delivers outstanding results come day or night, rain or shine. It will be available in camera stores from March 2006 retailing for around £330.
The Olympus µ (mju) 810 – main features:
·  Stainless steel, weatherproof* body
·  Digital Image Stabilisation Edit for compensation of blurry images caused by hand-shake
·  8.0 million pixels
·  3x optical zoom (equiv. to 35-105mm in 35mm format) 1:2.8-4.7
·  6.4cm/2.5" LCD with 230,000 pixels
·  BrightCapture Technology for better low light photography
·  ISO 64-1600 with full 8MP, ISO 3200 in 3MP mode
·  20 scene modes (e.g. Sport, Beach & Snow, Candle) plus Programme Auto mode
·  Movie function with sound (640x480, 30fps). Recording up to memory capacity
·  Macro and super macro mode (from as near as 10cm)
·  Internal memory plus xD-Picture Card slot for new high speed cards
·  Multi-language menu plus possibility to download further languages from the internet
·  PictBridge compatible
·  Supplied with Olympus Master Software 1.4 which supports new editing functions of the Olympus High Speed xD-Picture Cards
* Weatherproof equivalent to the IEC standard publication 529 IPX4
BrightCapture Technology – How does it work?
In traditional live-view technology, only some pixel information is used to depict the image on the camera's LCD screen. With Olympus BrightCapture technology, all available pixel information is used. Innovative software divides the surface of the CCD into square groups, each made up of nine pixels. Each of these pixel groups is then compressed to a single Super Pixel, and the information from these Super Pixels is then relayed on the LCD to give a brighter, clearer view.
BrightCapture technology is put to continuous use brightening, and generally improving, the view seen on the LCD monitor. It is also brought into play to improve picture results in certain scene modes where, as well as increasing ISO values and adjusting the shutter speed, the output of the CCD is read as Super Pixels. This means that information from every single one of the pixels on the CCD is used, but read out in blocks of nine as Super Pixels, each of which has an average reading of the nine pixels that it is comprised of. After the picture has been taken, this Super Pixel information is expanded to a higher resolution by Olympus' TruePic algorithm. When dividing the CCD into blocks of nine pixels, an average colour and brightness reading is calculated. This 'averaging out' eliminates any extraneous noise within the block and makes colour gradation from one Super Pixel to the next smooth and natural.