Olympus OM-D E-M10 Mark III Hands-on Review

Travel Photography the Focus for New Third Generation Olympus OM-D E-M10 Mark III
A compact, lightweight interchangeable lens camera suitable for travel photography, yet one with chunky rounded buttons and a larger grip. That's the 'best of both worlds' promise from Olympus that arrives in the shape of its third generation E-M10.
Boasting a bigger grip, bigger metal control dials and a built in flash – yet still weighing a manageable 500g – the third generation Olympus OM-D E-M10 Mark III compact system camera is aimed at photographers who like to travel, or aspiring 'Phileas Foggs', according to the brand.
"Lightweight is the key thing here," confirms Olympus UK Marketing Manager Georgina Pavelin. "In that respect it's similar to the Mark II, but with a few new exciting features. The dials are obviously bigger and the intention is that it's easier to use. Cosmetically it's very nicely designed."
With availability from the middle of September, there are differently priced options for customers. For the UK, these are either body-only at £629.99, a combination that comes with a 14-42mm 'EZ' pancake lens for £699.99, or a double zoom kit – comprising camera body plus 14-42mm 'EZ' lens and 40-150mm standard lenses for £799.99 SRP. Staying with the classic looks and feel, silver or black are the available camera body colours here.
Robust feeling, yet portable with it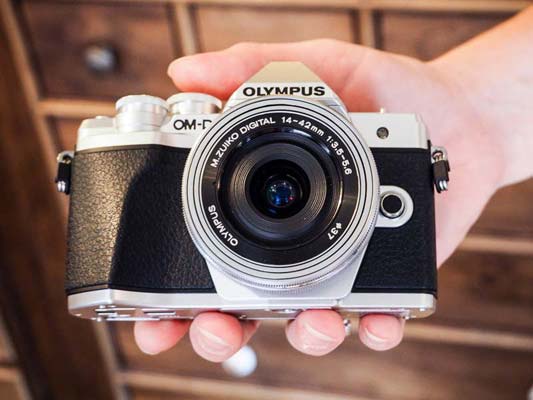 Whilst the camera has maintained a 16-megapixel CMOS sensor and its traditional retro design, the Mark III also features a pop-up flash, TruePic 8 processor, plus on-board 5-axis image stabilization along with 4K-video, which can be utilised by videographers at frame rates of 30P, 25P or 24P.  This being an Olympus camera, there are of course Art Filter digital effects on board, with a new addition this time around being 'Bleach Bypass' "to mimic old film processing" says its maker. The shooting mode wheel and menu has also seen a bit of a revamp, with the addition of an Advanced Photo Mode to let photographers 'fine tune' their images, according to Olympus, as well as gain access to creative settings such as Live Composite and Multiple Exposure.
We had a brief play with a fully working version of the Mark III in order to be able to take some sample shots. It feels both comfortable and sturdy in the palm, even with relatively compact 14-42mm kit lens attached. Photos and video are composed either via the rear LCD screen – which can be tilted and is also a touch panel for directing the camera's focusing and firing off a shot (thereby literally feeling familiar to anyone stepping up from smartphone photography) – or via eye level OLED viewfinder. The latter boasts a high 2.36 million-dot resolution, thereby ensuring a life-like image that helps us forget the fact that we're not using an optical version.
Accessories on hand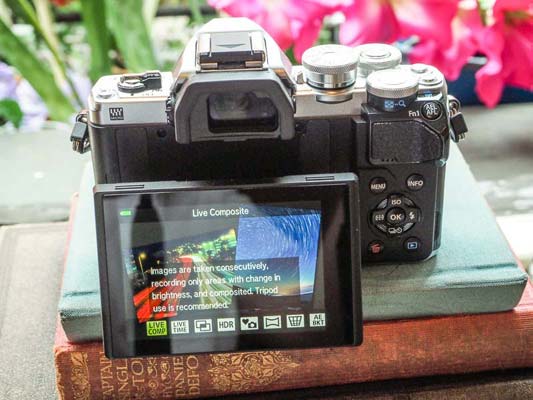 Accessories for the 16-megapixel OM-D E-M10 Mark III include a premium, genuine leather body jacket, issued in black or brown.
Olympus' Georgina reiterates that while its PEN range is still the blogger's camera, the Mark III is an "ideal travel companion. I think we will probably see some bloggers progress to this if they're looking to get a bit more technical, although we're not promoting it as a bloggers' camera. Potentially we may also see entry-level photographers stepping up from smartphone photography and looking for a more professional solution. It's so easy to use, whilst you've also got plenty of manual options too. The lightweight build makes it perfect for travel."
More details can be found by heading to www.olympus.co.uk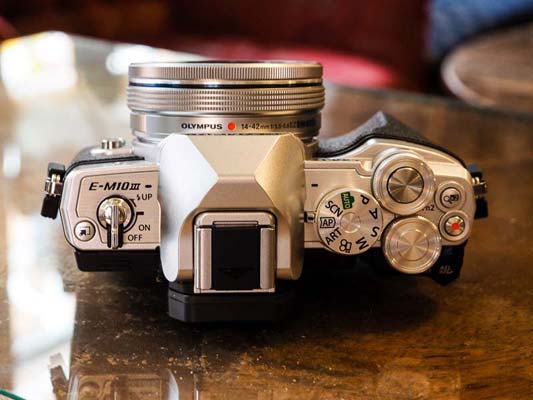 Olympus OM-D E-M10 Mark III at a glance:
16-megapixel Four Thirds CMOS sensor
TruePic VIII processor
Improved larger grip
Improved larger control dials
121 contrast AF points
4K video capture
Built in Wi-Fi connectivity
5 axis image stabilization
Sequential shooting at 8.6fps
Available in silver or black bodies
Available as body only or in lens kit combinations
Your Comments