Olympus OM-D E-M10 Hands-on Review
January 29, 2014
|
Mark Goldstein
|
Comment
|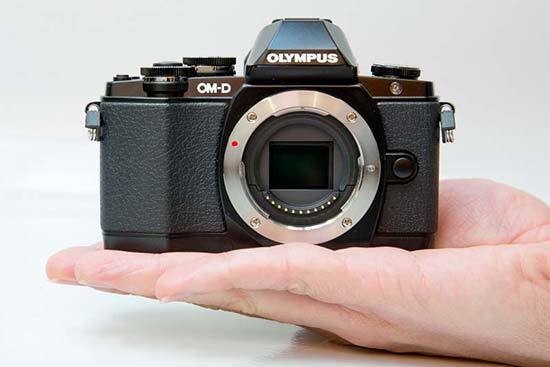 See exactly what the new Olympus OM-D E-M10 compact system camera looks like in the flesh, and read our first hands-on impressions of this exciting new camera.
Check out our extensive hands-on gallery of 78 photos of the Olympus OM-D E-M10 compact system camera, including the new 14-42mm pancake lens, 25mm f/1.8 lens, 9mm fisheye lens, optional handgrip accessory and new macro convertor lens.
We've also compared the E-M10 side-by-side against its big brother, the OM-D E-M1, the similarly-sized Stylus 1 compact camera, and one of its rivals, the Panasonic GX7.
The Olympus OM-D E-M10 is an attractively sized and attractively priced new compact system camera that promises to combine the image quality of the older E-M5 with the processing power of the flagship E-M1. Styled very much like its siblings, the E-M10 is a much smaller proposition, as our hands-on product shots testify, being smaller than both the Stylus 1 and the Panasonic GX7, yet somehow still squeezing in a pop-up flash, electronic viewfinder and a tilting LCD screen.
With the new M.ZUIKO DIGITAL 14-42mm 1:3.5-5.6 EZ pancake zoom lens fitted, the OM-D E-M10 is easily small enough to slip inside a jacket pocket, and to the casual observer looks like a compact camera, making it well suited to more candid photography. With a speedy 81-point AF system and 8fps burst shooting, it should be fast and accurate enough to keep up with the action, while the tiltable LCD screen helps to frame the subject more easily.
One thing that we appreciated was the OM-D E-M10's excellent build quality and impeccable styling. Despite only being a mere mid-range compact system camera, the E-M10 still has an all-metal casing and the gorgeous retro look and feel that we've come to love from Olympus.
One of the main concessions to the aggressive price-point is the 3-axis image stabilisation system, apparently "derived from the world-first 5-axis system in the E-M5 and E-M1." The 3-axis version apparently still effectively counteracts yaw, roll and pitch, so we'll wait to see if it's as effective as the 5-axis version. The electronic viewfinder is also not quite as well specced as the E-M1 with 1.44K dots, the same as on the E-M5.
The E-M10 body is available in black or silver for £529.99 from mid-February, or it comes as a kit with the 14-42mm pancake electronic zoom lens for £699.99.
Image Gallery
Click on a thumbnail to see the full version.
Your Comments