Olympus Rolls Out VF-3 External Viewfinder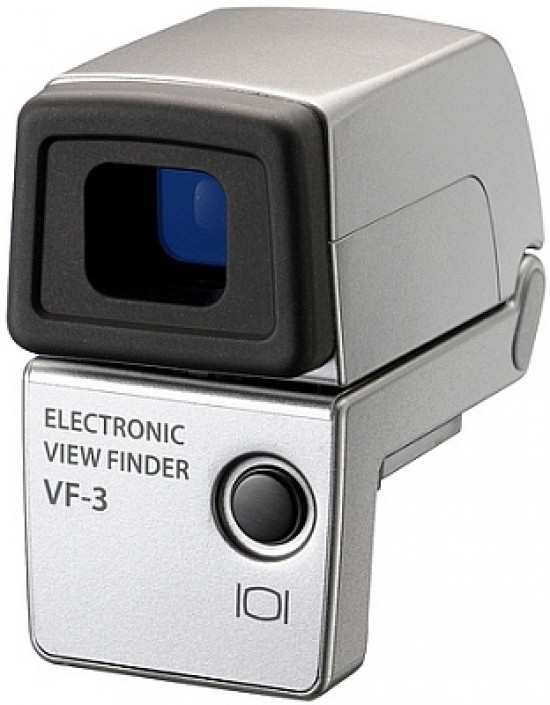 Olympus has officially launched the VF-3 add-on electronic viewfinder. Priced at £179.99 in the UK and $179.99 in the US, the Olympus VF-3 is cheaper than the existing VF-2 - no wonder given that this is a lower-specified model offering a lower resolution (922,000 dots), magnification (0.97x) and eye-point (17.4mm). Fortunately, the 100% frame coverage remains, and unlike the VF-2, the VF-3 comes with a shoe lock mechanism that should prevent the finder from slipping out of the camera's hot-shoe. The Olympus VF-3 is compatible with the XZ-1 compact and all digital PEN cameras except the E-P1.
Olympus Press Release
Olympus PEN family gets new electronic viewfinder
High power, high res VF-3 viewfinder enhances new PEN camera range
London, 27 July 2011 – Olympus has launched a new high-resolution electronic viewfinder to boost the imaging power of its stylish PEN
Micro Four Thirds cameras – the new PEN (E-P3), PEN Lite (E-PL3) and PEN mini (E-PM1). The VF-3 offers a 100% field of view and more than four times the resolution of rival electronic viewfinders for comparable cameras, so it's ideal for capturing high-zoom close-ups in excellent picture quality. Compact, lightweight and just as sleek as a PEN camera, the VF-3 tilts up to 90° making it easy to shoot movies and stills from tricky angles, even in difficult light.
The VF-3 is available from mid-August 2011 for £179.99.
VGA quality locked in
With a resolution of 922,000 dots, approximately 1x magnification and a 17.4mm eye point, the VF-3 delivers superb performance and excellent value-for-money. The bright, high-res display makes it easy to zoom in and capture sharp stills and High Definition movies, especially with a telephoto lens. Another bonus is the reliable lock mechanism that keeps the viewfinder firmly attached to the camera, no matter what. Designed specifically to work seamlessly with the Accessory Port on next-generation PEN cameras*, the VF-3 is a smart accessory for ambitious and casual photographers alike.
The Olympus VF-3 is available in silver from mid-August 2011 for £179.99.
* The VF-3 is compatible with the XZ-1 compact and all PEN cameras except the E-P1.
VF-3 key features:
? Bright 920,000 dot display for clear focussing even in poor light
? 100% field of view for accurate framing
? Approx. 1x magnification for easy size reference
? 17.4mm eye point to relieve strain on your eyes
? Wide adjustment range of -3 to +1 dioptre for people with glasses
? Attractive and compact looks match sleek PEN design
? Lightweight at just 28g
? Shoe lock mechanism that keeps the viewfinder firmly attached
? Soft case supplied
Your Comments