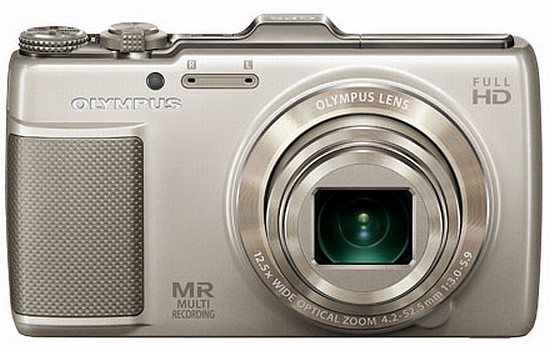 The Olympus SH-25MR is a 16-megapixel touchscreen camera with a 24-300mm equivalent lens, integrated GPS module and compass, and Multi-Recording technology on board. The 3-inch rear screen boasts a resolution of 460,000 dots, and offers a range of touch-based functions like Touch AF and Touch Shutter. Other standout features include HDR Backlight Adjustment, 3D Photo Shooting, Smart Panorama, Advanced Shadow Adjustment Technology and a Handheld Starlight Mode. In addition to capturing 16-megapixel photos at up to 10 frames per second (or 3-megapixel stills at up to 60fps), the Olympus SH-25MR is also capable of recording Full HD videos with Multi-Motion Movie IS. Available in gold, black, red and white, the SH-25MR hits the shops in April, priced at €269.00/£229.99.
Olympus Press Release
Sleek SH-25MR shines with DSLR processor & GPS Touch LCD and zoom make multi-format movies easy
Olympus' stylish new Traveller compact delivers class-best* movies at an extremely competitive price
Hamburg, 8 February 2012 – The new Olympus SH-25MR Traveller-class camera packs some big surprises into its ultra-slim casing. Like Multi Recording, that gives you the option to record a 1080 Full HD movie in the background while you concentrate on taking still photos. Or Multi Framing, that captures close-ups and wide shots of the same scene all at once. But perhaps the biggest surprise is the fast response and sheer quality of the images it takes. Even the most demanding of travellers will be impressed by this compact's lack of blur and low-light performance. That's down to Multi-motion Movie IS and iHS (Intelligence, High Sensitivity and High Speed) technologies that significantly boost image quality in the most challenging conditions. A number of other features make the slender SH-25MR an outstanding travel companion, including its versatile 12.5x wide zoom lens (24-300mm**) and the especially quick GPS & Electronic Compass that downloads location data in under 10 seconds. The SH-25MR is available from April 2012 for just €269.
The multi-tasking movie maker
Like most of Olympus' next-generation Traveller compacts, the SH-25MR can justifiably claim to record the best moving images available in a pocket-sized camera today*. New iHS technologies and Multi-motion Movie IS have a vital role to play here. At the heart of iHS is a highly sensitive backlit CMOS sensor (that effectively counteracts noise) and the dynamic TruePic V processor that provides the power for Multi-motion Movie IS to eliminate blur even when you're walking as you record your video. Rival manufacturers often advertise very high frame rates for movie recording but fail to mention that resolution deteriorates significantly above 60fps. Thanks to iHS, advanced image stabilisation and sophisticated i-Auto automatic modes, the SH-25MR delivers beautifully sharp Full HD movies and 16-Megapixel stills every time – even in poor light, with fast-moving subjects and at high zoom ratios. Even when you use Super-resolution Zoom to digitally double the range of its lens to 25x, there's still virtually no loss of this excellent resolution.
The touch-sensitive trip tracker
The SH-25MR does away with time-wasting buttons and gives you fast, direct access to key features via a touch-sensitive LCD – and Olympus' clever Live Guide interface. Live Guide makes it easy to adjust crucial parameters like depth of field or brightness simply by sliding a bar up and down with your finger, then shows you what effect your changes will have in real time on the LCD. You can also use the touch panel to check GPS & Electric Compass for map and landmark information, or to run a Multi-Effect Slideshow that displays images from one trip with background music and transition effects.
For anyone who likes to travel light but still insists on great quality, this super-slender compact will be hard to resist. Available in gold, black, red and white, the SH-25MR hits the shops in April, priced €269.
Outstanding features:
Image Quality:
• 12.5x super wide optical zoom (24-300mm**) for exceptional close-ups
• iHS technologies for capturing exactly the shots you want irrespective of shooting conditions
• 16-Megapixel backlit CMOS sensor for high-resolution, superb-quality full-size movies, stills and prints, even in low light
• Multi-motion Movie IS for recording 1080p Full HD Movie with sound and reduced blur while walking, in the best image quality currently available in compact cameras*
• Dual Image Stabilisation for reducing blur with fast-moving shots
• Super-resolution Zoom for digitally extending the range of the optical zoom with virtually no loss of image quality
Design:
• Ultra-slim, full-metal body for an exquisite and robust design
Usability:
• 3" touch-sensitive colour LCD (460,000 dots) for easily framing, reviewing and sharing shots, or operating key features like MR
• Touch Shutter for focussing on the subject you touch on the LCD and taking the picture automatically
• Touch AF for focussing automatically on the subject you touch, even if it moves
• GPS & Electronic Compass with unique three-sensor technology for orientation and key information at a glance
• Smart Panorama for capturing sweeping stills just by panning the camera
• HDR Backlight Adjustment for perfectly exposed pictures of inanimate objects even when shooting against the light
• Handheld Starlight Mode for shooting blur-free at night without a tripod
• Face Detection and Advanced Shadow Adjustment Technology for capturing people's faces just as you want them
• Advanced Intelligent Auto Mode (i-Auto) and AF Tracking for easy setting and focussing
• Live Guide for easy slide-bar adjustment of key settings in real time, including background blur, colour intensity, colour temperature and brightness
• Pet Detection Mode for automatically capturing dog's or cat's faces when they look at the camera
• Scene Mode for automatic settings that suit specific conditions
(e.g., Landscape, Night)
Creativity & Flexibility:
• Multi Recording with Dual Engine TruePic V image processor for recording movies and photos simultaneously, or two movies in different modes or from different angles
• High-speed sequential shooting (10fps/10 images at 16MP or 15/60fps/110 images at 3MP)
• Multi-Effect Slideshow for hands-free browsing of shots from one event with background music and transition effects
• Beauty Make-up Mode for adding fun make-up effects to three people and hiding blemishes before you shoot
• Eye-Fi Card compatibility for automatic wireless uploading of images to a website or PC
• 3D photo shooting mode for striking stills
• Magic Filters for adding creative effects to Full HD movies and/or stills: Punk, Pop Art, Pin Hole, Drawing, Fish Eye, Soft Focus, Sparkle (photos only), Watercolour, Reflection, Miniature, Fragmented (photos only), Dramatic (photos only)
• Photo with Movie Clip for shooting movies while taking still shots
Other key features:
• Photo surfing and [ib] software for browsing, organising and viewing images by person, place, location or event
• HDMI technology for controlling your camera from one remote when it's connected to HD equipment
• ISO 80 to 6400
• SDHC and SDXC memory card compatible***, including UHS-I support
• Built-in flash
• In-camera help guide
• USB charging
* As of December 2011.
** 35mm camera equivalent.
*** SD is a trademark of SD Card Association.
Image Gallery
Click on a thumbnail to see the full version.
Your Comments