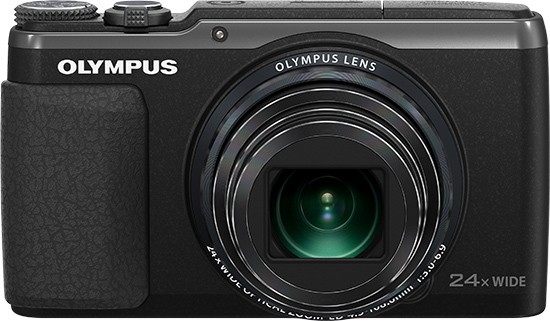 The 16-megapixel Olympus SH-50 is the new flagship of the manufacturer's Stylus Traveller range, featuring 24x optical zoom and a hybrid 5-axis Movie image stabilisation system. First seen in the Olympus OM-D E-M5 compact system camera, the manufacturer's 5-axis Movie IS allows users to record shake-free video footage even when hand-holding the camera - and also helps when taking still photographs. Other highlights include 1080/60i/30p Full HD movie recording with sound as well as 720p HD with 120fps or HVGA with 240fps high-speed movie recording for slow-motion playback of fast-action scenes; a telemacro mode for shooting close-ups from as far as 40cm from the subject (great for timid creatures or stinging insects), "M" mode for manual adjustment of aperture and exposure time, and FlashAir compatibility for transferring password-protected images to selected smartphones and social networks. The Olympus SH-50 will be available from mid-March for £249.99.
Olympus Press Release
SH-50 Sharper images and movies. New Olympus STYLUS Traveller flagship features world-beating IS system to all but eliminate blur
The new Traveller flagship SH-50 comes with manual settings and multiple-axis image stabilisation (IS), a technology that can claim two world firsts for compact digital cameras.
Hybrid 5-axis Movie IS compensates for movement around the axis of the lens in addition to the usual yaw and pitch, as well as horizontal and vertical shift.
With 5-axis Movie IS, you can record a blur-free full HD movie literally on the run, while 3-axis Photo IS can counteract movement around the rotary axis, the imaginary line that runs straight through the lens from the front of the camera to the back. This is vital with handheld shots at high zoom ratios where even the slightest tremble can be magnified disproportionately to cause unsharp images.
Other key features
24x optical zoom and 16mp CMOS Sensor
1080 Full HD 60i or 30p movie with sound for choosing the very best movie format
720p HD with 120fps or HVGA with 240fps high-speed movie recording for dramatic slow-motion playback of fast-action scenes
Tele-macro for shooting fascinating close-ups and detail from as far as 40cm from the subject
M mode for manual adjustment of aperture and exposure time
FlashAir™ compatible for transferring password-protected images to selected smartphones and social networks
Your Comments