Olympus SP-100EE Hands-on Review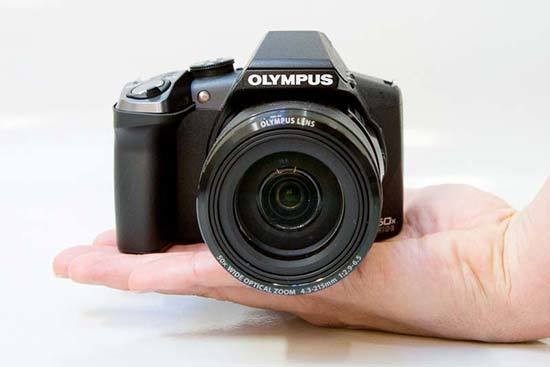 See exactly what the new Olympus SP-100EE compact camera looks like in the flesh, and read our first hands-on impressions.
Check out our extensive hands-on gallery of photos of the Olympus SP-100EE compact camera, which intriguingly features the world's first dot aiming point on a camera.
The Olympus SP-100EE is a well specified super-zoom lens, with a 50x, 24-1200mm lens, sensible 16 megapixel resolution, electronic viewfinder, 7.1fps burst shooting, and 60fps Full HD movies, all for £349.99 in the UK when it launches in March.
All of that aside, what's most interesting about the SP-100EE isn't apparent until you slide the Dot Sight switch on the top of the camera. A built-in sight pops up instantaneously for shooting, with a red cross-hair projected to make it easier to reframe the image at the more extreme telephoto focal lengths when the subject moves, a common issue with super-zooms. It's one of those things that's much easier to explain in practice, but it really did seem to make a difference in our brief hands-on time with the camera. Kudos to Olympus for thinking outside the box.
The new SP-100EE is an unusual take on the run-of-the-mill super-zoom template, but one that we're definitely looking forward to reviewing soon.
Image Gallery
Click on a thumbnail to see the full version.
Your Comments