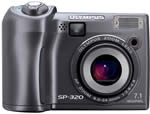 PMA 2006: The Olympus SP-320 is introduced. 7.1 megapixels, 3x zoom, 2.5 inch LCD, full range of shooting modes, RAW format, £230 in the UK, available in April.
Olympus UK Press Release
Explore your creative potential - the Olympus SP-320 giving control back to the photographer
London, 26 January 2006 – With the new Olympus SP320 ambitious photographers can let their imaginations run wild. In addition to an impressive 25 special scene modes, the camera has Programme, Aperture Priority, Shutter Priority and full Manual exposure control, plus manual and automatic focussing, leaving the photographer free to choose the settings they need, to achieve their desired effects. Boasting a 7.1 million pixel CCD the SP-320 has enough resolving power to record scenes in stunning detail. The precision 3x optical zoom of the SP320 gives even more flexibility and a histogram function enables exposure information to be displayed on the large 6.4cm LCD screen whilst the shot is being taken, to give expert photographers the opportunity to fine-tune their exposure for the perfect result. The SP-320 is a highly specified camera and for extra versatility a range of optional accessories is available, including lens converters and an underwater casing. Featuring a slim wedge-shaped design with ergonomic grip the SP320 is surprisingly robust for a camera with so many features that retails for just £230. Expect to see the Olympus SP-320 in all good camera shops April 2006.
Don't let the slim profile of the SP-320 fool you, this is a powerful tool that will allow ambitious photographers to take full control of their image making. The powerhouse behind the camera is a 7.1 million pixel CCD which, in combination with the precision 3x zoom lens (F2.8-4.9, equivalent to 38-114mm on a 35mm camera) captures subjects with truly stunning realism.
Naturally this lens can be fully controlled by the photographer. Not only zoom action, but focusing and aperture as well. Focusing options on the SP-320 range from regular iESP AF and Spot AF to Multi-spot AF with readings selectable from no fewer than 143 points, and, of course, Manual focusing.
Automatic shooting is a convenient option that many professional photographers will admit to using these days, especially if time is against them. However no serious photographer will want to do without manual control completely. This is why the SP-320 offers Aperture Priority, Shutter Priority and full Manual exposure, as well as 25 special scene modes tailored for a wide range of shooting situations. These include a Super Macro mode that will thrill fans of extreme close-up photography by allowing them to capture pictures from as little as 2cm away. And should the light start to fail, a high maximum ISO setting of 800 allows the real atmosphere of the natural lighting to be recorded by reducing the need to use flash. For peace of mind demanding photographers can check the exposure of their work as the shots are being taken using the SP-320's Histogram function, which relays real-time exposure information on the camera's large 6.4cm LCD screen.
The large size of the LCD is particularly welcome when reviewing photos that have already been taken, or when watching movie clips as the SP-320 also features a video recording option. Action is captured with sound in VGA quality at 30 frames per second and recording length is only limited by the amount of memory available. The 25MB internal memory in the SP-320 can be upgraded using xD-Picture Cards, including the new Olympus High-Speed cards, which offer data transfer rates 2-3 times faster than conventional cards. Photos can be stored as either JPEG or RAW files and quickly downloaded to a PC thanks to USB Hi-Speed AutoConnect compatibility.
The compact and versatile SP-320 is supplied with Olympus Master 1.4 software and will be available in camera shops from priced at around £230 from April onwards.
Optional accessories for the SP-320
A range of optional accessories have been made available for the SP-320, extending the scope of this versatile camera even further. Using the CLA-09 lens adapter the Olympus TCON-17F conversion lens can be attached to the SP-320 to achieve an amazing 193mm telephoto focal length (equiv. on a 35mm camera). Moreover, photographers can shoot in depths of up to 40m of water using the underwater case PT-030.
PictBridge compatibility means that photos can be printed directly from the SP-320, without having to connect the camera to a PC or download the images. The SP-320 is simply connected to any PictBridge compatible printer – such as the Olympus P-11 which takes just 33 seconds per 10x15cm print – and on screen instructions guide the user through the speedy printing process.
The Olympus SP-320 – main features
·          7.1 million pixels
·          Large 6.4cm/2.5" LCD
·          3x optical zoom (equiv. to 38-114mm on a 35mm camera) 1:2.8-4.9
·          P/A/S/M plus 25 scene modes
·          Super Macro mode from as close as 2cm
·          Histogram function in shooting and playback mode
·          Movie recording function (30fps, VGA) with sound, up to memory card's capacity
·          Long battery life
·          USB Hi-Speed AutoConnect
·          25MB internal memory for recording images
·          Unique ergonomic shape and robust body
·          Optional: tele converter TCON-17F with CLA-09 lens adapter and underwater case PT-030
·          RAW file format