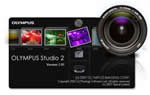 Olympus Studio 2.2 is a new version of Olympus' professional workflow software. Olympus Studio 2.2 includes the following improvements:
- Support for Portuguese (Brazilian).
- Improved the display speed in Preview Area in "RAW Development" and "Image Edit" windows.
- Added the functions to narrow down, sort, and delete files in Thumbnail Area of all windows.
- Added the function to clear Cache.
Website: Olympus Studio 2.2 (MAC)
Your Comments