Olympus TG-830 and TG-630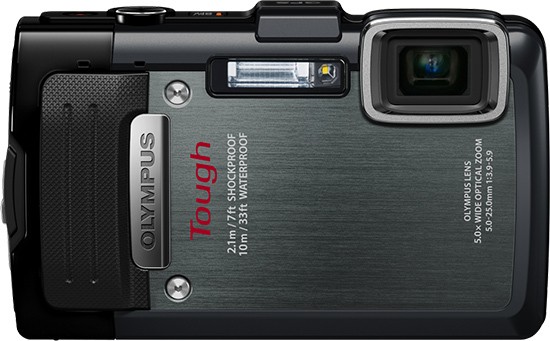 The 12-megapixel Olympus TG-630 and 16-megapixel TG-830 are the latest additions to the manufacturer's line-up of ruggedised Tough cameras. Waterproof to 5m, freezeproof to -10 °C and shockproof to 1.5m, the family-oriented Olympus TG-630 (£169.99) comes with a 28-140mm equivalent zoom lens. The more serious Olympus TG-830 (£249.99, pictured) is waterproof to 10m, crushproof to 100kg, freezeproof to -10 °C and shockproof to 2m;.and comes with built-in GPS and e-Compass. Both cameras offer 5x optical zoom, 60fps sequential shooting, Full HD video capture and advanced underwater white balance. The Olympus TG-630 is availabele from early February, while the Olympus TG-830 is expected to hit the shelves in mid-March.
Olympus Press Release
TG- 830 and TG-630
Carrying on the tough tradition that Olympus pioneered, these two add some useful extra power to help you get the best shots in the most challenging conditions.
The TG-830 hosts a 16mp BSI CMOS sensor, 5x zoom from 28mm plus GPS & e-Compass ,High Speed Movie, Full HD with one button Operation and Sequential shooting with 60fps. The high level of toughness carries on from previous models: Shockproof 2m, Waterproof 10m, Freeze-proof -10C, Crushproof 100kgf.
Middle sibling TG-630 might be seen as more family oriented with Shockproof 1.5m and Waterproof to 5m stats meaning it is great for pools and snorkelling. Offering 12mp BSI CMOS and including the top end iHS process like its two bigger brothers, you can be sure of excellent image quality and all models have Olympus auto underwater white balance to improve colour rendition.
Image Gallery
Click on a thumbnail to see the full version.
Your Comments