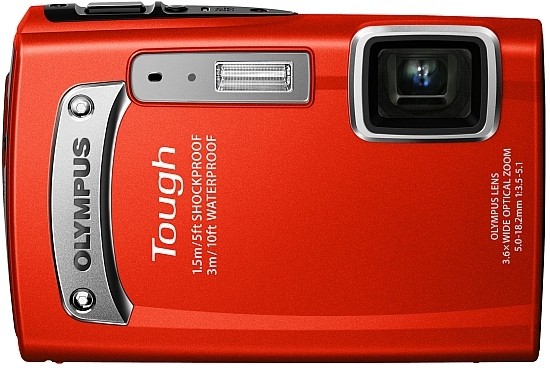 The affordable 14-megapixel Olympus Tough TG-320 is the latest addition to the company's line-up of ruggedised compact cameras. Waterproof to 3m, shockproof to 1.5m and freezeproof to -10°C, the Olympus Tough TG-320 comes equipped with a 28-102mm equivalent zoom lens and a hard glass lens barrier "for extra-tough lens protection". Other highlights include a 2.7" scratch-resistant LCD screen, sensor-shift image stabilisation, AF Tracking, Magic Filters, Face Detection and Shadow Adjustment technologies, 720p movies, Eye-Fi memory card support, in-camera panorama stitching and 3D photo shooting complete with an Underwater 3D mode. The Olympus Tough TG-320 is available in blue and red from mid-February, at a price of €149 / £139.99.
Olympus Press Release
New OLYMPUS TOUGH is ideal for active families & holidays
10.01.2012
A TOUGH at this price is tough to beat
Restyled TG-320 offers imaging fun worry-free
Hamburg, 10 January 2012 – Buying a new compact camera can be like getting a new pair of sunglasses – you spend a lot on something impressive only for it to break the first time you drop it. Which is why Olympus developed TOUGH. Shockproof*, waterproof* and freezeproof*, the new OLYMPUS TOUGH TG-320 comes with a worry-free guarantee. Not only is it virtually indestructible, it's also fantastic value for money. For less than €150 you get a camera with everything you need to capture HD movies and still photos in 14-Megapixel quality. The TG-320 has a host of automatic aids and a versatile lens that gives you the flexibility to take wide-angle group shots or zoom in for those special close-ups that stand out in your album. The lens is protected by a special hard glass barrier and when you don't have to worry about damaging high-grade components like this, using your camera is suddenly a lot more fun. You can get creative with 3D underwater photo shooting or Magic Filters and share your shots wirelessly via an Eye-Fi card that automatically uploads stills and movies to a website or PC. With the TG-320, everyone can afford the look they want – no matter how butter-fingered or talent-free. For a camera in this price category, the spec and build quality are both exceptional. It's available from mid-February 2012 for just €149.
One TOUGH cookie
A cup of coffee knocked over at breakfast, a fall onto the floor of a famous cathedral, a night left out on the ski chalet balcony … there are no end of ways to ruin a regular compact camera. Unless that camera's an OLYMPUS TOUGH. At €149, the TG-320 is excellent value for money but that doesn't mean Olympus has skimped on its trademark rugged build. You can drop it onto a rock from a height of 1.5 metres or let it sink in a pool that's fully three metres deep. You can also leave it lying outside in temperatures as low as -10° Celsius. When you brush the snow off in the morning, it'll still work just fine. The fantastic durability comes courtesy of unique Olympus technologies. A sophisticated system of double seals protects the inner casing while a double lock mechanism stops anyone unintentionally opening the card slots, ports and battery compartment underwater. A hard glass lens barrier safeguards the precision 3.6x wide optical zoom lens (28-102mm**).
One of a kind
Olympus was the first camera manufacturer to develop a range of super-tough compacts and their expertise shows through in a clever choice of features that make it easy to capture HD movies and photos in excellent quality. For example, the 2.7" scratch-resistant LCD isn't touch sensitive because you can't use a touch screen with wet hands or gloves. But it is easy to read in bright sunlight. Likewise Dual Image Stabilisation (Dual IS). Cameras in this class don't have space for wide-aperture lenses or support high ISO numbers to counteract image blur. The TG-320 compensates with Dual IS, reducing blur in poor light and with fast-moving shots. Other Automatic aids on the TG-320 include Underwater 3D mode, Intelligent Auto Mode (i-Auto) and AF Tracking that help ensure even hectic scenes come out bright and sharp. There are eight Magic Filters for adding special effects and – unlike on most rival cameras– six of these work with HD movies as well as just stills.
The OLYMPUS TOUGH TG-320 is available in blue or red from mid-February. It costs a mere €149.
Outstanding features:
Toughness
• Waterproof* to 3m, shockproof* to 1.5m and freezeproof* to -10°C for worry-free use anytime anywhere
• Sliding double lock mechanism for optimum protection of battery, card slots and ports
• Hard glass lens barrier for extra-tough lens protection
Image Quality
• 3.6x wide optical zoom lens (28-102mm**) for shooting flexibility
• 3D photo shooting mode for striking HD movies and stills
• Dual Image Stabilisation for reducing blur with fast-moving shots
• TruePic III+ processor for ideal colour reproduction and low noise
• 720p HD Movie with sound for capturing movies in excellent quality
• 14 Megapixels for high-quality full-size movies, stills and prints
• ISO 80 to 1600
• Magic Filters for adding creative effects to HD movies and/or stills:
  Punk, Pop Art, Pin Hole (photos only), Drawing, Soft Focus, Fish Eye, plus new Sparkle (photos only) and Watercolour
• Beauty Mode for hiding unwanted blemishes
• Intelligent Auto Mode (i-Auto) and AF Tracking for easy setting and focussing
• Face Detection and Shadow Adjustment Technology for capturing people's faces just as you want them
• Pet Detection Mode for automatically capturing dog's or cat's faces when they look at the camera
• Scene Mode for automatic settings that suit specific conditions
  (e.g., Landscape, Night)
• In-Camera Panorama for quick and easy panorama shots
Storage & Sharing
• 2.7" 230,000 dot colour LCD for easily framing, reviewing and sharing shots
• SDHC and SDXC memory card compatible***
• Photo Surfing and [ib] software for browsing, organising and viewing images by person, place, location or event
• Eye-Fi Card compatibility for automatic wireless uploading of images to a website or PC
• HDMI technology for controlling your camera from one remote when it's connected to HD equipment
Other
• Built-in flash
• In-camera manual and help guide
• USB charging
* Waterproof according to IEC standard publication 529 IPX8. Shockproof figures equivalent to MIL Standard (Olympus test conditions). Freezeproof according to Olympus test conditions
** 35mm camera equivalent.
*** SD is a trademark of SD Card Association. UHS Speed Class is not supported.
Your Comments