Olympus Underwater and Outdoor cases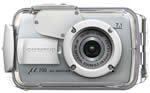 PMA 2006: A new range of Olympus underwater and outdoor cases are announced today.
Olympus UK Press Release
Swim and shoot - see what's beneath the waves with Olympus underwater and outdoor cases
London, 26 January 2006 – Outdoor pursuits such as swimming, snorkelling and diving are some of the most fun and memorable activities of any summer holiday. So why is it that these moments are rarely seen in holiday snaps? Now there can be no more excuses for letting memories of coral reefs and marine life fade, they can live be captured forever using Olympus digital cameras safely housed in one of a range of waterproof cases. Olympus underwater and outdoor cases are constructed from durable yet lightweight polycarbonate and retain all camera functions providing photographers with full shooting control. And with models available that are waterproof to 3m, 40m or 60m*, there's sure to be a solution for everyone's underwater shooting needs – whether professional or holiday maker.
Outdoor cases for the µ (mju) 700, FE-130 and FE-140
Ideal for water sports enthusiasts, including surfers and snorkellers, as well as those who enjoy numerous other active pursuits, the Olympus outdoor cases CWPC-02 for the µ (mju) 700 and CWPC-03 for the FE-130 and FE-140 provide very affordable protection against the elements. They're waterproof to 3m*, opening up a new world beneath the waves to holiday makers who now needn't feel stranded on the shore. Compact and light weight, the outdoor cases can easily be stowed away and taken anywhere where users will want to have their camera ready for action regardless of how bad the weather is – such as on a tropical rainforest holiday, or on a trip to London on a wet Saturday afternoon!
Underwater cases for the µ (mju) 700, µ (mju) 720 SW and SP-320
These underwater cases allow photographers the freedom to completely immerse themselves in the adventure and fun of underwater photography, safe in the knowledge that their camera is protected up to a depth of 40m*. For the SP-310 and the SP-350, and now for the new SP-320, there's the PT-030 underwater case. While for the new µ (mju) 700 and µ (mju) 720 SW there's the PT-032 and PT-033 underwater cases respectively. These cases are fitted with special weights to ensure optimal buoyancy at all times. A detachable hood fitted above the LCD screen enables clear viewing and easy framing – no matter how murky it gets below the waves! Of course all normal camera functions are possible and the cases also boast a screw mount so that converter lenses and filters can be fitted, if desired, for even greater photo flexibility when shooting the sea life.
Underwater case for the Olympus E-330
Now that the Olympus E-330 can be used with the PT-E02 case, professional underwater photographers finally have the solution they have long been waiting for. Until now, capturing fascinating underwater scenes using an SLR required finding a way to look through the camera's viewfinder to frame shots accurately. Now this is a thing of the past, as the Olympus E-330 is the world's first** digital SLR to provide a continuous live view of the subject directly on its LCD screen. For deep-sea photographers in particular this is a huge benefit, as it makes framing shots whilst wearing a diving mask much easier – all they have to do is keep an eye on the LCD! The PT-E02 protects the E-330 in depths of up to 60m* of water. Special ports are also available for the various interchangeable lenses in the Olympus E-System, allowing users to benefit fully from the versatility and control of digital SLR photography.
As well as the PPO-E01 port for the ZUIKO DIGITAL 14-45mm and 35mm Macro lenses, the PPO-E02 port for the 11-22mm and 14-54mm lenses, and the PPO-E03 port for the 50mm Macro lens, the PPO-E04 port*** additionally allows wide zoom and fisheye perspectives to be captured when used with the corresponding lenses. Further Olympus E-System accessories, such as the FL-36 external flash, can also be safely taken below the water's surface to brighten up scenes that would usually be shrouded in the darkness of the deep (inside the PFL-E01 case and supported by the PTBK-E01 flash bracket).
No matter whether you're a holiday maker taking snaps during snorkelling, a sports enthusiast enjoying canoeing or sailing, or someone who takes underwater photographs for a living, the Olympus outdoor and underwater cases ensure complete protection and peace of mind.
Overview of selected Olympus underwater accessories

CWPC-01 Outdoor Case
µ-mini DIGITAL camera series
3m

CWPC-02 Outdoor Case
µ (mju) 700 camera
3m

CWPC-03 Outdoor Case
FE-130 & FE-140 cameras
3m

PT-029 Underwater Case
µ (mju) DIGITAL 600 camera
40m

PT-030 Underwater Case
SP-310, SP-320 & SP-350 cameras
40m

PT-031 Underwater Case
SP-700 camera
40m

PT-032 Underwater Case
µ (mju) 700 camera
40m

PT-033 Underwater Case
µ (mju) 720 SW camera
40m

PFL-01 Underwater Case
FL-20 external flash
40m

PT-E01 Underwater Case
Olympus E-300 camera body
60m

PT-E02 Underwater Case
Olympus E-330 camera body
60m

PPO-E01 Underwater Port
ZUIKO DIGITAL 14-45mm lens
ZUIKO DIGITAL 35mm Macro lens
60m

PPO-E02 Underwater Port
ZUIKO DIGITAL 11-22mm lens
ZUIKO DIGITAL 14-54mm lens
60m

PPO-E03 Underwater Port
ZUIKO DIGITAL ED 50mm Macro lens
60m

PPO-E04 Underwater Port
ZUIKO DIGITAL ED 7-14mm lens*** ZUIKO DIGITAL ED 8mm Fisheye
60m

PER-E01 Extension Ring
For EC-14 teleconverter in combination with corresponding lenses / lens ports
60m

PER-E02 Extension Ring***
ZUIKO DIGITAL ED 7-14mm lens
60m

PFL-E01 Underwater Case
FL-36 external flash
60m

* Or water pressure equivalent
** As at January 2006
*** The PER-E02 is required for connecting the PPO-E04 to PT-E01 or PT-E02 when the ZUIKO DIGITAL ED 7-14mm lens is used.