Olympus VR-340 and VR-360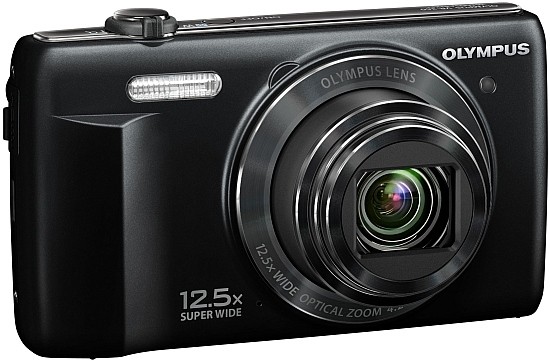 The all-metal, 16-megapixel Olympus VR-340 and VR-360 come equipped with 24-240mm and 24-300mm equivalent lenses, respectively. Both are slim, compact cameras with a small right-hand grip, sensor-shift image stabilisation, 720p HD movie recording capability, Magic Filters, Eye-Fi memory card support and a 3" rear screen with 460,000 dots. Both VR cameras will be available in March 2012. The Olympus VR-360 costs €149, while the VR-340 will sell for €129 / £129.99.
Olympus Press Release
Prices down, zoom quality up Olympus VR-360 and VR-340 offer fantastic value
10.01.2012
Olympus' new high-tech compacts do even more for less
Hamburg, 10 January 2012 – The first generation of Olympus VR Series compacts proved you don't have to pay a fortune for a great-looking camera with a powerful zoom lens, slim metal casing and a whole bunch of fun, cutting-edge wizardry. Now the enhanced second generation is here. The new VR-360 and VR-340 keep the exquisite, all-metal design of their predecessors – and benefit from a new, slightly retro 'smart grip' at the front. A glance at their powerful zoom lenses shows why Olympus' engineers added the grip. The VR-340 comes with a 10x super wide optical zoom lens (24-240mm*) and the VR-360 has fully 12.5x (24-300mm*). When you zoom right in for an expressive close-up, the grip makes it a lot easier to hold the camera steady and avoid blurring your shot. It's more proof of Olympus' determination that its slim cameras should deliver stills and movies that live up to its reputation for the very highest image quality. With 16 Megapixels (instead of 14), higher ISO for shooting in poor light and some new technological trickery for enhancing your shots with creative effects, both these cameras succeed. The VR-360 is available from mid-March 2012 in silver, black, brown, pink and white for €149. The VR-340 comes out at the same time, costs €129 and is available in silver, black red and purple.
Ready when you are
Busy people don't plan photo sessions. Opportunities to capture special shots just happen and when they do, you need a camera that's easy to use, has a versatile lens and the full array of high-tech aids – to make sure you get the very best images you can. The VR-360 and VR-340 give you just that – and they're beautifully designed, too. Powerful and flexible, their super wide zoom lenses are exceptional in this price category. Complementing the lens, the smart grip helps you hold steady when you're making full use of the zoom, while built-in Dual Image Stabilisation cuts out blur caused by imperceptible camera shake or fast-moving subjects. That's especially important when you want to capture an HD movie. No matter how bad (or good) a photographer you are, with 16 Megapixels, high ISO capability and a host of sophisticated electronic assistants like i-Auto and AF Tracking, Olympus' trademark picture quality is virtually guaranteed. 
Ready when you're not
With the VR-360 and VR-340, it doesn't matter if you haven't had time to fix your make-up before someone takes your picture. Olympus' Beauty Make-up Mode can customise up to three people's faces before you start. Laid out like a cosmetic toolbox, it lets you apply everything from eyeliner and eye shadow to rouge for skin blemishes. You can even lift cheekbones. It's a lot of fun morphing each other into cover-model faces. Beauty Make-up Mode isn't the only reality-warping fun feature on the new VR range. Both new cameras also take photos in 3D, and the VR-340 even offers 3D Red & Cyan, which means you can appreciate the startling 3D effect on regular 2D devices – no specialised 3D equipment required.
Once you've captured your images, there's a whole raft of other effects you can apply. The VR-360 and VR-340 come with nine Olympus Magic Filters each and, unlike on most rival compacts, all but one of them work with movies and still photos alike.

Both VR cameras will be available in March 2012. The VR-360 costs €149, the VR-340 just €129.
Outstanding features:
Image Quality:
• 12.5x super wide angle optical zoom with 24-300mm* for superb close-ups and group shots (VR-340: 10x super wide angle optical zoom with 24-240mm*)
• 720p HD Movie with sound for capturing movies in excellent quality
• 16 Megapixels for high-quality full-size movies, stills and prints
• Dual Image Stabilisation for reducing blur with fast-moving shots
Design:
• Smart grip design for hand-held stability and reducing blur with high-zoom close-ups
• Slim, full-metal body for an exquisite and robust design
Usability:
• 3" colour LCD (460,000 dots) for easily framing, reviewing and sharing shots
• Face Detection and Shadow Adjustment Technology for capturing people's faces just as you want them
• Intelligent Auto Mode (i-Auto) and AF Tracking for easy setting and focussing
• Scene Mode for automatic settings that suit specific conditions
(e.g., Landscape, Night)
Creativity & Flexibility:
• Beauty Make-up Mode for adding fun make-up effects to three people and hiding blemishes before you shoot
• Eye-Fi Card compatibility for automatic wireless uploading of images to a website or PC
• Magic Filters for adding creative effects to HD movies and/or stills:
Punk, Pop Art, Pin Hole, Drawing, Fish Eye, Soft Focus, Sparkle (photos only), Watercolour and Reflection
• 3D photo shooting mode for striking stills (VR-340: 3D Red & Cyan for sharing 3D stills on 2D devices)
Other key features:
• [ib] software for browsing, organising and viewing images by person, place, location or event.
• HDMI technology for controlling your camera from one remote when it's connected to HD equipment (VR-360 only)
• ISO 80 to 1600
• SDHC and SDXC memory card compatible**
• Built-in smart flash
• In-camera manual and help guide
• USB battery charging
* 35mm camera equivalent.
** SD is a trademark of SD Card Association. UHS Speed Class is not supported.
Your Comments