Olympus ZUIKO DIGITAL ED 40–150mm F4.0–5.6 Lens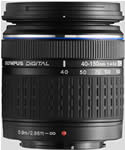 Olympus Press Release
Olympus Imaging Corporation (President: Masaharu Okubo) is pleased to announce the introduction of the "ZUIKO DIGITAL ED 40–150mm F4.0–5.6" lens, a new "Designed-for-Digital" telephoto zoom lens for "Four-Thirds System" digital SLR cameras. The new lens is scheduled to go on sale in Japan on November 23, 2006. "ZUIKO DIGITAL" interchangeable lenses are specifically designed to maximize the performance potential of the image sensors in "Four-Thirds System" digital SLR cameras. The newly announced "ZUIKO DIGITAL ED 40-150mm F4.0–5.6" lens is a lightweight, ultra-compact telephoto zoom lens that offers outstanding value.
"ZUIKO DIGITAL ED 40-150mm F4.0–5.6" is the lightest (220g) and smallest lens in its class*, and boasts the shortest minimum shooting distance (0.9m). Its wide zoom range is equivalent to 80–300mm on a 35mm camera, and its "Four-Thirds System" design assures outstanding portability that makes interchangeable lens photography easier.
*  as an interchangeable telephoto zoom lens covering telephoto ranges over 200mm: 35mm equivalent (as of November 13th, 2006, by Olympus study)
Main Features
1.  Lightweight and Ultra-Compact Design
"ZUIKO DIGITAL ED 40-150mm F4.0-5.6" uses ED (Extra-low Dispersion) and high-performance glass elements and an optimized zoom range to ensure outstanding performance and portability. Packing the equivalent of 300mm telephoto power in a barrel only 72mm long, and weighing just 220g, it makes it easy to enjoy true telephoto shooting in the field. The lens's 3.8x zoom covers a wide range of focal lengths, and offers performance equivalent to 80-300mm on a 35mm camera.
2.  Excellent Close-Focusing Capability
An inner focusing system assures that lens length remains constant, and provides close focusing from 90cm at any focal length.
Other Features
?  Superior Imaging Characteristics
ED and high refractive index glass elements are used to minimize chromatic aberration, coma flare, and image curvature. Sharp, high-contrast imaging is achieved at the outer periphery of the lens at all focal lengths. Advanced technologies for high image quality include multi-coating to reduce ghosting and flaring in backlight, and the use of a circular iris to achieve smooth, soft, background defocusing.
?  Filter Support
A non-rotating mount ensures that filters do not rotate when the lens is focused, making it much easier to shoot when using polarizing filters.
Specifications
Focal Length 40-150mm (35mm Equivalent: 80-300mm)
Lens Construction 12 Elements in 9 Groups, including 1 ED Lens
Focusing System Internal Focusing System
Angle of View 30.0-8.2 Degree
Closest Focusing Distance 0.90m~?
Maximum Image Magnification 0.14x (35mm Equivalent: 0.28x)
Minimum Field Size 124 x 93 mm
Number of Blades 7
Aperture Maximum F4.0(40mm) - F5.6(150mm)
Minimum F22.0
Filter Size Ø58 mm
Dimension Diameter Ø65.5 mm
Total Length 72.0 mm
Weight 220g
Others
Can be used with Tele Converter "EC-14" and Extension Tube "EX-25"
Accessories
Lens Hood "LH-61D", Lens Cap "LC-58C"
Note: The company names and product names specified in this release are the trademarks or registered trademarks of each company.
Note: Please be advised that press releases and information posted on this site are current at the time of the original publication date. Please note that they may now be outdated or rendered inaccurate.